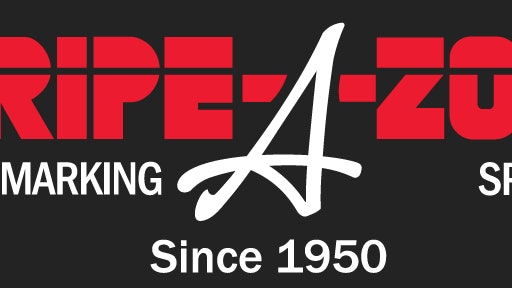 The Sterling Group, a "middle-market private equity firm" based in Houston, TX, has established Frontline Road Safety as a platform on which to build a nationwide provider of road safety, with a focus on pavement marking.
Sterling announced that in conjunction with the creation of Frontline Road Safety, it has partnered with Stripe-A-Zone, Grand Prairie, TX, as the first Frontline company.
"In teaming with Stripe-A-Zone, we are establishing an outstanding foundation for the Frontline platform, partnering with best-in-class operators as we build a national leader in the road safety industry," said Brad Staller, partner at The Sterling Group.
Stripe-A-Zone Growth
Started by R.E. Lindsay in 1950 as Portapark, the company was renamed Stripe-A-Zone in 1952 when it became a turnkey parking lot maintenance company. In 1974, Stripe-A-Zone merged with Anderson Striping, Dallas. In 1988 the company was sold to TSI, a leader at the time in thermoplastic and raised pavement markings. TSI expanded the parking lot striping division, added offices in Austin and Houston, and renamed the company Striping Technologies Inc./Stripe-A-Zone.
In 1997, David Sargent, president, purchased the company. Today Stripe-A-Zone serves Texas, Oklahoma and New Orleans, LA, from its Grand Prairie headquarters and a second location in Hallsville in east Texas. An Airport Improvement and Repair Division is based in St. Louis, MO.
"Joining with Sterling and Frontline was the right next step in the growth of our family's business given our shared vision for the industry," said David Sargent, President of Stripe-A-Zone.
Sterling Group's Plan
Founded in 1982, The Sterling Group targets controlling interests in basic manufacturing, distribution and industrial services companies. The group says it has a long history of partnering with family and entrepreneur owners and their management teams to support the growth of their businesses. Typical enterprise values of these companies range from $100 million to $750 million. Sterling reports it has sponsored the buyout of 57 platform companies and numerous add-on acquisitions for a total transaction value of over $14 billion. Currently, Sterling has over $4.0 billion of assets under management.
The Sterling Group reported that the group has developed an investment thesis in the road safety and infrastructure maintenance industry. Sterling said its study of the industry resulted in a strong relationship with Stripe-A-Zone management and the Sargent family. As a result, Sterling and the Sargent family have formalized a partnership based on a vision to bring together leading companies from distinct geographies and share best practices.
Sterling reports that through organic growth and additional mergers and acquisitions, they plan to build Frontline into "the leading road safety solutions provider with a national presence and best-in-class local execution capabilities."