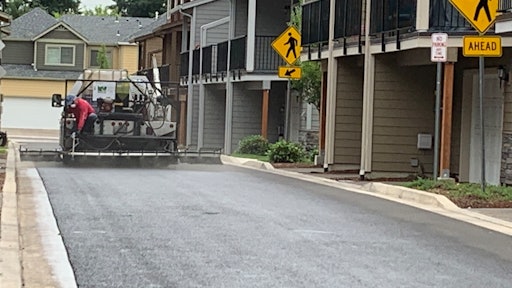 Coast Pavement Services, Portland, OR, announced it has formed a subsidiary division, RePlay West, to commercialize and distribute biobased RePlay pavement rejuvenator throughout Oregon, Washington and California, according to Ken VanDomelen, Coast president and CEO. 
The launch of RePlay West follows Coast's acquisition of Sandy, Oregon-based Pacific Earth, an excavation company that specializes in environmentally sensitive projects. Both division's bolster Coast's progressive focus on sustainable asphalt construction.
"Our entire country has an infrastructure problem, and our roads are falling apart faster than tax dollars are generated to fix them," VanDomelen said. "This has forced us to take a reactive stance to solve the budget issues, but we now have a solution with RePlay that can slow this problem down by keeping good roads in good condition, enabling budgets to catch up."
RePlay is a pavement rejuvenator made from 88% biobased materials, a large portion of which is soybean oil. Its other key ingredient is derived from recycled polystyrene. For use on any asphalt surface, RePlay is designed to reduce transportation infrastructure costs by reversing the oxidation in existing asphalt, bringing it back to 95% of new condition. It works within the top ¾- to 1-1/4 in. of the asphalt to restore the binding agents. It is 100% petroleum-free, gives off no odor (or off-gases), leaves no oil tracking once cured, and is safe around people, pets and foliage. Because RePlay goes on clear and doesn't make pavement black, it reduces the thermal index (reflects the heat) to mitigate urban heat island effect.
"Using RePlay removes harmful greenhouse gases, giving it a 'carbon-negative footprint,'" VanDomelen said. "The US Green Building Council determined that RePlay has a more favorable lifecycle environmental performance by almost 40% because it is carbon-negative." 
Founded in 1969 as a sweeping service, Coast Pavement Services provides sealcoating, asphalt paving, cracksealing, striping and stormwater services. The company is reports it is the first pavement company in the world to join forces with 1% for Planet, dedicating 1% of each sales dollar to an environmental cause.
About Coast Pavement Services