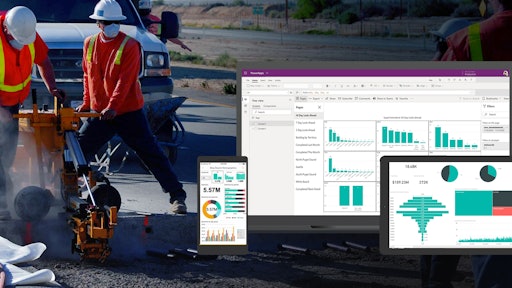 Advaiya
Paving and pavement maintenance contractors face significant daily challenges that are business-critical and can impact productivity, cost, and timeliness.
These challenges include quickly informing various members of the team of issues, progress and reports in support of projects, unavailability of records of underground utilities, and change orders. In addition, it is essential to coordinate work and communications between contractors and subcontractors with management concerning work delays, safety and security compliance, audit and adherence tracking, gaps between budgeted cost and expenditure, and estimated time spent on a job.
To help ease the burden of excessive work demand and associated costs for pavement contractors, some are now using technology and software applications to overcome these challenges. Some contractors have set up technical infrastructures to support their organizations and some are also identifying and nurturing someone (or in some cases contracting with outside tech consultants) to develop and maintain the infrastructure, software and applications.  
Stand-alone applications (apps) have had a profound impact on solving specific problems and accelerating workflow, but the sharing and reporting of this information within a company has been difficult, making the information collected less valuable to decision makers. This has occurred because to be effectively shared, data needs to be gathered and transformed into a single and central format. Having decentralized data can lead to faulty decision making due to various views of performance status and inconsistent reporting.
To help alleviate this issue, pavement contractors need a set of solutions that ensures connection among all ongoing related operations that distill and present the information in an easy-to-understand format.  
Business application platforms and applications such as cloud-based Microsoft Dynamics 365 and Microsoft Power Platform solutions can be used on a desktop or mobile device. These technologies provide solutions to help you take on the modern challenges that pavement contractors face today.
Also, there are several other services, tools and platforms that you can consider integrating and combining in Power Apps. These can be implemented as individual apps or as part of a larger product suite. For example, apps can be used to help you calculate work costs, build out job quotes, or assign tasks for new projects. Let's take a look at some of the more common ones.  
Microsoft Power Apps: Business applications built using Power Apps come with a visual designer to enable you to create these apps for your desktop, mobile or tablets. The apps can be easily shared across your entire organization. Power Apps are made so that non-technical people can use them and build them into an organization.
The apps can be easily accessed from phones, tabs, or systems. The apps can be used where approvals need expediting, tasks need to be simplified, and workflow needs automating. For instance, this allows pavement engineers and crew supervisors to use the apps to report. Supervisors can submit design updates from the job site, report work progress, report on safety issues and more. 
Microsoft Power Automate: Once you get started with an app, you could very well find how beneficial they are and choose to proceed further by adding other apps throughout your business. In this scenario, you will want to connect and sync up your apps, services, notifications and information. This can be done with Power Automate.
For example, any reporting from the jobsite can be connected to relevant staff members in your company by designing correct flows from person(s) to person(s). You can also provide timely notifications to crew foremen or to the construction manager about progress, safety concerns, change orders, or perform needed transactions.
Microsoft Power Virtual Agents: The Power Virtual Agents allow you to create a graphical interface on your computer or other device to control your computing needs and minimize the requirement for extensive technical expertise. This can be used where urgent assistance is needed, such as questions related to the status of pavement materials. Virtual Agents can even be used for creating an online customer service representative who addresses customer needs.
Microsoft Common Data Service (CDS): With CDS, you can have data storage and management of all the data used in your apps and with security and a set of standard and custom capabilities. Using CDS for your data storage expands your business application data model across Microsoft Office 365 along with modern enterprise apps. CDS also helps by syncing all components so that they run on the same platform for smooth interconnectivity. With this setup, CDS can also become the data model for reporting.
Microsoft Power BI: Power BI gives contractors the capability to directly access company data and convert that data into charts, graphs and other visuals to make analyzing it easier.   
Using this technology enables contractors to align and connect their work crew with supervisors, managers, sales staff and the office. It can improve the reporting of daily progress, immediate non-compliances and design updates including change orders, making it easier for contractors to track the bits and pieces of projects without investing too much into data consolidation technology. Also, the information needed to perform faster and smarter is made available for users with just a few clicks, empowering an entire organization to make quicker, more informed decisions.
Furthermore, any technical complexities which remain can be removed from the platform, and your business users are empowered to focus more on business applications, business process, data analysis, visualization, reporting, communication and collaboration. These platforms can be used by any pavement contractor to help them better manage their business.
Depending on the needs and objectives, paving and pavement maintenance contractors could choose to transform and renew their business and operations with these apps by assigning such initiatives to in-house staff, or you might opt to work with an outside technical company. But in in either case, this is where the future is headed for pavement contractors. And in some cases, particularly with larger and mid-sized organizations, the future is already here.