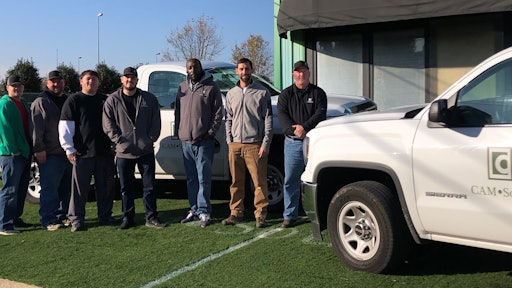 From dashboard cameras to real-time GPS tracking to payroll efficiencies, CAM South has taken an all-encompassing approach to how technology can improve the company's productivity, job quality and profitability. The company's efforts in those areas have earned them Pavements'  "Cutting-edge Sweeper" Award for 2021.
Since purchasing CAM South, Birmingham, AL, in 2014, owner Andy Coolidge has implemented technology and innovative practices to the sweeping business to help them gain a competitive edge. With an emphasis on parking lot sweeping, portering and pressure washing, CAM South also offers trash and debris removal as well as pavement maintenance services including striping, crack sealing and infrared pavement repair.
After the acquisition took place, Coolidge began rolling out new technologies, starting with a payroll service. With the addition of the service, CAM South could say goodbye to the manual paper timecards and switch to an app-based service, where employees could clock in and out from their smartphone.
"It's really to simplify our payroll process," Coolidge said. "If employees do as they're trained, get their profile set up, it was a seamless process from start to finish."
Tracking the Fleet
CAM South has five trucks they operate nightly, with an extra one on standby. In order to keep track of what truck is where, Coolidge implemented GPS in each sweeper which allows tracking, time on property, route management and efficiency. As technology advanced, so did CAM South.
"We are tracking the trucks with GPS, we know who is driving based on their key fob, and we have a hard-mounted dash camera in each vehicle to monitor the operator's driving habits," Coolidge said.
Coolidge says being a paper-based organization, including for work orders, is a labor-intensive process. So, CAM South's most recent addition to technology is workflow management through tablets in each truck.
"By implementing the tablets into our process, our operators are able to check in on every step, from scheduling to navigating each property and the duties on that site," Coolidge said. "The operator is able to check out when finished, and the tablet populates with driving instructions to the next site. It's a standardized process where we can onboard employees, train them, and roll them out any truck, any night."
He says this technology has come in handy when he talks with his clients. "I can show the property owner we were on the property; I can show the pings across the map. I can even show them the camera footage that we were driving around," Coolidge said. "The technology doesn't do the job for us, but it helps us do it easier, faster, more efficiently and with the least amount of expenses."     
Professional Development
 Despite 2020 bringing its own set of challenges, CAM South remained dedicated to training every employee on their job and in using the company's technology.
"When we onboard a new employee, we understand it's a lot of information being thrown at them fast, but we don't want them to feel like they are trying to drink from a firehose," Coolidge said. "We have a professional development onboarding that really covers everything from safety to on-the-job training. We also believe in checking in with each employee after their shift or training to see how they are doing." 
Coolidge believes in incorporating quarterly staff meetings into the mix. Topics at these meetings range from SMART goals (Specific, Measurable, Achievable, Relevant, Time bound) to 10 things that require no effort and other development topics. Along with those touch points, Coolidge has sent his entire management staff and operators to the North American Power Sweeping Association (NAPSA) sweeper school, to make sure they are getting the industry education to keep their edge and the professional certificate of completion.
"Sure, we sweep parking lots, but my goal is to keep our employees engaged," he says. "We want to be more than just a paycheck."