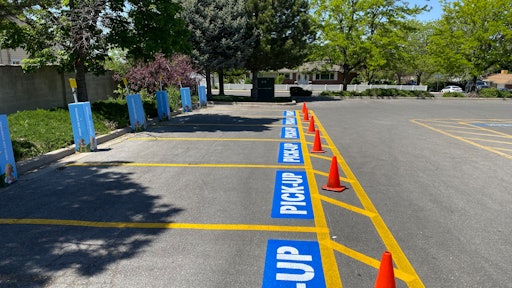 When the world shut down in the spring of 2020 and people were told to stay at home, essential businesses were busier than ever providing households with the goods and services they needed to shelter in place. Fortunately the paving and pavement maintenance industries were also considered essential and work continued with little to no interruption. 
Many companies, including T&N Asphalt Services located in Salt Lake City, UT,  initially wondered how the season was going to look. Things started out pretty gloomy, however, the company decided to begin their season earlier than usual to complete a massive striping job that helped another essential business better serve their customers. Their work, completed at 70 different Kroger locations in seven states over 45 days, won them the 2021 Seal & Stripe: Small Job award. 
An Immediate Need
COVID created a huge demand for contactless shopping convenience and stores around the country had to adapt quickly. Smith's Food and Drug, a division of the Kroger Companies, needed to immediately expand pick up packing stalls at their locations and turned to T&N for help. 
"They were rapidly expanding their "Pick-Up" parking stalls at each store due to the rising demand from the COVID-19 Lockdowns," T&N president Nick Howell says. "The entire project consisted of converting regular parking stalls to Pick-Up zones, with custom stenciling, layout changes and crosshatching. It included over 70 different locations in seven states and the company needed to be done 'yesterday.'"
Howell immediately contacted his crew to bring them back to work earlier than normal for the season in order to start the work. 
"We don't normally start our season until May, or mid May, which is late around here so our guys were on their winter jobs doing other things," Howell says. "This initially started in April with one store and over the period of just a couple of days, it just grew, grew, grew. So we were trying to get our guys back and and get our vehicles added back to the insurance get everything prepped, because normally, we've got a couple of weeks of ramp up time which we didn't have the luxury of due to this project."
Next Howell and his team began the difficult challenge of planning out how to logistically complete the work at all of these locations across the region and get the supplies they needed to their intended locations. 
Supply Shortages
Because of COVID and an early start to their season, the supply chain for many products were thrown off, including the paint and signage for the stall upgrades. 
"That was another challenge," Howell says. "Supplies weren't readily available. We had to work with paint suppliers to start manufacturing early to meet our needs and companies were seeing supply chain issues across the board. We had to order some more inventory of the Flex Post XL products that we were using but some pieces of those posts come from other sources so they couldn't get inventory and didn't have the product we wanted in our timeline."
T&N then started to install the Flex Post rigid model, but at the time, they could still only get so many. 
"We struggled. We were getting a truckload a week basically," Howell says. "We could have installed more and done more work but that's as quick as they could put them out. And then their lead times started to delay even further. I mean, it'd be five days and then seven days and 10 days. So just the coordination of getting those in and then we had to coordinate to get hardware in too."
On top of that, companies were reluctant to extend their typical credit lines due to the ongoing pandemic.
"With COVID just starting, everybody's worried and some of our suppliers weren't willing to extend the typical terms needed for such a  large order so we actually just decided to prepay several parts to keep them comfortable and not delay shipments," Howell adds. "That was kind of a challenge on our end, because obviously we hadn't been paid for anything out of the project but we needed to keep our suppliers happy at the same time."
Logistics Prove Challenging
With the scope of the project changing and expanding everyday, T&N had to keep precise spreadsheets to ensure they were meeting the needs of the client at each location. 
"We would get a list and the company would say what stores needed expanding and it grew every day," Howell says. "First, it was just the painting. And then it s quickly progressed to installing the sign posts as well. We couldn't get information on exactly what needed to be done at each location so it was a challenge determining exactly what we needed because some of these stores are a little bit of a drive and we wanted to be prepared as possible. So there were definitely some logistical issues on planning these."
As a result, many of these installs took the crew a few trips. One trip to plan what was needed for each location and to complete the striping and another to actually bring the signpost supplies and complete the work. 
"We had a general idea of how we were going to lay the stores out. And obviously, as we went along, it was easier. But we would just show up and try and make the best of it," Howell says. "We lived in spreadsheets and did a ton of legwork at the office to coordinate materials that needed to be shipped to different states."
T&N deployed three crews to complete the work, changing layouts at each location and striping the stalls to add more pick up spaces.
"What complicated the project even further is, the dynamics of everything were constantly changing," Howell says. "Towards the end of the project, they were adding more stalls to stores that already had been expanded based on need, so again we kept logs of everything in spreadsheets just so we could make sure we were getting everything right and had the documentation to prove it."
When it came to the actual striping, something T&N excels at, the crew was challenged again and adapted and improvised on the spot. 
"When we got to each site, we had to determine the best way to convert the stalls," Howell says. "You might take six regular parking spaces to make three of these pick up stalls because they've got the extra cross hatching. So there were some challenge there too, because some of these stores, maybe the parking lots are not as deep. And so the strategy would be to move a row over rather than just continue down the same row, because some of them that had 10 or 11 or 12 pick up spaces. If you continue down the row, those parking stalls would be way out in the parking lot so it would make more sense to take another row, then continue out."
The crew started striping the local stores first which made it easier on the team. The locations also allowed T&N to do the work during the day.
"Normally when we stripe a store, we go overnight. And so working during the day is is it's always nice, but it was something we're not used to," Howell says. "This however allowed us to get the work done and so it was more of a regular schedule for the crew."
In all, the T&N crew striped 498 stalls and installed nearly 180 posts. 
"This project consisted of a lot of stuff that I would have never thought because I mean, looking at this in the beginning, it's seems like a no big deal," Howell says. "Just go paint some stencils and some lines, and you're done. But the coordination was incredible. All said and done; we were able to complete this task in less than 45 days. In my over two decades of experience, this was one of the most challenging projects due to different obstacles from each direction.
"I could not have been happier with the way the projects all came together," Howell concludes. "There were a lot of positives and in the eyes of Smith's or Kroger we were able to really shine and strengthen our 20-year partnership with them. I'm proud of this job and our team."