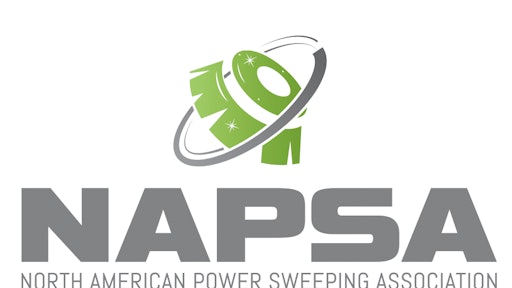 It's a new year and a new Board for the North American Power Sweeping Association (NAPSA). We are all pretty excited to see what we can accomplish for the power sweeping industry this year. 
Each year we all make goals for what we want to see happen in the upcoming year. For NAPSA that planning process begins with the Board of Directors' in-person meeting typically held in conjunction with the National Pavement Expo (NPE). As NPE is not being held in-person this year, the NAPSA Board held a virtual planning session which spanned two days in January. We talked about what made sense to offer members and what initiatives made sense to provide for the industry. We concluded that among other things, we will work on a new course in disaster management, Certified Sweeping Operator training for municipalities, a review of the Power Sweeping Standard, and an overall assessment of the power sweeping focused training at SweeperSchool (www.SweeperSchool.com). We are all pretty excited about all of the work that is being done on these initiatives and the industry should be as well. 
NAPSA's board is working hard to bring everyone what they need to be successful and you should probably know who those hard working volunteers are so let's  want to introduce the 2021 Board of Directors:
Executive Committee:
President: Chris Dick, Katsam Enterprises, MO
Vice President:  Cole Watts, More Clean of Texas, TX
Past President: Scott Duscher, Agua Trucks, AZ
Secretary: Mark Carter, Peloton Sweeping Service, CA
Treasurer: Bryan Young, TYMCO, TX
Directors:
Loring Dunton, C & L Sweeper, NJ
Joe Sciuto, Ross Industries, PA
Nikki Kryston, Property Maintenance Services, OH
Lee Miller, Pacific Sweeping, CA
Mat Andrews, West Michigan Sweeper, MI
Joe Wise, Asphalt Enterprises, NC
Jim Blackerby, Louisville Pavement Sweep, KY
David Heigl, Schwarze Industries, AL
Jeff Old, Visual App, TX
Jake Hoerman, Nite-Hawk Sweepers, WA
We are all here to guide NAPSA and the power sweeping industry into the future. If you have any questions, please feel free to contact any of these folks or contact NAPSA Headquarters at info@PowerSweeping.org or visit the NAPSA website at www.PowerSweeping.org.