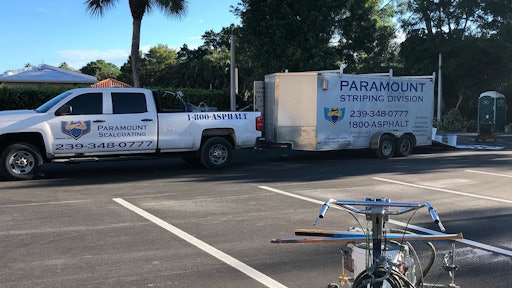 After attending school at Florida International University in Miami, Nick and Mitch Rivenburg realized sitting behind a desk for eight hours straight in the corporate world wasn't for them. Prior to college you could find the Rivenburg brothers doing general labor for a family friend at their asphalt company and that is where they found their passion for the industry, resulting in starting their own business Paramount Asphalt & Sealcoating in 2015.
Paramount Asphalt & Sealcoating is headquartered in Naples Florida where they have 20 employees, servicing new builds as a subcontractor from Naples to as far north as Orlando.
"We have nearly doubled in size year after year," says Rivenburg. "Within the next 18-months, we plan to open an office in Orlando to help with the serviceability of that area in the state."
Service, Quality and Customer Satisfaction
Just like any pavement maintenance job, each customer has individual needs and concerns. The Rivenburg brothers and their team aim to provide professional quality jobs, completed on time while communicating with the customer every step of the way.
"It really comes down to building relationships," says Rivenburg. "We strive to serve the customer by building a good relationship through effective communication, being respectful and delivering quality jobs on time. Our clients are very important to our company and we go above and beyond to grow that connection."
In 2015 Paramount began as just a small sealcoat and striping company with just 3 employees. Fast forward 6 years later they now have over 20 employees and offer many more services! They manage to almost double their revenue year after year. The key to the company's growth has been due to the knowledge gained from job to job. We are always learning and fine tuning our methods to achieve the most efficient way of completing our jobs. Service expansion has been the main goal for Paramount year after year to continue to expand their services resulting in a complete package for any parking lot or roadway need.
They offer paving, patching, line striping, thermoplastic line striping, bollard installation, custom signage, car stop installation, joint sealing, crackfilling, concrete, speed bumps and most recently, sports courts.
"We have ventured into the sports court segment within the past 12-months," says Rivenburg. "There is a tremendous amount of demand here in Florida for outdoor games". This made it a no brainer for it to become our most recent added scope of work. While our bread and butter is striping, we are excited to continue to give our customers a wide array of services."
The Brothers explained that this market is saturated with competition, a new sealcoating company comes into the market every week. As a brand, Paramount overcomes this challenge by making sure they deliver exceptional service with a 'never say no' mentality.
"We have never turned a job away," says the Rivenburg brother's. "That might contribute to our growth in the past six years because we are the ones who do anything to get jobs done on time and delivery the quality our customers expect."