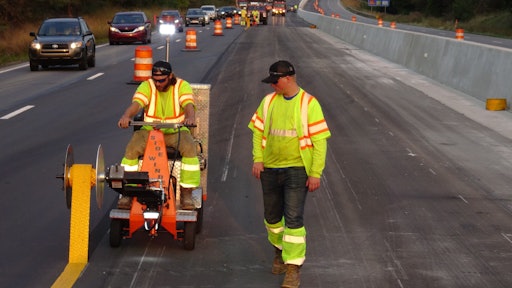 Traffic safety is a top priority of DOTs and highly visible traffic markings play a key role in ensuring that automobiles stay in their lanes – even during challenging weather conditions. The most common traffic markings include paint and thermoplastic, but permanent traffic is quickly becoming the preferred choice on high-traffic roads because of its high visibility – especially at night and in the rain. Temporary traffic tape is also gaining popularity as it can be easily applied to work zones and removed when the road work is complete. Although tape striping isn't new to the industry, there has been recent introductions in technology to help contractors place and remove the tape faster and easier.
Tape Application & Process
There are a variety of machines to apply pavement marking tape, either walk-behind or ride-behind – operate day or night. The type of tape used depends on the project.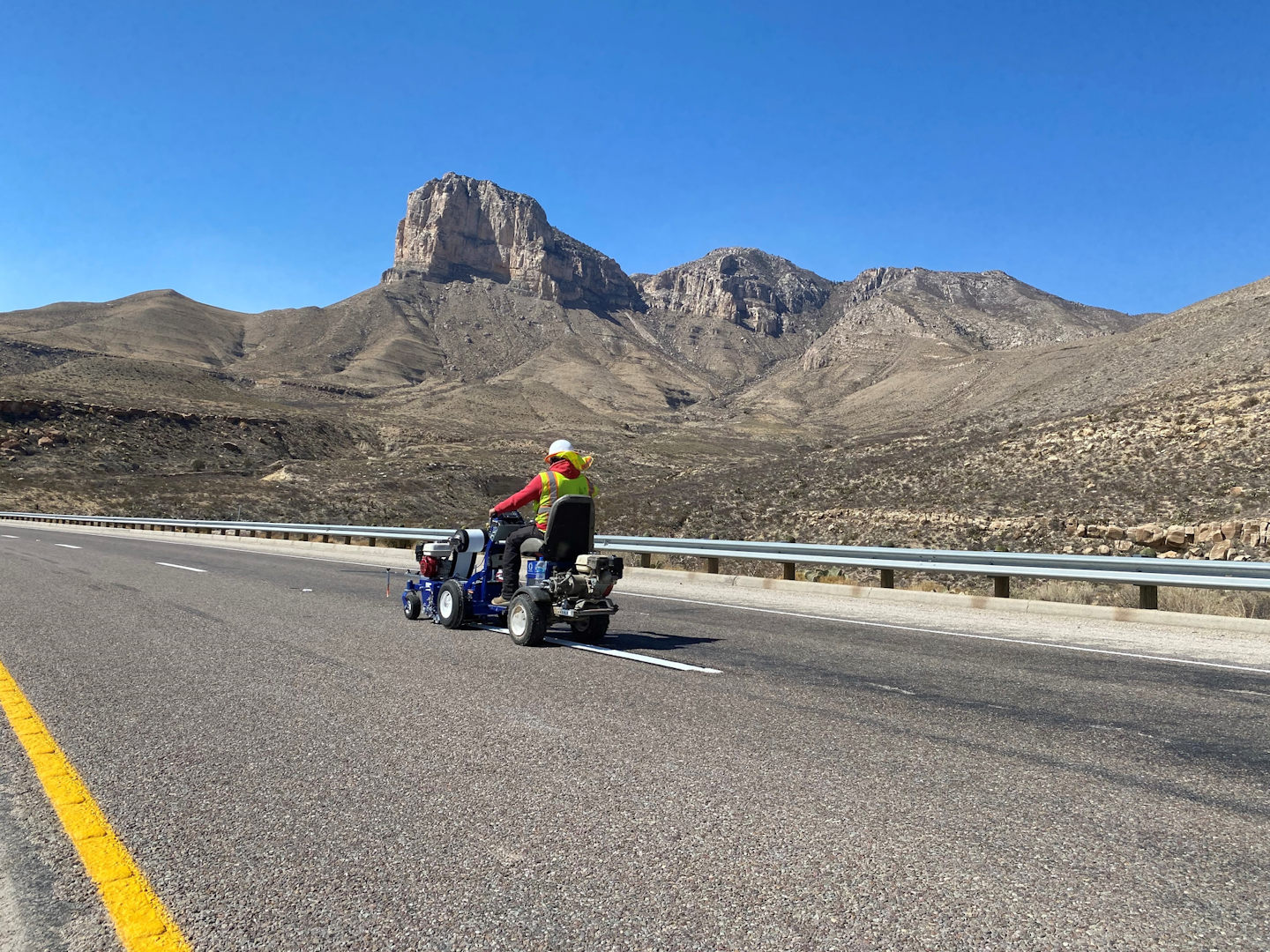 Temporary tapes can be applied to work zones or other short-term project and then removed when the project is completed. Permanent tape can be used on roadways and intersection. In cold weather climates, tape can be inlaid into asphalt during paving to reduce wear or can be grooved into pavement to help reduce damage from snow plow operations.
"Before applying tape, contractors should prep the surface," says Mike Vangstad, global product marketing manager for Graco. "Remove the existing lines and clean the surface with a GrindLazer. Then, use an air compressor to blow all the excess debris out of the area, you want it nice and clean. In most permanent tape applications, contractors will put down a primer and let it set for about 10-minutes. The traffic tape then goes down on top of the primer. Here, Graco has an automated tape applicator in the TapeLazer HP Automatic which makes the process as easy as applying paint.  Finally, tamping of the tape is necessary to ensure proper adhesion. It is important to note that contractors should follow tape manufactures recommendations when applying traffic tape as there are specific requirements such as weather conditions that must be met."
Tape applicator machines have been designed to cut the tape without having to stop.
"The Epic Solutions TA5000 tape applicator has been in the market since 2017 with hundreds of thousands of feet applied by applicators, from cutting tape on-the-go to programable patterns which eliminates the need to marking out projects as just a few features that make this an industry proven product which focuses on safety, speed, accuracy, and overall improved production" says Tom Heine, national sales manager with Epic Solutions Inc. "Our TA5000 operates at 3-4 mph (avg.) and holds a 12" roll of temporary or permanent tape.  Also, our programmable timing system eliminates having to measure out & cut patterns ahead of time. We developed this machine with the contractor/municipality in mind."
Tape application, similar to paint striping can happen any time of the day — specifically, at night when traffic is less busy on roadways. However, visibility deteriorates for your crew and the traveling public after the sun goes down. Proper reflective PPE and adequate work zone lighting is imperative.
"A lot of projects happen at night," says Vangstad. "That is why we can equip the TapeLazer with LED lights and lasers to help the operator complete the job efficiently and safely."
Removal of Temporary Tape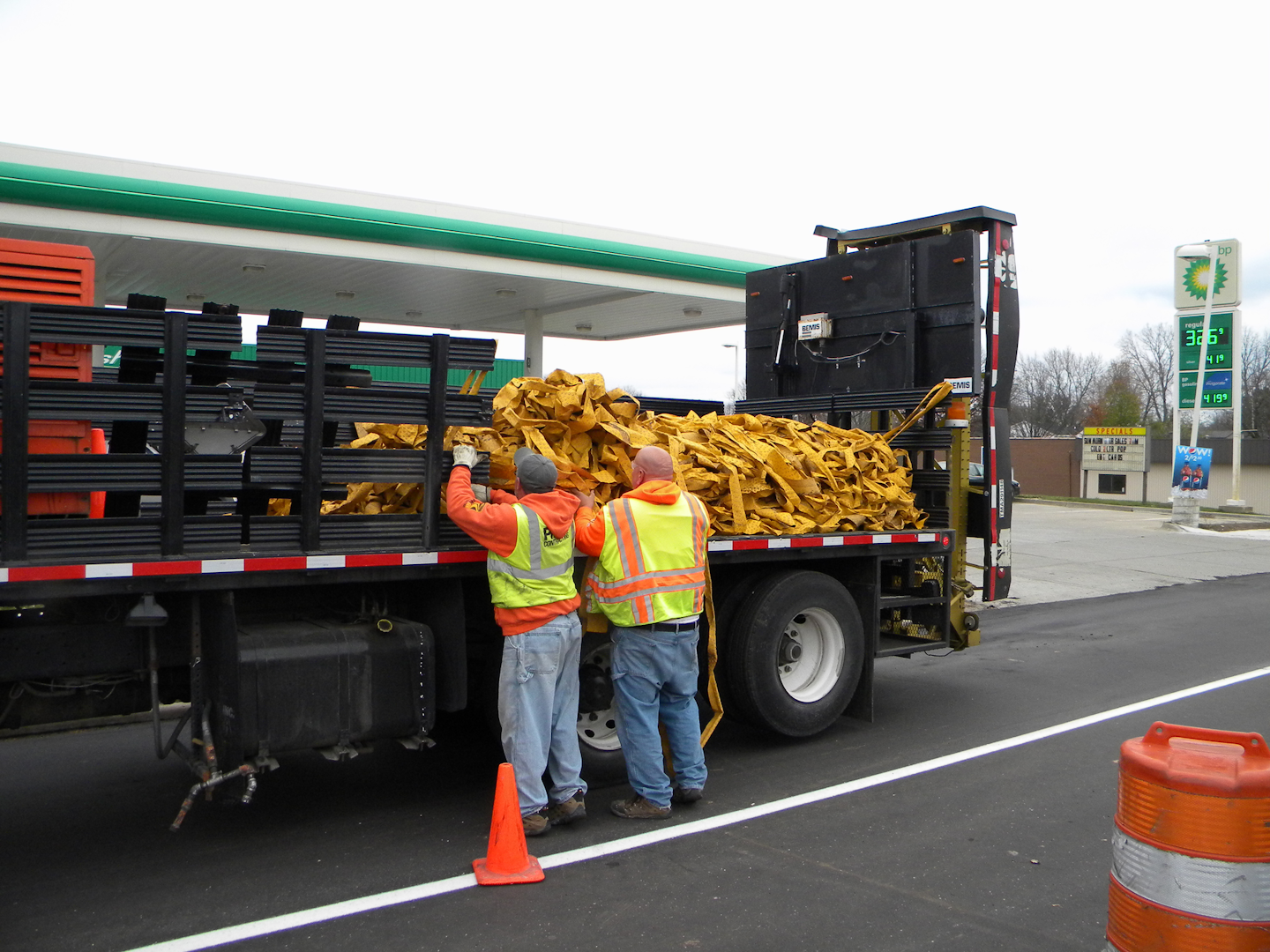 Removing temporary tape can be a physically demanding job, bending over, putting strain on the back while pulling straight up and bunching up the tape in a wad. A contractor came up with a solution, the Side Winder.
"This machine has transformed a difficult, messy manual task into an easy and efficient process," says Jim Shea, inventor of the Side Winder. "With the introduction of the machine, the task is now less physically demanding than manually removing temporary tape, with few steps required from tape removal to disposal." 
By utilizing this machine, contractors can easily reel the removed tape onto a manageable core and in less time than manually removing tape. Once full, the core can removed from the machine and disposed via support vehicle.
"Cleanliness of removal is also a major benefit of the Side Winder -neatly wrapped tape rolls vs. piles of messy tape add tremendous value to the contractor," says Heine. "The methodically wrapped rolls save much needed space on the support vehicle. Also, the Side Winder utilizes less man hours to complete a temporary tape removal project, resulting in a reduction of traffic accidents & disruptions."
Ideally, it takes two people to complete a removal job, the operator and a "tendor". A good "tendor" will pre-scrape the beginning of each tape start, or break point, to ensure a smooth transition between tape breaks or skips. If the tape breaks halfway through:
Peel up tape using scraper or putty knife       
Lay the tape around the core then around until it sticks to the backside of the tape
Slowly rotate the spool so it creates enough tension to allow the tape to grab and rollover itself
"The structural integrity of tape will always impact the effectiveness of removal," says Heine. "The Side Winder dramatically increases the overall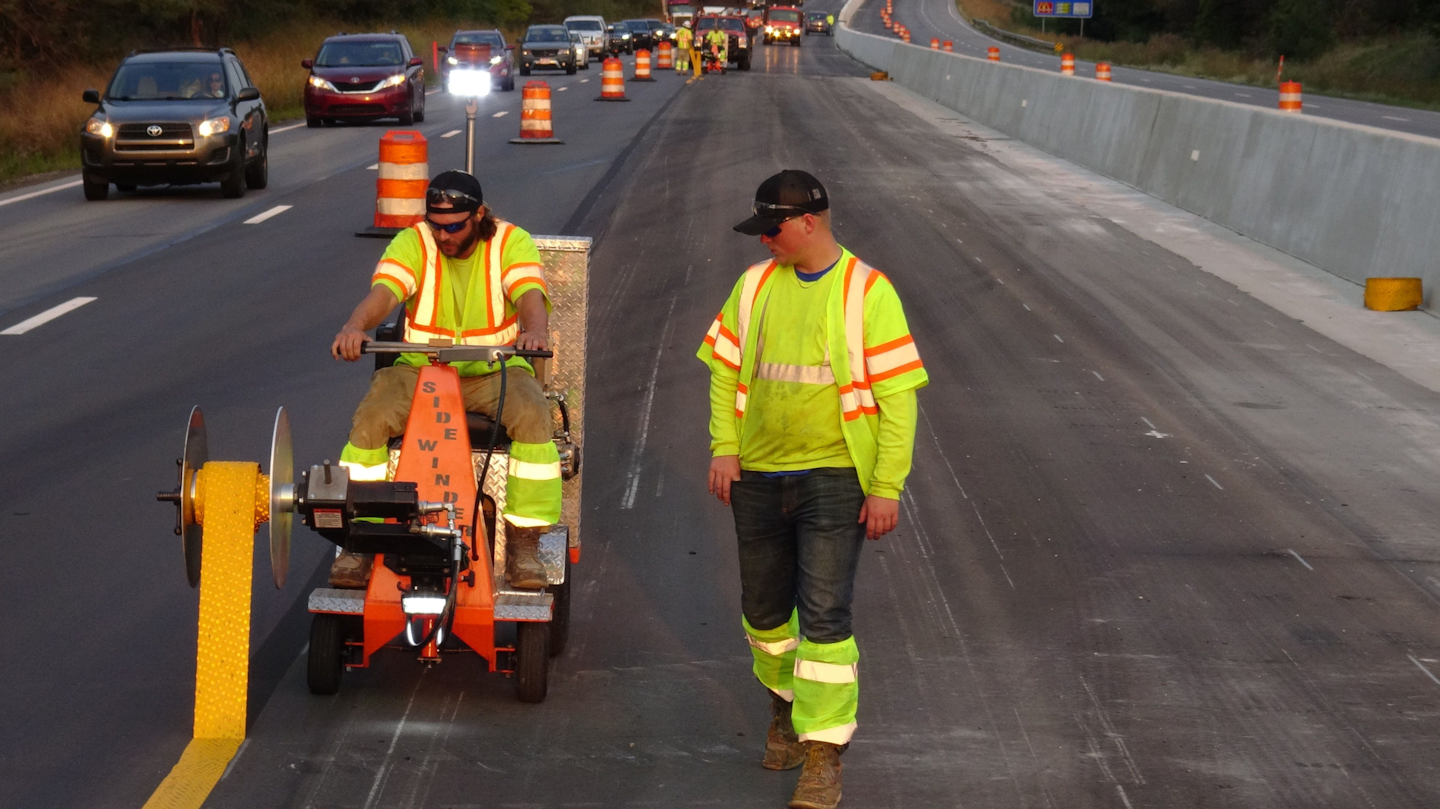 The Side Winder helps transform a difficult, messy task into an easy and efficient process. efficiency/productivity of temp tape removal and with newer and stronger temporary tapes on the horizon, the Side Winder will continue to add value to the temporary tape industry."
Temporary pavement markings such as tape are essential for motorists to guide them through work zones, day or night through any type of weather. Durability, cost, ease of removal and implementation are all factors that contribute to the decision as to what type of marking to use.
Always consult with equipment manufactures before operating and understand the specifications to ensure success of any job.