To the chagrin of all who prefer in-person trade shows, the 2021 National Pavement Expo (NPE) switched to a virtual event earlier this year. The successful conference featured 16 timely and relevant sessions plus workshops and live raffles. For those who may have missed it, all sessions are available for on-demand viewing until August 25, 2021.
The global pandemic has taken a vast toll on so many aspects of life, but optimistic NPE organizers have set aside Feb 23-25, 2022 to get back to business with an in-person Expo in Charlotte, North Carolina. Long-time show attendee and line painter Jim Panzenhagen believes the change of scenery from Nashville will prove to be a positive. "I think a lot more people may attend in Charlotte," he says, attributing the possible boost to reduced expenses.
"We were pleased with the virtual event earlier this year, but we are really looking forward to getting the industry back together in North Carolina," enthuses Russ Turner, associate show director, NPE. "You can't beat the networking aspects of face-to-face interaction. So much information is exchanged in the hallways, on the trade show floors, and in the organized networking events."
As vice president of JMP Excelsior Services LLC, Oakland, N.J., Panzenhagen had planned to be a speaker at the canceled Nashville event. He decided not to speak at the virtual event, instead opting to bide his time and wait for Charlotte. He based the decision on a personal preference toward in-person sessions, particularly the chance to read the room and react to audience interest.
"When I teach my class, I react to what the audience members are doing," he says. "I can tell if people need more details. Striping is very hands on, and question-oriented. In person you can see attendees perk up and lean forward when they are interested vs having people pull out their phones if they are bored. You can tell if you are going too fast, or if a lot of hands are going up asking questions—that's a good sign."
As an NPE attendee for the last 20 years, Panzenhagen agrees with Turner when it comes to the crucial networking aspects of in-person shows. Thanks to colleagues all over the country, ideas are shared in all aspects of the business, from the nitty gritty aspects of the job to the front-office tasks of marketing and accounting.
On the Expo floor, attendees can see, touch, and even climb on the equipment in some cases—a far cry from mere photos. With a handshake and a smile,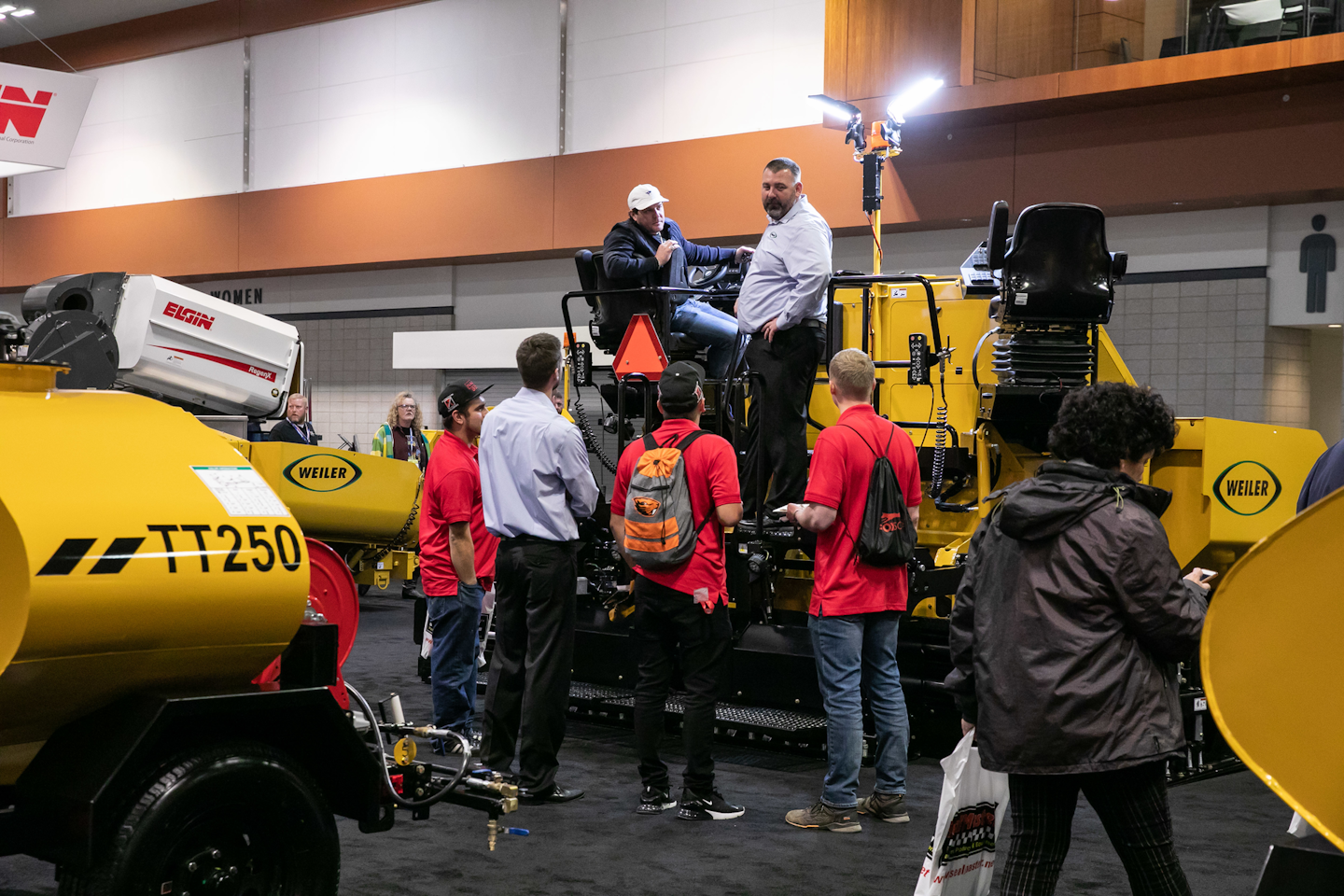 Attendees can see, touch and climb on machines during the expo portion of NPE Panzenhagen has cemented relationships with equipment manufacturers, many of whom he knows on a first-name basis. "I run new ideas past them that I would like to see on the machines," he says. "I discuss problems I have with the machines, and a lot of my suggestions are on the last three or four series of line lasers."
For those who have never attended or have not been for a while, Panzenhagen believes firmly in the old adage that you will get what you put in. "It's worth every dollar you spend if you go out and talk to people," he confirms. "You will make more money by learning different things, by networking with people throughout the show. That's the best part. If you network, you will come away with a ton of information and a ton of new contacts, and that's the most valuable part."
It's still a ways down the road, but it's not too late to save the date (Feb 23-25, 2022) by adding it to Outlook/iPhone, Google Calendar, Yahoo Calendar, and/or Hotmail/Live Calendar.
"As in past years, we will eventually roll out SmartSaver rates," Turner adds. "These are the absolute lowest rates available to attend NPE. Stay on the lookout with the trade publications and at the NPE web site. We look forward to seeing you in Charlotte."