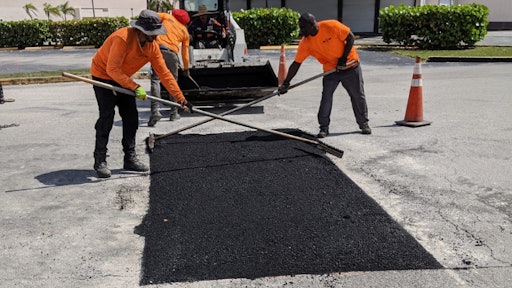 The Paving Lady | Facebook
Here is the history of Pavement Repair-only sales:
2021 – $205,407,647 (list size 75 companies)
2020  – $217 million (50)
2019  – $209 million (50)
2018 – $265 million (75)
2017 – $165 million in sales (50)
2016 – $255 million in sales (75)
As with all the other lists (paving, sealcoating and striping) the total revenue in this segment is down compared to last year. However, the pavement repair segment did not drop as drastically as the others. We can observe this as customers were hesitant to spend large amounts of money getting their pavement fully replaced but felt more comfortable doing a repair job.
Total Sales for the Pavement Repair 75
Total sales for all the work the Pavement Repair 75 did was $1,045,616,278 – slightly lower from $1.360 billion last year and $981 million in 2018.
As a percentage of total sales by the Pavement Repair 75, pavement repair-only sales accounted for 19% total work completed by the contractor(same with the striping list who also reports 19% sales in that segment). That's up from 17% last year and down from 21% in 2018.
The increase we see in pavement repair could be that contractors are detailing their work, rather than lumping it in with other paving work. It is also possible that these contractors had more work in this segment do to the economic uncertainty that was happening in much of 2020.
 Contractors in the Pavement Repair 75 perform other work as follows:
70 perform paving work
67 perform sealcoating work
64 contractors perform striping work
Profit Margins 
Profit margins for the 2021 Pavement Repair 75 followed the trends of slightly lower profit margins across the board. However, we did see an increase in the more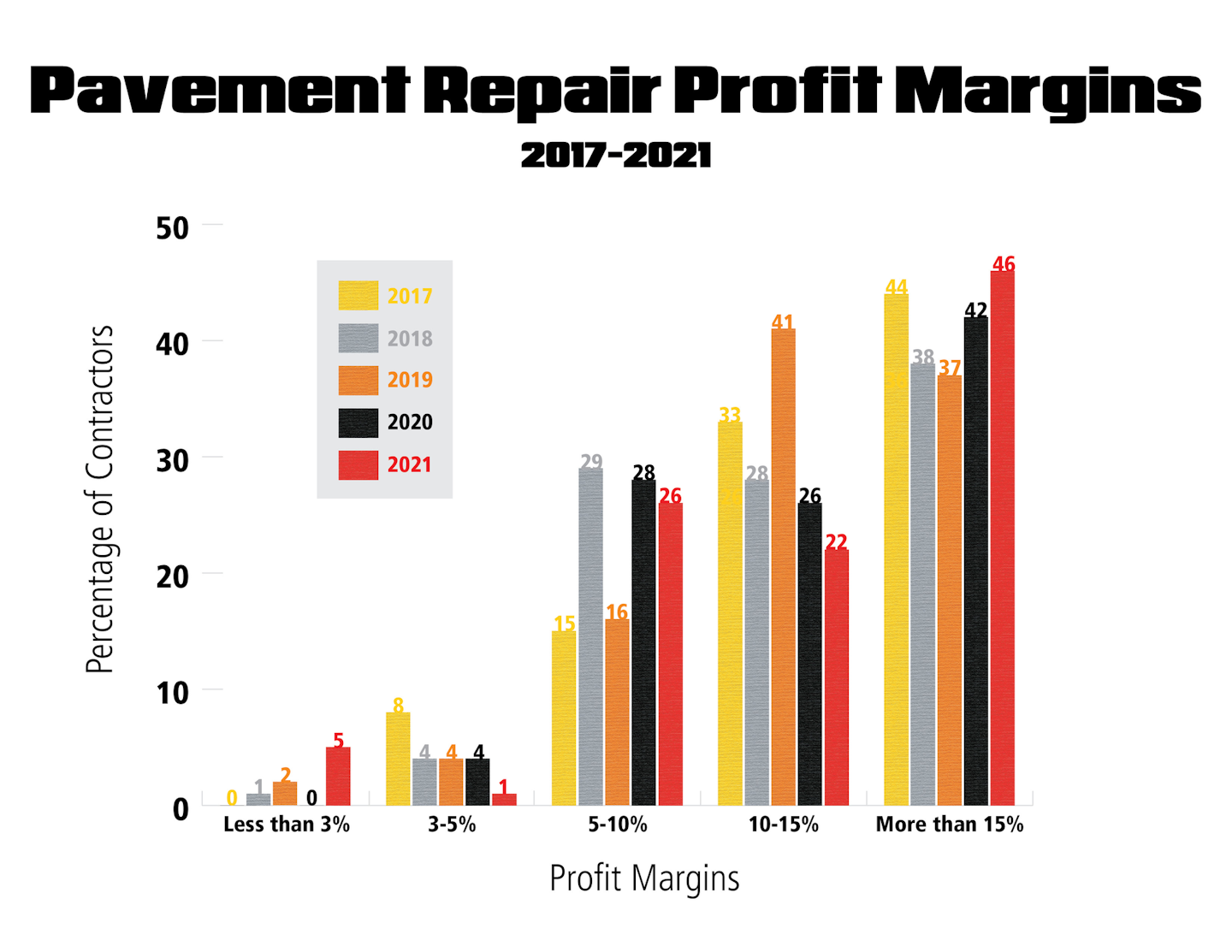 than 15% category (paving is the other segment that reported a higher profit margin in that category)
46% reported margins of more than 15%, up from 42% last year and near the high of 37% in 2018
22% reported margins in the 10-15% range, down from 26% last year and from 41% in 2018
26% reported margins in the middle 5-10% range, a bit lower from 28% last year and from 16% in 2018
1% reported margins of 5% or less, down from 4% last year
5% reported margins less than 3% up from 0% last year
So 68% of the Pavement Repair 75 generated more than 10% profit for their work which is the same as last year and down significantly from 78% in 2018.
Where the Pavement Repair 75 Contractors Work
All but one of the Pavement Repair 75 indicated they generate sales from parking lot work, with five companies (6%) generating 100% of their sales from parking lots and another 21 (28%) reporting 90% or more of sales from parking lots.  
Possibly demonstrating the impact large paving companies are having on the list, roads/streets and highways make up a decent percentage of work completed. Nine companies (12%) are reporting sales from highway work and 48 companies (64%) report sales from streets and roads (up from 37 companies last year).
Their Customers
74 contractors work for commercial/industrial customers
64 contractors work for multi-family residential customers
56 contractors work for municipal clients
44 contractors work for single-family homeowners
The rise in single-family homeowner work (up 14% over last year) could be because these residents were working from home, overlooking their driveway that might have needed work. Also, if the neighbor recommends a contractor, that contractor might gain more work for completing a quality job, raising the percent of work completed on this type of job.
Replacing the Pavement Repair 50s' Equipment
Four companies reported it would cost less than $500,000 to replace their equipment. Another ten reported it would cost $500,000-$1 million to replace their fleet; 25 companies said it would cost $1-$2 million; and 35 companies reported it would cost more than $2 million to replace their equipment.