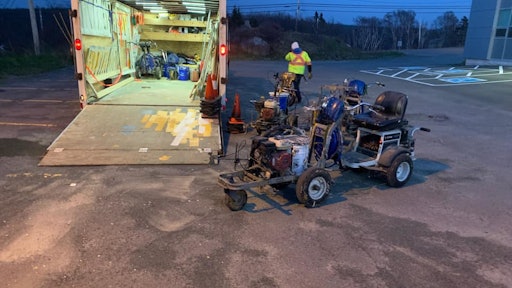 Joshua Baird | Facebook
As a striping contractor during the busy season, you are always on the go. Jobs and projects might pop up, typically scheduled with little to no notice. You're working long days and nights, the last thing you want to do is make an unnecessary trip back to the shop because you forgot to restock a necessary item in your trailer.
To stay ahead, and make sure you and your crew are operating at peak performance, here is a list of essential tools to keep in your trailer, so you are mobile within a moments notice.
Toolbox equipped with:

Channel locks
Crescent wrench set
Vice grips
Screwdrivers (philips and flathead)
Ratchet set and sockets
Hammer
Drill with paint stirring attachment
Duct tape
Tape measures (24-ft and 100-ft)
Chalk and chalk box

Striping machine, paint and fuel

Paint tips
Marking gun
Throat seal liquid
Mesh strainers
Cleaning solvent

Stencils

No Parking 12-in and 18-in
Reserved
Visitor
Handicap
Alphabet and number kit in 12-in and 18-in
3 sizes of arrows
4-in line stencil

Caution tape and rope
Empty pails
Air blower (handheld or backpack)
Steel broom
Pressure washer
Grinder and scarifier
Paint scraper
Forgetting a much needed tool or piece of equipment can set your crew back and delay a project deadline. Position your crew for success by keeping the tools they need to do the job in one centralized location in the trailer or truck, and if you run out, restock that product to keep your operation running smoothly.
Tool ideas submitted by members of the Pavement Marking Forum and the Line Striping/ Pavement Marking Facebook groups.