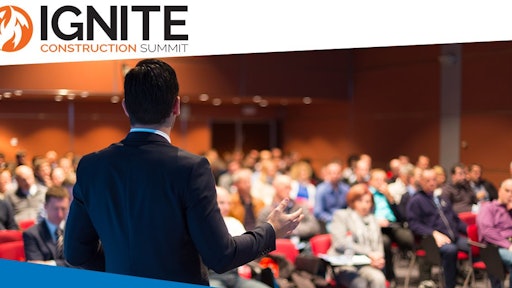 A tough economy, the shifting workforce, how to achieve results and higher profits, motivating employees, are all critical issues affecting many construction companies this year. These challenges, along with a whole list of others, can be overwhelming and oftentimes difficult to break down. In order to overcome these obstacles owners and managers need to understand the root cause in order to transform those tough obstacles into stepping stones for forward progress and success.
Solving problems to the most important issues are why owners choose to put in long days and longer weeks. They have a vision of what their company should look like and strive for. They thrive on building something of their own, often times from the ground up.
Ignite Construction Summit was developed specifically for those owners in the construction industry, to help these leaders take their businesses to the next level. The two-day educational and networking event will be held November 3-5 at the Golden Nugget in Las Vegas and will provide ample opportunities to talk with like-minded owners and  thought leaders on critical issues affecting your business including:
 How to improve company culture from the ground up, Matt Booth, CSP
Working through your financial checklist in a tough economy, Garry Bartecki, GB Financial Services LLC
A guide to triumphing over company chaos, Dave Crenshaw, Invaluable Inc
CEO tools on how to make it clear, make it happen, make it better, Jim Canfield, CEO Tools
How to build a team to lead your company to the future, Alex Willis, Leadership Surge
Creating and sustaining peak performance, Adam Kreek, KreekSpeak Business Solutions
This summit will provide you access to exchange ideas, brainstorm issues with the expert speakers and like-minded individuals while providing you tools to ensure your business can thrive. Visit www.IgniteConstructionSummit.com for session descriptions, networking events and to register.