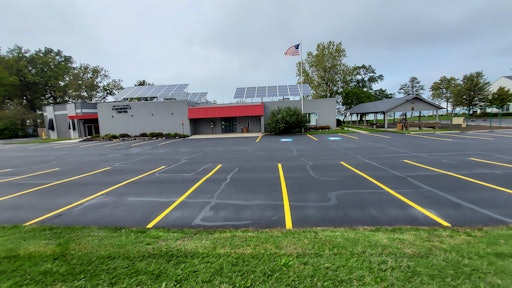 Xpress Asphalt Solutions
When the Sheffield Lake community center in Lorain, OH called on Xpress Asphalt Solutions to improve their deteriorating parking lot, owner Rod Hilton accepted the project. Little did he know, the current parking lot was in dire need of maintenance, there would be a tight turn around and the weather would not be in his favor.
The family owned and operated Xpress Asphalt Solutions was founded in 2021 and during the peak season has five employees. In their first year of operation, servicing commercial and residential properties, they covered 1.5 million square feet of sealcoating and line striping.
"The total work completed for 2021 was beyond our expectations," said Rod Hilton, owner. "As for late last year, we have added paving to our portfolio to provide more coverage for our customers."
Parking Lot in Need of TLC
This 38,000 sq.ft. parking lot of a busy community center was not maintained since 2016 resulting in ageing asphalt, potholes and markings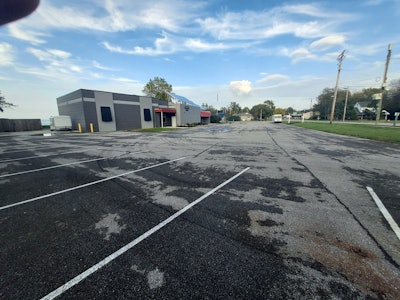 that were unnoticeable.
"The parking lot was in bad shape, it wasn't maintained for five years prior to us crack filling and sealcoating," said Hilton. "We had to go in there and literally start from scratch on a two-day notice, with less-than-ideal weather conditions."
Hilton and his crew sectioned off the busy parking lot because it was an active community center hosting a variety of events including the weekly Meals on Wheels program. Keeping the flow of traffic in mind, they began the maintenance on the lot including cutting the weeds on the perimeter, cleaning the pavement, crack routing and three patches before the crack filling and sealcoating to commence.
The three-member crew worked all day and into the night under the lights to execute prep-work and crack filling. Late that night, the rain came into town and Hilton had to be prepared to dry the pavement before continuing the work.
"We came back the next morning before the sun was up," said Hilton. "We used blow torches to get the condensation from the rain off of the asphalt so we could keep the project rolling. We had to have it sealed and striped that day for them to drive on because there was a wedding happening that evening."
Despite the impending deadline and Mother Nature, Xpress Asphalt Solutions finished the project, and the city was pleased with the work.
"The city thought we went above and beyond, meeting the deadline of only two days, and were happy with the end result," said Hilton. "They saw our work ethic and what customer relations mean to us. Now we have a working relationship with the city and have opened the door to more jobs in 2022."