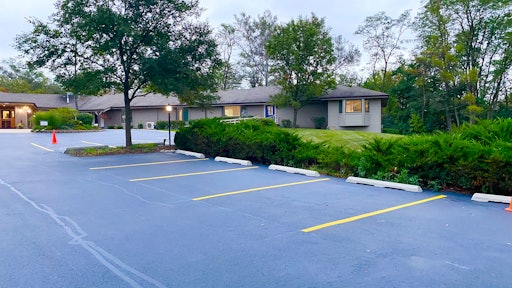 Maul Paving
Among their charitable efforts, Maul Paving of Naperville, IL donated preventative maintenance to a short-term community health care facility for children with complex medical conditions resulting in this year's Pavement Good Neighbor award recipient.
Almost Home Kids provides a bridge from hospital to home through an innovative community-based care system for children with medical complexities.
"We respond to the needs of families, train caregivers, offer respite care, advocate for accessibility and inclusion and educate healthcare professionals," said Gail Linhart, director of operations. "At our Naperville home we serve 80 children with medical complexities annually and train approximately 160 parents and caregivers each year."
Scope of the Donation
The initial project with Almost Home Kids started four years ago when Maul Paving reconstructed their entire parking lot totaling upwards of $250,000. Paul Price, director of business development, reaches out every two years for the lot maintenance donation, sealcoating, cracksealing and restriping, to ensure the parking lot is safe and protected.
"Community partnerships, like the one between Almost Home Kids and Maul Paving are vitally important to Almost Home Kids," said Linhart. "Not only does it allow us to steward our fiscal resources directly to the children's care and the supportive clinical programs, but the safety and quality of our facility is greatly enhanced thanks to projects like the repaving and marking of our Naperville car parking lot."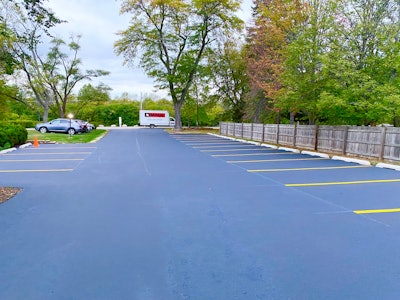 This facility is operational 24/7 and the crew had to accommodate the emergency vehicles traveling in and out of the parking lot. The six-person team put in a 12-hour day, sectioning the lot in half and utilizing fast curing agents in the material to maintain operation. Once dry, the line marking crew came out and made sure the facility was ready for the next day.
"It feels good knowing we made a difference to the facility and the children it serves," said Price. "These children are able to get in and out safely, it's properly paved, seal coated and restriped."
In addition to this in-kind donation of $5,000 worth of pavement services, Maul Paving has also helped other local non-profits like Little Friends Center for Autism, Turning Pointe Autism Foundation, Edward Hospital Foundation and churches in their neighborhoods.
"We are proud of the communities we serve and at Maul, donations like these can ensure visitors using the facilities are driving and walking on well-maintained properties," said Price.