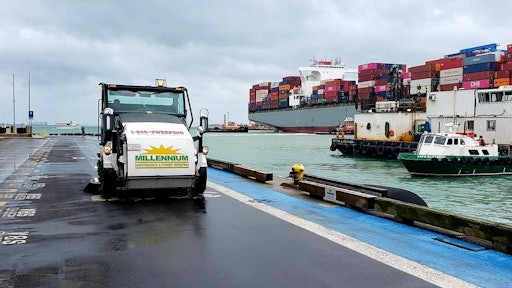 Established in 1999, Millennium Maintenance and Power Sweeping (MMPS) founder David Ross had a vision for developing a sweeping

and full-service maintenance firm.
"I was looking to start a new business after years of working in the waste management industry and time working for a food carting business," said David Ross, owner of MMPS. "After extensively researching the sweeping industry, I thought it looked like a good fit and decided to go into business, purchasing my first sweeper in 2000."
Similar to many small business contractors just starting off in the industry, Ross personally performed the sweeping services for his customers at night and by day, he was playing the role of salesperson. Soon, MMPS would see an accelerated growth period, transforming from just a parking lot sweeping company into a construction and municipal sweeping contractor and diversify into other areas including exterior and interior facility maintenance. Most recently, MMPS established a waste division with roll off work.
"Early on, I figured out that in order to grow in a way I initially thought of, I would need to offer a variety of services apart from just parking lot sweeping," said Ross. "I began hiring employees that could help me cover the unique needs of my customers. Combining the expanding service offerings and staff to complete the jobs, the company was able to grow at a rapid pace."
Covering the New England Region, 365 Days a Year
Sweeping contractors usually perform work after stores are closed, when parking lots are clear of traffic and vehicles. However, Millennium takes it a step further by staffing their office 6 am to midnight, seven days a week. In addition, their operation runs 24 hours a day, seven days a week, the third shift sweeping division is dispatched seven nights a week, with ten routes servicing Massachusetts, Rhode Island and New Hampshire.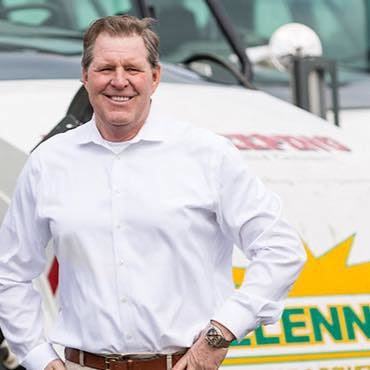 "We never forget we are in a service industry and take great pride in delivering exceptional, timely service to our customers," said Ross. "We maintain an extensive fleet of equipment with experienced, loyal employees who know it is our goal to always satisfy our customers. Because of our equipment and staffing, we are able to respond to our customers' needs at the drop of a dime."
Down time is less than ideal for an operation that continually runs day in and day out. MMPS has a main garage and warehouse located in Medford, MA as well as a satellite garage in Rhode Island for any emergency issues that might arise. The company has master mechanics along with mechanic helpers to ensure the equipment is running at optimal levels. Also, Ross has cultivated long-term relationships with dealers to assist with any overflow work that may arise.
Technology like GPS monitoring helps MMPS skillfully operate up and down the coast and help track location, speed and safety issue of the equipment. It can also provide live up-to-date traffic conditions so that the corporate office knows when to re-route vehicles when necessary.
"Communication between our staff when they are on the jobsite is crucial for our business," said Ross. "Implementing technology is one way we are constantly in contact with those on the roads to make sure we can guarantee accurate scheduling and proper execution of all of our projects."
Rise to the Challenge
Any business can have their staff trained up, equipment running at peak performance, but sometimes, despite all of this, things will go sideways, and the company is confronted with a crisis or a challenge to overcome. No matter how well prepared a company is, obstacles will always come along and force the stakeholders to do something to solve the issue.
With the onset of the COVID-19 pandemic in early March 2020, Ross was quick on his feet, he began thinking about how to turn that challenge into an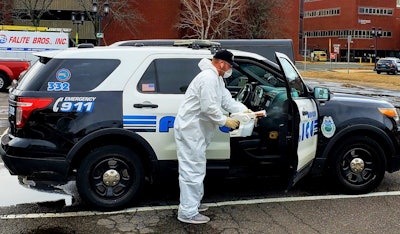 opportunity for his company.
"We rose to that challenge by researching disinfecting and sanitizing methods and investing in equipment and training for our staff," he said. "During the height of the pandemic, our sanitizing and disinfecting crews were busy around the clock servicing our existing customers and new customers."
Ross did not let the challenge overwhelm him or MMPS. He was able to identify and solve an issue his customers were facing with a viable option. Today, MMPS still offers the virus disinfection service and customers like gyms, schools, restaurants and other businesses continually uses this service.
Word of Mouth
Competition can be healthy for companies, it can influence you to innovate, stay ahead of the curve and propel your business to the next level. Having a compelling message, deliver excellent customer service and execute jobs to the highest level will set companies apart from the rest.
"With each new service we have added or expanded, we were able to gain a new customer base," said Ross. "Many of our customers have gravitated to our organization by word-of-mouth. They have heard about the great experience we provided from a trusted source and the potential customers wants to partner with us for that same culture."
However, that culture isn't built overnight. Ross has leaned on associations for information and resources as well as safety and educational training for his staff.
"World Sweeping Association and North American Power Sweeping Association has been two great assets that we consider an extension of our company," said Ross. "They help us stay abreast of new technologies, equipment and provide a venue for community support."
Ross also utilizes a hired safety office to help ensure his staff is knowledgeable and safe year-round. The company implemented driver training, drive safety and general safety by the way of classes, lectures, video training and in-the-field experiences.
"We truly put safety first," said Ross. We hold mandatory monthly meetings in-house at our corporate office with all employees to review. Our employees have undergone extensive training in construction and maintenance techniques and procedures to ensure the highest standards on every job."
Since day one, Ross has had a forward-thinking mentality, diversifying the services to provide customers a one-stop-shop. Every business development was a natural next step, creating an all-encompassing company that is committed to quality and communication from the top down.
"We will continue to strive to find ways to become better every day of every month and every year," said Ross. "Our customers have learned that when their job is handled by us, it gets done right, on time and on budget. I am proud of the team we have built; they are at the forefront of our success."