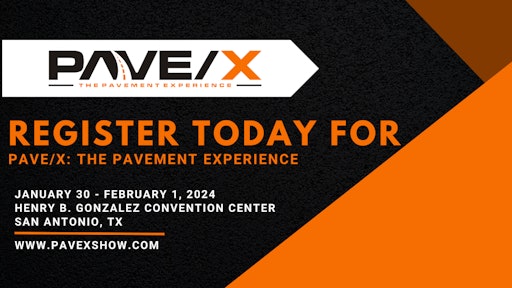 PAVE/X, The Pavement Experience, has officially opened registration for the 2024 event to be held Jan 30-Feb 1 2024 at the Henry B. Gonzalez Convention Center in San Antonio. The first-ever event will feature over 60 hours of conference sessions and attendees can now register for classes they wish to attend to improve their technical and business skills.
"We really wanted the PAVE/X difference to begin with a robust educational program that is unlike any other learning experience in the market," Jessica Lombardo, Conference Manager of PAVE/X said. "This industry is full of experts and PAVE/X will provide enhanced opportunities for our industry to expand their knowledge, no matter what level they are at in their careers. Some of the most experienced leaders in the industry are joining us at PAVE/X to bring next level education on running a business, enhancing your performance, mastering new technology and so much more."
The educational program will feature five tracks: Paving, Striping, Sweeping, Sealcoating & Business Management. Attendees can choose the sessions that will be most impactful to them and their needs.
Some of the BRAND new content sessions coming to PAVE/X include:
The Game Plan: Planning Your Paving Project for Success by Kenny Roy, Royal Pavement Solutions

Planning & Building Specialty Paving Projects by Wayne Jones, Asphalt Institute
Understanding Density & Rolling Patterns by John Ball, Top Quality Paving
Break Through the Ceiling: How to Grow Your Striping Business by Cam Roberts, Laser Pavement Solutions
A Hands-On Approach to Learning Striping Technologies by Chad Jung, Superior Striping
The Master Class: Mastering the Art of Precision Striping by Mark Estrada, Marathon Pavement Solutions
Starting Your Sealcoating Business from the Ground Up by Steve Young, Young Sealcoating
Everything You Need to Know About Owning a Mill by Tom Eosso, Eosso Brothers Paving
How to Succeed with Asphalt Emulsion Sealers & How to Prepare for Future Material Needs by Steve Brahney, Brahney Asphalt
If Cost Is the Issue, What's Your Solution? By Brad Humphrey, Pinnacle Development Group
Full Contact Business Management by Mauro Comuzzi, The Paving Lady
Pivot 101: Your Guide to Successful Business Planning in a Changing Market & Pivot 201: Strategies to Identify & Execute Future Business Growth both taught by Guy Gruenberg, Grow Consulting
The educational program will also feature panel discussion with industry experts and manufacturer representatives that will provide attendees a more interactive path to learn about pressing business questions such as "What Do I Need to Know About a Concrete Business" and "How to Incorporate Machine Control to Save BIG Money."
"These panel discussions are a great way for attendees to be able to participate in a discussion where they can learn firsthand the ins and outs of adding a service or growing their business," Lombardo said. "These conversations give attendees more of an opportunity to connect with speakers and ask questions during the session, allowing for a different level of education that they may be used to and we're excited to be able to facilitate that with PAVE/X."
In addition, the exclusive sweeping track at PAVE/X is tailored to the needs of sweeping professionals and the education will include the Sweepers Roundtable, North American Power Sweeping Association (NAPSA) Best Practices Workshop and NAPSA Keynote event which will all continue to be discounted for NAPSA members.
"We are pleased to be partnering with the NAPSA on education for our sweeping professionals," Lombardo said. "We look forward to working with their team, our team of Advisory Board members and our expansive network of speakers to further education for not just sweeping professionals, but all levels of contractors in our great industry. We are crafting this content with purpose and care, knowing how important each and every session will be to helping contractors strengthen their skills and their businesses."
To learn more, visit www.pavexshow.com and register at https://events.american-tradeshow.com/pavex2024