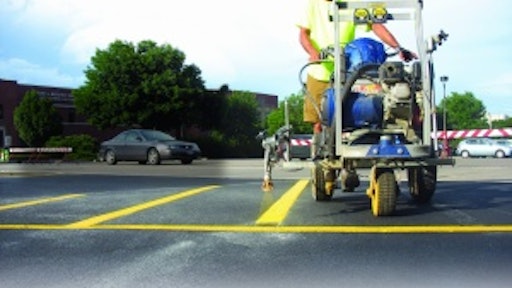 Arrow Striping is an example of what the right people, who join together at the right time, and bring the right ideas, can do to help a company thrive.
This small pavement marking company, which specializes in parking lot and airport striping, has over the years become a growing, profitable, smoothly running pavement marking business - and a great place to work - by allowing its owners and employees to play to their strengths. And it's a model other contractors, stripers or not, can use as a blueprint for their own operations.
Started in 1986, Arrow Striping, Lincoln, NE, has evolved since the company was sold in 2006 to the four current principals: Sue Rottinghaus, president; Don Rottinghaus, vice president; Heath Whitney, executive director; and Renae Whitney, secretary/treasurer.
Sue Rottinghaus and husband, Don, didn't know anything about pavement marking prior to joining the partnership. Sue had been involved in real estate and has 10 years office management experience, particularly in accounting and insurance, and she now handles the office and administrative functions of the company. Don had worked with a construction company, so he had an idea of the contracting business - but not pavement marking. Heath Whitney, on the other hand, is the Arrow Striping technical expert, with 10 years under his belt with Arrow Striping as an employee before becoming partner. Renae Whitney, Heath's wife, worked for Arrow Striping for several years and now handles the company's human resources, website, and mailing efforts among other jobs. Office manager Linda Anderson, while not an owner, has played a key role as well. "We're all kind of diversified in what we know and what we do, and it works well," Sue Rottinghaus says.
Parking lots and airports
Working with the major contractors in the area as well as the larger property management firms, Arrow Striping generates 51% of its income from parking lot striping, 37% coming from airport striping, and the remainder from indoor striping and marking athletic fields.
In peak season Arrow employs up to 15 people, who can stripe up to 15 jobs a day depending on size and distance from the office. The contractor stripes between 500 and 600 parking lots and between 11 and 15 airports a year.
"When you're doing that many parking lots you really have to figure out where you're going and who's going there," Rottinghaus says.
And by pooling all their individual skills Arrow Striping has figured it out. Sue works in the office, Don works with general contractors and does bidding. He and Heath measure jobs and put together bids (a recent advance is Arrow's use of "smart phones" enabling the company to create and e-mail a bid right from the site). Work orders come in to Anderson, who passes them to Whitney. Whitney schedules and tracks work orders on a magnetic board, and as the jobs come up he gives the work orders to the crews when they are going out "so everyone is working off the same page and knows what's expected of the job," says Rottinghaus, who adds the system grew out of the way the Arrow team worked together.
"We have improved our organization - streamlined ourselves - and we know what needs to be done and who can do what," Rottinghaus says. "Do we actually have a step-by-step written down plan? No, we don't. But we have enough people who know what they're doing and who are good at what they do so we can get out there and get any job done quickly. We have the capabilities to get something done on the spur of the moment, which can make us really valuable to a contractor or property manager who needs something done quickly.
"By simplifying it we know we have a few little steps we need to take. We all have our own roles to play, and it truly is not that complicated."
But the transformation of Arrow Striping has a lot to do with the base the new owners started from and their insistence on pursuing the growth and profitability they saw in the company before they bought it.
"The original owner before was a one-man show," says Heath Whitney. "He started from scratch in college out of his house. The company has grown big but he wasn't doing anything internally in the company and he wasn't doing anything to allow it to grow. The potential for it to grow was there but he just wasn't allowing it to happen.
"Before we'd spend three or four hours in the office just figuring out what to do, and that just wasn't cutting it. Now with four people in the office we can have crews that just go out and paint every day. But he laid a foundation, developed a great reputation, and we're building on that."
Retaining quality workers
That "building" resulted in the loss of some employees and restructuring of crews, among other changes. But the impact is evident.
"When we took over we did a little revamping of the staff. We wanted people that wanted to come to work, who wanted to be around, and who had the work ethic we were after," Rottinghaus says. "Eventually we found them, and now we have a crew we like that's coming back. I can't say enough about them, the pride they have in their work, and their dependability."
Rottinghaus says two employees have been with the contractor six years with the remainder of the staff having been with them either two or three years. In 2008 all the contractor's 2007 employees returned so crews were up and running full bore right from the start.
"And it appears it will be the same this year," Rottinghaus says. "Everyone's coming back and that makes it so much easier when people know where everything is, how everything needs to be done, and how it all works."
Whitney says that reducing what had been a high turnover rate has improved productivity, job quality, and even made scheduling easier. "It takes time to train people and that slows down work, especially at the start of the season," Whitney says. "It takes a good one to two years to learn everything and to understand it all and understand what's going on and how to go about making adjustments. There's a lot to remember and with so much turnover it was very difficult to be as productive and efficient as we wanted to be."
Impact of crew size
Arrow Striping usually starts the season running three or four crews, eventually working up to six crews. Typically each crew will work its own job, enabling Arrow to handle six jobs simultaneously. Whitney credits a switch to three-person crews from two-person crews with making the company as flexible and productive as it is.
"The previous owner operated only with two-man crews but that just wasn't efficient," Whitney says. "Two people were needed for layout but when the layout was done one person was just standing around. Now with three people on a crew two can do the layout and one person can paint while the layout is being done, and once the layout is finished the painting is almost done. It cuts down on the time it takes to do each job, and when as much as 40% of the work is out of town the less time you spend on a job the less hotel and per diem you have to pay."
Whitney says that he sends out three-person crews to about 40% of the jobs, sometimes cutting a crew to just two people depending on the size of the job. But depending on the size of the job Arrow will double up crews. On a recent job requiring 30,000 lineal feet of striping they sent out two crews who were able to complete the work, excluding arrows, in two nights.
Whitney schedules as many as 15 jobs a day, acknowledging that scheduling can be stressful. "But after doing it for 10 years it gets easier," Whitney says. "Knowing how long a job should take really helps. It comes down to knowing what the different jobs involve and knowing your guys and what they are comfortable doing. If it's a simple layout, for example, I can send out some guys who are not experienced with big jobs and they won't get spooked like they would on a big job."
He says that when possible he schedules jobs in the same area of town "so if we have three jobs to do the crew isn't driving all over town, back and forth, to get them done."
He says matching the crews to the different jobs is an important part of Arrow Striping's ability to make life easier for the contractors it works for.
"There are always big jobs and small jobs going on at the same time, so do I send two crews to the big job to get it done quicker and send other crews to the smaller jobs? Or do I send one crew to each job knowing that the big job is going to take one crew a couple of days?" Whitney says. "A lot depends on what's going on in each individual job and what we have coming up. Maybe it's best to send a couple of crews to the big job so we can knock it out and get those crews on to other work. Maybe it's best to get that big job done for that customer. If a job is out of town I have to make sure to keep enough people in town to do the work around here.
"Scheduling is definitely tricky," Whitney says. "You have to be careful when scheduling because you can't get too booked up because then you burn the guys out and they won't want to come and do everything."
He says this year Arrow Striping is trying a new approach to getting crews and equipment ready for each day, hiring two mechanics to work in the shop. The two will come in at night and fill vehicles with fuel, make sure vehicles are loaded and ready to go with what the crews need for the next day's work.
"We're trying to streamline the process and make it as easy as we can on our guys so they don't have to spend more time than they need to in the shop," Whitney says. "The mechanics will work a full day on Sundays and about four hours a night each Monday through Thursday getting things ready. They also will be available to help out with striping if we need it."
Arrow Striping makes every effort to take Saturdays off, and even when work is plentiful Whitney says they can do it through effective scheduling. He says that in 2007 the company ran seven days a week through the entire season, but last year they were able to schedule work so that there was only one month where they had to work Saturdays.
"It's all in the scheduling and getting things streamlined," Whitney says.