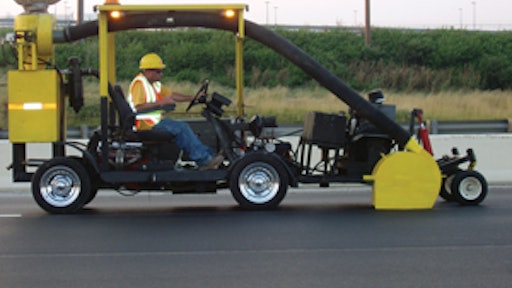 It wasn't that long ago, especially in the Midwest, that rare was the highway that relied on raised pavement markers to improve safety. But as research showed the impact raised markers can have on keeping drivers in their lanes, and as technology improved so markers are now "plowable," many states began requiring raised markers on their state roads, in addition to many federal highways.
In Indiana (as well as Illinois and Kentucky) that frequently means that M.A.S. Markers gets the job. Owned by Michele Johnson, president, M.A.S. specializes in installing, removing, and replacing raised pavement markers. Michele's husband, Steve Johnson, is operations manager and he says that virtually all of M.A.S.'s income is generated from the markers that delineate the center of roads, lanes, and in some cases the pavement edge.
Steve Johnson says the raised marker installation business is extremely competitive, with six competing contractors in Indiana, five in Kentucky, five in the Chicago metro area, and five more throughout the rest of Illinois.
"But we specialize in this business," he says. "Most all the contractors we compete with offer traffic control services (as a subcontractor) and striping in addition to marker installation. But marker installation is all we do. It's what we know."
And over the years it's what M.A.S. Markers has become known for, perfecting what had at one time been a slow, labor-intensive, and unsafe operation.
From highway safety to marker installation
M.A.S. Markers is an outgrowth of the James Drew Corp., an Indiana firm that specialized in signs, lighting, traffic signals, and guardrail installation. Steve Johnson started working at James Drew in 1985, the first year the company entered the marker business, and he started as a foreman of a crew installing markers. By 1990, James Drew had three crews installing pavement markers and several crews replacing reflectors in existing markers.
In 1997, James Drew Corp. decided it wanted out of the marker installation business and offered Steve Johnson a chance to buy that part of the company. He wasn't interested, but Michele took a closer look at the operation and thought it was a business she'd like to take a crack at running. So she acquired that part of the company, and with Steve as operations manager they were installing and replacing markers right from the start.
And rather than make cuts in equipment or staff to inflate the bottom line, Michelle took a long-term view. The first thing she did was invest in the operation, improving existing equipment and buying new equipment.
"When she bought Drew Corp. out she had enough capacity equipment-wise for two marker installation crews and two reflector replacement crews," Steve Johnson says. "Today we have the capacity for four marker installation crews and four reflector crews."
Steve says M.A.S., which uses markers from Ennis Paint, currently has the capacity to install "every single raised marker in all of Indiana and Kentucky. And we have the capacity to change all the reflectors in all of Indiana, western Kentucky, and the southern two-thirds of Illinois."
Since 1997, M.A.S. Markers has tackled jobs in Indiana, Illinois, Kentucky, Missouri, and Arkansas. And business in 2008 was good, with 25 jobs carried over from 2007. Michele Johnson says M.A.S. completed more than 120 jobs in 2008 and carried another 40 accepted bids into 2009.
Johnson says 75% of M.A.S. Markers' work is done on state highways, 20% is done on interstates, and the remaining 5% is done for cities and counties. It's customer base is virtually entirely public agencies at the local and state levels. In the peak summer season M.A.S. typically runs three crews of five people each, but last summer the contractor added a fourth crew to help finish out the season.
Innovation improves efficiency
As with many successful contracting operations, the key to M.A.S.'s success was innovation and improved efficiency. Johnson says that when he first started at Drew the installation process was slow and even cumbersome. Walk-behind pavement saws were transported to the site by pickup trucks, unloaded, and the saw operator pushed the saw to the proper location, made the cut, then walked 80 ft. to make the next cut. The saws were followed by 1968 Ford 2-ton trucks, and the crew would place adhesive in the cut and insert the marker casting, the whole operation moving very slowly down the road.
Johnson decided pretty quickly that Drew's installation process was too slow and in 1986, relying on a friend who owns a welding shop, they designed and built a specialized self-propelled, diesel-powered saw machine to cut the slots for markers. That's when the "flintmobile" was born. It was a 1971 Camero that they stripped down, shortened the frame, added a Cimline concrete saw at the front end, and retained the V8 engine to propel it from one hole to the next.
It worked well enough that in 1988 they built their second unit, adding a dust vacuum so the hole was clean when the unit pulled along to the next cut. M.A.S. along with Harrington Associates, Indianapolis, also designed their own machine to place adhesive in the cuts. "We made it more efficient and more durable," Johnson says. Currently they operate three flintmobiles, one saw truck outfitted with a glue machine on the back, three glue machines on three 33,000-lb. GVW trucks, and two International trucks with high-torque diesel engines.
Now with their innovative units they cover the distance between cuts in 6 or 7 seconds, enabling them to cut and install significantly more markers per hour and day. Some of their old equipment used a 65-hp Wisconsin engine to make cuts in the pavement, and that took 15 to 20 seconds per cut. Now all equipment uses diesel power that can make the same cut in 8 seconds because diesel provides more horsepower and greater torque. Another change they made that contributed to cutting the sawing time in half was switching to diamond blades manufactured by Dynatech in Elyria, OH.
They've also designed and reconstructed eight "dune buggies" that are used by crews to replace reflectors in existing markers. The dune buggies have a Volkswagon diesel engine, a Volkswagon automatic transmission, and disc brakes. "We designed them with the gear shift and steering in the middle of the unit so you can switch to work from either the left side or the right side depending on whether you're working on an interstate or whether you're working on a two-lane road," Johnson says.
"Reflector replacement is very fast-paced," Johnson says. "In a perfect world we can replace 2,200 to 2,400 reflectors a day."
A dozen pickup trucks plus another 11 large trucks, some outfitted with truck-mounted attenuators (TMAs), round out the equipment fleet.
"We have more equipment than we put out in the field every day, but that's by design," Johnson says. "We always have something sitting there so if something breaks down in the field somewhere I can jump in a vehicle and bring the crew the equipment they need."
Safety and traffic control
Because virtually all their work is done amidst live traffic, a significant aspect of the operation is traffic control. "We move along at 2 mph," Johnson says. "There's nothing standing still, and you have to have experience when it comes to that kind of work."
He says that the company's emphasis on safety and its focus on traffic control have resulted in only one worker hurt on the job since 1985, and it was a minor accident. "We've had people hit our TMAs but everyone walked away unharmed."
M.A.S. sets up its marker installation or replacement train this way: dune buggy to replace damaged reflectors, saw truck to cut/install and replace new castings, truck with TMA, second truck with TMA, arrow board with TMA.
"All of this is staggered to push traffic away from the working vehicle in the front," Johnson says.
Behind all this are message boards, which they include on every job. "The first is situated one-half mile behind the first moving TMA providing directions to drivers and basically just giving John Q. Public a warning of what's going to happen up ahead," Johnson says.
Declining profit margins demand efficiency

M.A.S. Markers' efforts to improve crew efficiency have become more and more important as profit margins for reflector installation and replacement have declined - while the market itself has grown. Michele Johnson says the marker installation program in the states they deal with, and particularly in Indiana, is better than it used to be and funding is a lot better than it used to be (because Indiana leased out its toll road, which generated an influx of funds).
Among the factors driving the Indiana market is a requirement of raised markers on newly resurfaced roads. In addition blue raised markers to indicate the location of fire hydrants are required in some new subdivisions and on state roads and highways bordered by soundproof barrier walls. "These walls have doors in them to provide access to fire hydrants but it can be difficult to find the door," Johnson says. "So blue markers indicate where the hydrants are."
But an improved market doesn't necessarily mean an improved bottom line.
"We were installing markers in 2007 and in 2008 cheaper than we've ever done in our life," she says. Most of the blame she attributes to a new competitor who entered the industry in 2006-2007 and cut the price just to obtain market share. "He just came in and damaged the market."
She says that as a result margins the last two years are way down.
"But we've picked up more in volume, and we're still doing okay," she says. M.A.S. installs roughly 85,000 raised pavement markers a year and replaces between 180,000 and 250,000 reflectors a year on an average.
Read "Traffic Control Tips from M.A.S. Markers" to learn more tips from and information about the company.