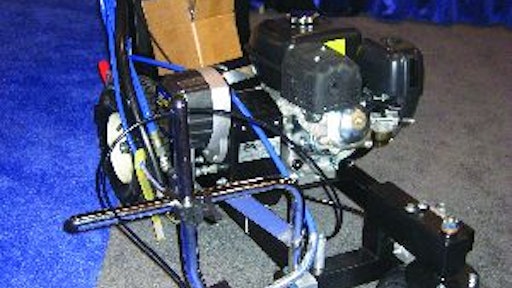 Contractors involved in pavement marking couldn't have found a better place to compare and contrast pavement marking equipment than the 2009 National Pavement Expo Feb. 18-21 in Charlotte, NC. Most of the industry's equipment manufacturers brought units to the exhibit floor (and paint suppliers also showed up in force), so pavement marking contractors could get a great overview of what's available to help them succeed in their pavement marking businesses.
Whether contractors were looking for utility stripers to just get them into the market, small machines for touch-up and small striping jobs, high-production stripers, or thermoplastic applicators, contractors had a variety of equipment options to choose from.
Airlessco by Durotech attracted a good deal of attention with its two most basic airless stripers, the Sure Stripe 3650 and the 4050. Mike Gordon, Airlessco regional sales manager, describes the 3650 as an entry level machine designed and priced for contractors who stripe only a few times a week. Weighing 166 lbs., the 3650 features two 13-in. pneumatic tires, a front swivel wheel with Airlessco's Radius Memory system, and a piston-pump driven system with a max output of .7 gpm. Gordon says the Sure Stripe 4050 is a step up from the 3650, weighing the same but producing .8 gpm and featuring a foot-operated parking brake. Gordon says both stripers feature an externally adjustable packing system, enabling the operator to adjust both the upper and lower packing tension easily from outside the pump, reducing both downtime and maintenance costs.
Not on display but available for the high-production striping contractor is Airlessco's Sure Stripe 9500 which features hydraulics instead of a piston pump and is billed as featuring the "biggest paint pump on the market." Output on the 9500 is 2.7 gpm with annual usage projected as up to 30,000 gal. per year.
For contractors who like air spray, EZ-Liner exhibited its 583 Air Spray Walk-Behind striper. The 583 features a 2.5-gal. paint tank, a 5-hp Briggs & Stratton gasoline engine, and a 13.2 cfm air compressor. Two wheels on the front of the 583 help with stability and dismounting paint guns allow for hand spraying. If you're looking to do more with your striper, the 583 includes options such as a glass bead dispenser, a 5-gal. paint tank, a curb painting attachment, a 30-in. adjustable line guide, and a field marking configuration.
Also available from EZ-Liner is its Belgian Self-Propelled Walk-Behind striper which can be used in airport and runway striping, says Dick Bjork, Eastern regional sales manager. This unit, which is available in an air or airless model, features a 13-hp Honda gasoline engine with electric start and a 13.2 cfm air compressor with unloader valve. The self-propelled striper can go in forward and reverse with variable speed control and features a heavy-duty front swivel caster. One-, two-, or three-line configurations to paint up to 36-in. lines in a single pass are available.
The Fine Line Industries booth was buzzing with contractors stopping to check out the Lazy Liner 2, a sit down, ride-on attachment that can hook up to striping machines and turn them into self-propelled units. With electric start, 5-qt. hydraulic system, 5.5-hp Honda OHV engine, and one or two foot operation with fully adjustable pedals the unit was generating quite a crowd. The Lazy Liner 2 also features an impact protection bar behind the engine to protect the engine, muffler, carburetor, and valve cover from damage. A new adjustable seat allows the operator the ability to raise or lower the seat and move it to the left or right for visibility purposes.
Fine Line also offers the Lazy Liner 2econo model which is the same as the Lazy Liner 2 only with a basic pull start Honda engine and no rear engine protection bar.
At the Graco Inc. booth a number of stripers were on display including several models of LineLazer IV and the LineDriver. The LineLazer IV is available in the 200HS, 3900, and 5900 models. All models are available in one or two gun options. The 3900 weighs 212 lbs. and has a maximum psi of 3,300 and a maximum gpm of 1.25. The 5900 weighs 232 lbs. with a maximum psi of 3,300 and a maximum gpm of 1.6. The 200HS model weighs 277 lbs. with 3,300 maximum psi and 2.15 maximum gpm. All three models are ideal for continuous, heavy-duty line striping requirements and are available with Graco's Auto-Layout System.
The Auto-Layout System eliminates manual layout of parking stalls and pre-marking roadlines, points out Tim Wehner. Graco's Auto-Layout is accurate to ¼ in. at 100 ft., according to Graco. The Auto-Layout also features a new SmartControl Digital Tracking System to track, measure, and control all aspects of the job and a new digital display that shows psi, mph, mils (instant average), lineal foot, gallons, and mils (total) on one screen.
JCL Equipment Co. displayed its HRL-1 walk-behind striper great for parking lot and stenciling applications. The HRL-1 features a 5.5-hp motor and 11.8 cfm aluminum compressor. A 7-gal. pressure vessel is standard but a 12-gal. or stainless steel vessel is also available. All regulators and gauges are brass with the gauges having glass faces to ease removal of spilled paint. Contractors have the choice between a diaphragm gun (for oil-based paints), a non-bleeder gun (for latex paints), or a GTB gun, which is a non-bleeder with a flushable tip. Double gun options are available with the non-bleeder and GTB guns.
Add-on options with the HRL-1 include double 5- or 7-gal. tanks, glass bead dispensers in 4- or 6-in. single or double, a handgun with 15-ft. hose, and a curb painting attachment.
Newstripe Inc. displayed all three of its standard units: the RollMaster, the RollMaster 5000, and the Bantam air striper. Designed as a step up from aerosol stripers, the RollMaster machines are not designed for heavy use, with the RollMaster best used for striping between parked cars and for small parking lots with a dozen or fewer stalls, according to Ray Krebs, sales manager. Krebs says that the larger battery operated RollMaster 5000 is designed for parking lots of fewer than 100 stalls and for warehouse striping. Like its smaller brother, the RollMaster 5000 pumps paint from a 5-gal. bucket to a foam rubber roller with a PVC core. Punched holes in the core enable paint to saturate the foam roller, which applies an 8-mil thick line 2, 3, or 4 in. wide.
Contractors looking to move to an air striper could give Newstripe's Bantam XL unit a push on the floor. The XL features a 5-gal. paint tank and a 4-hp Honda engine with an oil alert. Krebs says the Bantam XL (and the slightly less expensive Bantam unit) is an economical alternative to an airless machine, able to apply paint at 1 gpm and paint lines from 2 to 6 in. wide. New to the Bantam units is a purge system to flush out the guns when necessary.
Titan Tool Inc./Speeflo exhibited its new Powrliner PL1800M and PL2800M line stripers. The 1800M is suited for smaller jobs on pavement, fields, or turf, says Tom Heine, specialty business manager with Titan Tool/Speeflo. The 1800M features a 4.3-hp Robin-Subaru OHC engine and offers .5 gpm and 3,300 psi. The 128-lb. unit supports a .023-in. max tip.
The 2800M is a fully redesigned version of the existing Powrliner 2800 with greater paint output, a slower cycle rate, and a cart configuration that is compact and highly maneuverable. It is ideal for smaller and medium projects, Heine says. Like the 1800M, the 2800M features a 4.3-hp Robin-Subaru OHC engine and offers 3,300 psi. The 138-lb. 2800M offers .85 gpm and supports a .30-in. max tip.
Also available are the Speeflo Powrliner 4900XLT, 6900XLT, 8900XLT, and 9900XLT line stripers. These units utilize a reliable, durable, and smooth-slow stroking hydraulic drive that produces sharper lines and extended life. Two walk-behind self-propelled models are also in the Speeflo Powrliner offering (PL6900XLT SP and PL8900XLT SP).
On the thermoplastic side, MRL Equipment Co. offers the Model 250 push handliner, with a manually operated agitator, manual or thermostatically controlled LP burner assembly with radiant LP heat system for extrusion dies, and a wide range of dies from 4 to 12 in. Supporting the push handliner (which is available in a model that also installs raised pavement markers), is MRL's pre-melting kettle, which Steve Shinners, vice president, sales and marketing, says are currently attracting a lot of interest. Available in 500-, 1000-, 1500-, 2000-, 3000-, and 4000-lb. capacities, the kettles are available in single or double skid-mounted units as well as trailer- or truck-mounted models. For high-production long-line marking MRL offers its Model 4 truck-mounted units which are custom-built to contractor specifications but are available in pump or pressure tank systems, to apply spray, screed, ribbon, and profile markings.
M-B Companies' Apollo Handliner Series of thermoplastic stripers features the Apollo II and Apollo III. Apollo thermoplastic handliners have been on the market for over 25 years, says Bryan Peters of M-B Companies. The Apollo handliners allow for one-person transport and applications and include thermostat-controlled burners to keep the material hot and workable. The metered glass bead applicator deposits beads at a constant 10 lbs. per 100 sq. ft. rate. All dies are equipped with replaceable, tungsten-carbide runners and are available in widths of 4, 5, 6, 8, 10, and 12 in. with mil thicknesses of .060, .090, and .125 mils.
The Apollo II can melt and apply over 700 sq. ft. in a work day. The Apollo III features the PlusOne Speedmelter and can melt and apply over 1,500 sq. ft. in a work day. The PlusOne Speedmelter allows for melting of material without the use of a separate melting kettle. It can also be added to the Apollo II. Another option for the M-B Apollo Series is a double drop bead system which is a two box system with a high-capacity, grooved beader bar to distribute larger beads from the front beader box.
Note: Pavement Maintenance & Reconstruction inadvertently misidentified the M-B photo in the March/April issue. The photo that appears in the article is actually Advanced Striping Equipment's Thermo Mark II Handliner. The correct photo has been updated online, and a NPE Striping Correction can also be found on our website.