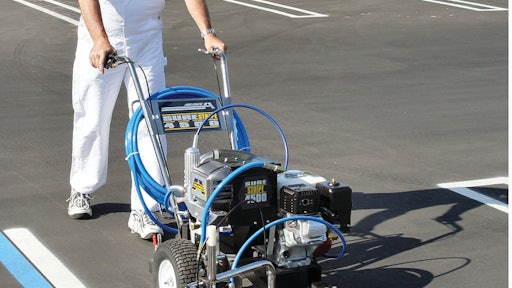 Whether you are brand new to the pavement maintenance industry or adding striping as another service of your business many different factors need to be considered. Although the striping industry may be a smaller, niche industry, the array of information and concerns can seem overwhelming. This article is a beginning step for contractors or companies looking to enter into the striping industry.
Learn about your market, your season, your competition
Knowing a market's history and background is a good place to start, says Steve Muellenbach, vice president and general manager of M-B Companies. Another key aspect is knowing how competitive the market is, says Chris Noto, director of products for Speeflo, a Wagner brand.
Knowing how the climate will affect the business is just as important as knowing how competitive a market is, says Tim Wehner, total markets product manager for Graco Inc. Depending on what area of the country a contractor is in will affect how long of a season he has. "They need to understand the amount of time that they'll actually be doing the work. The surface temperature will also need to be considered in order to make sure the paint adheres - issues occur when surface temperatures drop below 40 degrees," Wehner says. In climates with a winter season, contractors need to accept the fact that they will be shut down for a number of months.
Along with climate conditions, contractors should be aware of when and how long they will be working. "Night work is not uncommon," Wehner says. "You have to be super flexible."
Robert Liles, of Robert Liles Parking Lot Service, suggests talking to property owners or managers, paving contractors, or general contractors about the market. He also suggests asking if they are happy with their current striping contractors. Liles, a speaker at the National Pavement Expo (NPE) shows and a member of the Pavement Advisory Board, also points out that prices paid by government entities are public record. "You can find awarded bids and calculate rates from that information," Liles says. "This will help determine what the 'going rates' are for your area."
Basic background information is just the start of what a contractor needs to know before starting up in the striping industry. A contractor also needs to consider the type of work - new striping, striping repaints, or field striping - he will do, Noto says. Road striping is another area contractors can consider, although most beginning contractors don't take on roads right away.
Muellenbach says most contractors, especially smaller companies, will start in parking lot striping. "The entrance is a lot cheaper and it's a lot more forgiving. It's a lot easier to get into striping parking lots than it is to get into striping roads."
Liles suggests starting with re-stripe work. "As you learn and become more confident, you can go after new lay out jobs," he says.
Customer base is another important factor contractors need to consider when entering into the striping industry. Mark Malloy, director of marketing for Airlessco, says one of the biggest things a contractor has to know is which of his existing customers needs striping services and how to get others to follow them. "I always tell people that that's the first place to start from in thinking about a business venture - where your customer is going to come from," he says.
If a contractor doesn't have any existing customers he needs to decide who his target customers are going to be - property managers, general contractors, etc. Or, he can rely on fellow contractors for help. "If I was just starting out, I would buddy up with a sealcoating company or a paving company, if you have a local one," Wehner says. This way, a striping contractor has a solid customer base and a reliable source for jobs.
How much work a contractor plans to do, and the size and complexity of jobs he will take on, are still more concerns. Deciding these parameters in the beginning can help when it comes to deciding what equipment will be needed, Malloy says.
When it comes to the actual striping, knowing how to properly bid and lay out a job is vital, says Mick Vinckier, Miktom Parking Lot Maintenance, Pavement Advisory Board member, and NPE speaker. Muellenbach agrees. "That's not something that comes overnight so a contractor needs to really do some research on how to bid from a profitability standpoint and how to lay out the type of parking lots that this contractor is going to go after," Muellenbach says.
Proper layout of a parking lot involves multiple aspects of the lot. "The most important thing is he has to know how to lay out the parking lot to maximize the number of parking spaces in the particular lot," Noto says. "He also has to understand how to take into account truck access lanes, no parking zones, and fire lanes [etc]."
Properly bidding a job is just as important as layout. Noto says one key aspect of bidding on a striping job is whether the job is bid by the line or by the foot. This becomes especially important when a job contains special zones such as no parking or loading zones. Liles adds that if a contractor constantly bids jobs by the number of parking spaces or lines, instead of by the foot, he might end up pricing too low if a job has a lot of crosshatched areas.
Where to learn the essentials
Muellenbach stresses that someone just starting in the striping business not only needs to know all this information but he has to understand what he is learning as well. One way Muellenbach suggests a contractor gain this necessary knowledge is to attend the NPE shows (Nov. 21-22, Las Vegas; Feb. 18-21, 2009, Charlotte, NC). "The NPE shows run very good seminars in these subjects," he says. "There's a lot of good information that comes out of those seminars."
But seminars are not the only resource contractors can find at the NPE shows. "The exhibit floor is a chance to see all the major brands of striping equipment and compare them side by side," Liles says. "But maybe the best thing about NPE is the opportunity to visit with contractors from around the country. People don't mind sharing ideas and techniques with you if they know you aren't in the same city competing with them."
Another good source of information is the Internet. Many websites, such as Parking Lot Planet (www.parkinglotplanet.com) offer forums where contractors in the striping industry can exchange ideas and advice, Malloy says. Noto suggests finding associations in the industry as another venue for contractors looking to learn the striping industry. One such association is the National Pavement Contractors Association ( www.pavementpro.com).
Equipment
Once a contractor has sufficient knowledge of the striping industry and made the necessary decisions for his business, the next step is to find the right equipment. But what type of equipment is needed when starting out in the industry; and how many striping machines are necessary?
Probably the most important piece of equipment a contractor will use is the striping unit. In today's market, contractors have many to choose from. For striping contractors in the pavement maintenance industry, walk-behind and units with ride-on attachments are probably the most common tools of choice. Contractors also have the choice between units with one-paint gun or two-paint guns. Liles says that most one-gun machines have the capability to add a second gun later, but that shouldn't be a major concern for a contractor's initial purchase.
Muellenbach and Malloy say a walk-behind unit is typically the striper of choice for new contractors. Walk-behind units usually cost less than machines with a ride-on attachment. The initial investment cost is often a consideration when just starting a business, Muellenbach says. Plus, the simpler a unit is for a beginner the better, Malloy adds.
"I think if it's a contractor that's just starting out he needs to walk before he runs - get into it on a small basis and build that business accordingly," Muellenbach says. Starting small is a trend Malloy says he sees often in the striping industry. For example, he says many contractors will start with one-gun units instead of a two-gun unit.
"I always suggest they start with a small machine because if they get bigger then they can add larger machines that are higher volume and use the smaller machines for the smaller parts of the job or as a dedicated second-color machine," Malloy says.
Stripers can choose between air-powered or airless machines, and the choice is often simply a personal preference. Air-powered units work off an air compressor while airless stripers work by pressure. Liles suggests new contractors start with a good, quality airless unit. "An airless is simple to operate, and a beginner can quickly learn to paint a nice line, Liles says. Many contractors, however, prefer air-powered machines.
Keeping these suggestions in mind, Noto says a contractor should ultimately base equipment purchases on the type of work he is planning to do. He says walk-behind units are good for smaller applications, but if a contractor plans on striping larger jobs a ride-on attachment may be a good investment. "Typically where a parking lot is large and open, that's the perfect spot for a ride-behind," Noto says.
If a contractor has never used a piece of striping equipment before it is important to get a feel for the equipment. Vinckier says that working for free is not a good way to get practice. He suggests filling the striping unit with water instead of paint and then practicing on an empty parking lot. This way no material is wasted but a contractor can still see the stripes he is putting down.
But a striping unit isn't the only tool a contractor will need. Other important tools include layout tools, stencils, safety supplies, surface prep tools, painting tools, cleanup tools, and a truck or trailer for hauling equipment. (See sidebar).
After deciding what striping equipment to purchase the next step is to decide how many. Malloy suggests purchasing just one unit and adding more or larger units when business starts to grow. "Most just start off with a single machine," Malloy says. "A single machine can cover a lot of ground unless you're starting with a huge amount of work."
Muellenbach takes a different angle on the subject and suggests starting with two units. He says one can be used to apply lines while the other can be used to paint stencils on the job. Or, if a contractor needs to apply multiple colors on one job, each unit can be used for a different color.
Having two separate units for different colors helps make cleanup easier, Muellenbach says. The contractor isn't spending time cleaning one machine so it can be used for a second color. "Time in a contractor's life is money," Muellenbach says. "When they're sitting around cleaning up a piece of equipment they're not making any money."
Whether a contractor wants to start with one or multiple striping units is up to him. In Noto's opinion, the number of units a contractor should buy when starting out again depends on the type of jobs a contractor plans on doing. If most jobs will require multiple colors or will be larger parking lots, two or more units may be a good investment right from the start.
Wehner says another key to deciding whether to start with one or multiple striping units is the number of employees the company will start with. "The key there is whether or not this business is going to start out as a one-person business or if the owner intends it to grow beyond that and he has one or two additional helpers. Guys that are doing larger jobs have more people to help," Wehner says. "It's more productive for all of those bodies to be doing some striping," he adds; so investing in multiple units could be the best move.
Noto, Malloy, and Muellenbach all agree that a good time to consider adding new or more equipment to a striping fleet is when a contractor's business starts to grow. When it comes to adding machines, contractors have the choice of adding more of the same units, graduating to larger units or ride-on attachments, or adding a two-gun capability or unit.
What constitutes as growth for a contractor's business can vary. Taking on more jobs, taking on larger jobs, or growing the size of a company can all be ways a business grows, and all of these instances can influence a contractor to add to his equipment fleet. Noto says a contractor may also want to add larger machines if he wants to do the same jobs only faster.
Before adding more machines, though, a contractor also needs to decide if there is enough business around to warrant the investment in more equipment and/or more employees. "The good news is that striping always needs to be done," Wehner says.
Materials
The materials used in striping can be as varied as the equipment used to apply them. Most beginning stripers mark lines and stencils using paint. But another material, thermoplastics, can be used. Some thermoplastics require specialized equipment to heat and apply markings, but many contractors are becoming adept at using preformed thermoplastics to construct longer-lasting markings for symbols including handicap symbols, stop bars, turn arrows, and wording or lettering.
Liles says thermoplastics aren't often used by beginning stripers, but contractors should make sure they are at least familiar with thermoplastics in case they use them later down the road.
Paints, because they are formulated for differing factors such as climate, often vary by region, Malloy says. Muellenbach and Malloy agree that the best place a contractor can learn about materials is through a good supplier.
Contractors should find a supplier they can rely on, someone who will answer their striping and material questions. Malloy suggests finding a company that specializes in supplying paint for the striping industry.
Wehner agrees. "It's probably common that the person he buys the material from is going to be the same person he buys the equipment from, the same person that he has the equipment serviced from, and that he buys his parts and accessories from," he says. "It's a relationship business."
Branching out
For contractors already in the pavement maintenance industry, adding striping services or branching out into the striping industry can be seen as a brand extension. "Every opportunity to have more transactions with your existing customer base potentially makes your business grow faster and makes your customer relationships stronger because you become more valuable to them," Malloy says.
And if you are already in the pavement maintenance business you might have a better understanding of how the striping industry works, even if it isn't a part of the industry you normally work in. Sometimes this can make for a smooth transition into striping, Muellenbach says. Plus, contractors already involved in the pavement maintenance industry may already have some or most of the tools needed for striping. The biggest task then is to just get a feel for the new type of equipment required for striping, Muellenbach adds.
Whether a company is looking to add striping to its current pavement maintenance business or is brand new in the industry, the concerns are the same. "The biggest thing when a contractor wants to get into a market is he needs to understand what he's getting involved in," Muellenbach says.
Tools for striping contractors
Pressure washer
Scarifier
Walk-behind blower
Backpack blower
Broom
Layout Tools:
Marking chalk or crayon
Chalk line/laser
Tape measure/measuring wheel/ruler
Pre-marked (color-coded)
measuring tape
Equipment:
Striping machines
Spare parts
Spray tips
Stencils
Trailers or truck (for hauling equipment and tools)
Other:
Tarp or tar paper
Paint
Blackout paint
MSDS sheets
Cleaning solvent
Water
Paint strainers/filters
Fuel
Barricades, cones, delineators
Lights for night striping
Protective/safety clothing