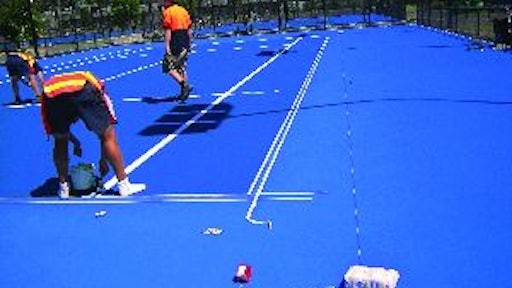 Contractors are known to go to great lengths to get the job done and satisfy their customers, but what McConnell & Associates and Tennis Services of Iowa did last fall has to be some kind of record.
That's because at the request of California Products Corp., a manufacturer of tennis court surfaces, representatives of both contractors traveled to Australia to assist a local contractor constructing new surfaces for this year's Australian Open, one of the Grand Slam tennis tournaments.
I mean, how much farther can you go to satisfy a client?
Last fall McConnell's Don Hubbard, tennis court superintendent, Jaime Ocampo, foreman, and Dan Treiber, owner of Tennis Services of Iowa, were asked to assist Melbourne's W.M. Loud in resurfacing the courts in time for the 2008 Open. In a normal year Loud's crews would resurface and stripe about 80 tennis courts a year.
"They have a great workforce at Loud, and they do a great job," Hubbard says. "But when they got the contract for the 40 additional courts, and the tight deadline, they wanted a little extra assistance just for insurance."
So Loud contacted California Products Corp., which contacted McConnell and Tennis Services because both are authorized applicators of California Products' material. Hubbard spent six weeks down under assisting Loud's crew, Ocampo worked there eight weeks, and Treiber worked for three weeks. Contractors from India and Singapore also flew in to help, and it all worked out fine as the courts were done in plenty of time for Roger Federer and Maria Sharapova to take home their Australian Open trophies.
Art Tucker, vice president of the recreational product division of California Products Corp., says the job involved more than 40 tennis courts in Sydney, Adelaide, and Melbourne, and eventually required more than 50,000 gallons of the company's Plexi-Cushion material.
"A lot of sealcoating contractors look at that and yawn at 50,000 gallons, but you have to remember this is all being put down in multiple layers on small fenced-in areas requiring a high-level of precision," Tucker says. "These three companies did a great job."
Preparing the surface
"Loud did a great job of paving, and that was all done before we got there," Hubbard says. "We worked basically from the asphalt up, doing some minor patching - filling minor depressions and small birdbaths - before we worked with them to install all the cushion and the color."
Hubbard says that to repair the slight defects they constructed a skin patch, trying to make it as level with the surface as possible. "As most contractors know it's really hard to do skin patches," Hubbard says. "But you just have to take your time and make it neat. High is better than low because you can always grind them off, and it's easier to grind them off than it is to patch."
Once the patch was level the crews applied an acrylic resurfacer to seal it before the tennis court cushion was constructed. "An acrylic material lets the moisture come through a lot better," Hubbard says.
Hubbard says the cushion court surface required by the Australian Open - as well as many private tennis courts in the United States - is constructed of 10 layers. The first layer was the acrylic resurfacer. The other nine layers were made up of three layers with material containing a large-grain rubber are squeegee applied, three coats incorporating a smaller grain rubber follow, and then three finish coats of actual court color without rubber.
"The 10 layers on the Australian Open Courts is not typical of what I do," says Treiber, owner of Tennis Surfaces which employs five people and constructs between 80 and 120 tennis courts a year. "We might do 25 courts just like those, but with the cushion involved in gets pretty expensive. Country clubs and upper-end private courts can afford it, but public access courts, high schools, and park districts can't."
Tucker says the Plexi-Cushion material and Deco-Turf, a similar product produced by California Products, are used throughout the United States on court surfaces at the U.S Open, Northwestern University, the University of Wisconsin, Harvard, and more.
Hubbard says all material is pre-mixed so the contractor only has to add water and sand. Loud's crews used an 80-mesh sand (standard sealcoating uses a 50 mesh sand) loaded at 4 to 6 pounds per gallon. He says sand is not added to the cushion layers because the sand makes the surface harder, defeating the cushioning aspect.
Hubbard says his tennis court crews squeegee all coats, which might come as a surprise to contractors frustrated by squeegee lines and the difficulty of moving material with sand. "But using a squeegee is just something you learn after doing it a little bit. We always squeegee tennis courts and it's nothing for us to squeegee small parking lots," Hubbard says.
He says that while it can take a lot of pressure and a lot of squeegee angle to move heavy material or material with a lot of sand, the key is to let the material "float" over the pavement, especially on the first coat. "Once you get that first coat down, whether sealing a tennis court or a parking lot, the second coat is easier because the surface is smoother but the material just grabs onto the first coat."
Striping the lines
Layout of the Australian Open tennis courts followed standard practices used by both contractors, with measurements starting from the center anchor in the center of the court. However, where McConnell measures to the outside of each line, Treiber measures to the center of each line.
"The outside measurements of the white lines are 36 feet across by 78 feet long," Treiber says. "When we lay out a court we measure 35 feet, 10 inch to the center of each line." Either approach to measurement will work provided the approach remains consistent throughout the job.
McConnell generally snaps chalk lines to mark layout, but Loud's crews used string stretched tight attached to bricks. Treiber uses one person on each end of a stringline to pull it taught then tapes around the string.
"It seemed to work fine with the bricks but generally I don't think you can get it as tight as I'd like. When the wind blows the stringline can bow," Treiber says.
All three operations - Loud's, McConnell's, and Trieber's - use a tape dispenser to mark both sides of each line. Treiber's tool has two rolls of tape and can put down both sides of a stripe the length of the court in less than a minute. "There are different types of tape machines out there, and it doesn't matter which type you use as long as you use one of them," Treiber says. "They're essential to doing tennis court work right."
Once the lines were taped off crews double-checked measurements and then stepped back to see how the court looked before applying a textured paint so the ball doesn't skid when it hits the line.
"We brushed the first coat by hand because we think it adheres better," Hubbard says. "We applied the second coat using a 3-inch roller. Once it was dry we pulled the tape up, and we had nice crisp lines."
Treiber also uses a roller for the striping lines, though his is "rigged" so it won't splatter.
He says they don't use striping machines for striping tennis courts or other sports courts because while the line edges are sharp enough for a parking lot they are not sharp enough for a tennis court.