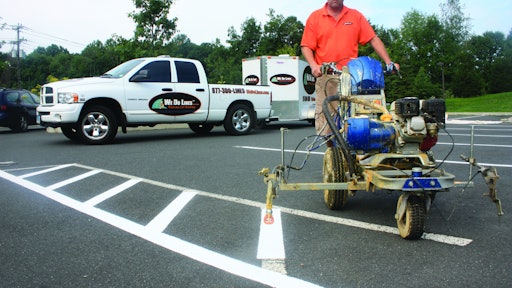 Bob Russo wanted a way out of commercial real estate where he could put to use his background in construction equipment.
Rob Schlosser was looking to expand his sealcoating and pavement repair business.
Nikki Randolph and Molly Birk wanted to start a business that would dovetail with their husbands' sealcoating company.
Bob Burris was looking for a business to start from scratch.
All five of these people came to the pavement marking industry from different backgrounds and for different reasons, but they all ended up entering the industry through a new business model: the pavement marking franchise.
Currently available through We Do Lines and Yellow Dawg Striping, the franchise approach offers an established, tested system with field training and extensive marketing and business management support to get a pavement marking business up, running and profitable in a relatively brief time for a new business. In exchange franchise owners pay a one-time franchise fee plus monthly royalties on gross sales (and in the case of We Do Lines an additional 5% marketing fee). And presidents of both companies say the franchise model is ideal for new contractors and for contractors looking to expand their business.
"When people hear 'franchise' that can turn them off because they think it's them working for someone else. That's a challenge we have," says Jack Child, president of Black Dawg  Franchise Group, which includes the Yellow Dawg franchise. "But what they have to look at is how the franchise model can help actually them  get  their business  to where they want it to be."
That's how these contractors approached it.
"This industry is perfectly positioned for the franchise model because it's scalable, it does require some expertise, you can train people, and national accounts are always seeking reliable companies to solve their local problems for them," Child says. "By using a system like we envision we will be able to cover coast to coast using the same standards, the same equipment, the same uniforms, and the same practices, so the customers know what they're getting.  It makes buying decisions easier for national accounts such as Wal-Mart and Home Depot."
Chris Couri, president and co-founder of We Do Lines, says he and partners Tom Darrow, chief operating officer, and Dan Rella, chief financial officer, see the pavement marking industry as ripe for franchise businesses. The three came from the landscaping and irrigation industry and were doing a lot of commercial property maintenance, so they saw some of the issues facing the pavement marking industry.
"We see the industry as a fragmented, part-time industry where there just aren't that many contractors doing striping full time," Couri says. "By bringing a franchise approach to the market we think we can offer a great business opportunity to the contractor and improve the service the industry is receiving."
How We Do Lines Works
We Do Lines offers a franchise for a one-time $25,000 franchise fee plus an additional 8% commission on gross sales and 5% to fund  national and local marketing initiatives, SEO, social media, public relations, and aggressive branding) .  Currently We Do Lines is on pace to sell its 17th  franchise, some of which are co-owned by one of the three partners.
That franchise fee covers rights to a territory (defined as 350,000 parking spaces as determined by a proprietary We Do Lines metric), licensing to use the We Do Lines franchise system, use of a company's proprietary internet system (StripeNet, which Couri terms "the artery of communication for our system"), a proprietary operator's manual, sales data and leads, Search Engine Optimization data, and the We Do Lines brand.  A public relations firm handles national marketing, assists in tapping in to the local market, handles promotion on social media, and provides lists for contractors to pursue.
We Do Lines starter package includes a trailer, striping machine, safety equipment, and support tools and materials, all of which are purchased through We Do Lines or through an approved vendor where pricing is negotiated in advance by We Do Lines.  We Do Lines also has a national supply agreement with Sherwin Williams for paint and supplies.
"Our relationship with Sherwin Williams is a value proposition that has given our system  solid value. Our franchise members can use any Sherwin Williams location and get the benefits," Couri says. "Our guys know they have the option to buy where they want but we have an ally in Sherwin Williams and they really support us."
Couri says new franchise owners go through a five-day initial set-up and training in either Connecticut or Florida.  'We Do Lines University' covers everything from the internet business management, and how to work with approved vendors to two days of field training on how to layout and stripe.
 "When they're buying the franchise they're buying the breadth and depth of a system of doing business," Couri says. "They're buying into the brand. It's a model of distribution."
How Yellow Dawg Striping Works
Yellow Dawg Striping is one of the brands under the Black Dawg  Franchise Group umbrella, which features four pavement maintenance-related franchises: Black Dawg Sealcoat, Blue Dawg Power Wash , Red Dawg Infrared  and Yellow Dawg Striping.
"One of the benefits of owning one of our franchises is that we're not one dimensional, and that's something our franchisees   really embrace," Child says. "We feel that each franchise is a pipeline to another brand, so once you own one of our brands you get a 50% discount on our other franchise fees.  That makes it easy to expand your portfolio and creates great multiple exit strategies as well."
A Yellow Dawg franchise fee is a minimum of $7500 based on the population of a given market. Child says a Yellow Dawg territory needs to contain at least 700,000 people (Child acknowledges generous adjustments  are often made based on demographics and market potential), so the rough cost is  less than one penny per capita  in any given market. In addition franchise owners pay 6% of gross sales to the franchise group. Currently Yellow Dawg has six franchise locations serving eight states, and Child says they expect to have 15 franchises operating by the end of the year.
Yellow Dawg, which holds its annual meeting at the National Pavement Expo, offers field training, a web page dedicated to the contractor and linked to his own site, an 800 number with a dedicated call center answered "live," management of internet advertising, SEO optimization, public relations through a national firm and more, including ongoing training, consulting, and business coaching. "Keeping up with search engine changes is practically a full-time job and most business owners simply don't have the time or resources to do it. Our franchise owners don't have to worry about creating any of the business systems.  Child says.
Including the $7500 buy in, Child says most people can have their business up and running for less than  $25,000 (assuming they already own a truck). The additional money goes to buying a Graco 3900 Line Lazer IV, their striping machine of choice,  stencils, tools, enclosed customized trailer and paint.
"We do help negotiate a price on certain things that they need, but they buy direct from the vendor. Unlike most franchises, we don't take a cut on any equipment or materials," Child says. "They have the flexibility to use approved brands and we negotiate on their behalf with numerous approved vendors."
To enhance brand awareness, Yellow Dawg also wants franchise owners to either own or sponsor a yellow dog through the local humane society.
 "A Great Add-on for Contractors"
Couri says that We Do Lines expected competition from paving and sealcoating contractors doing their own striping, but he was surprised at what happened.
"Those companies ended up becoming our customers because that way they could focus on their other work and not have to focus on line striping," Couri says. "In fact they never really were focused on line striping – they just did it because they felt they had to. They know they don't get paid until the parking lot is striped so many companies did that in house but now they are turning to us. Plus, if they really want to pursue striping they can buy a franchise and have the entire business model already set to go for them. It's a great add-on for contractors."
For contractors such as Rob Schlosser.
A former fire fighter, Schlosser for nine years did residential sealcoating part time with his Just Sealcoating business. As the business grew he decided to pursue commercial work so he changed the name to All County Asphalt Maintenance, and today he does work throughout Westchester and Nassau counties in New York.
Early in 2010 he contacted We Do Lines because he couldn't get local striping companies to call him back to even bid jobs. "We had been doing the striping ourselves using a 2 x 4 and a hand roller at first, then we bought a Graco machine," he says. "But we couldn't handle the striping on large jobs."
He says talking with We Do Lines "tweaked my interest but I didn't have time for it because I was still building my own company." But eventually he partnered with We Do Lines co-founder Barrett and the two are getting the franchise off the ground this year.
 "The We Do Lines franchise enables us to add striping in a bigger way. We were doing it but we can do more and do it bigger through We Do Lines," Schlosser says. "One of my biggest problems was getting in front of people. That's really rough. Having the We Do Lines name really helps. It means I'm not just the guy next door."
And Schlosser expects the We Do Lines franchise to help All County Asphalt in other, more important, ways.
"It's going to build All County Asphalt faster than we could and I see that already through the call center," he says. "If a customer is looking for line striping he also probably needs repair, sealcoating, and plowing, so that helps All County grow. It will help get us where we expect the company to go but we'll get there quicker and we'll be even bigger."
He says that since acquiring the franchise he has hired an additional crew person and has brought his secretary on from part time to full time.
"And I'm assuming the sealcoating part of our business will grow because of the relationship with We Do Lines so I'm in the process of purchasing another 750-gal. tank in preparation," he says.
 "An Extension of the Sealcoating Business"
Child says the easiest part of the striping business is the striping itself. "The hardest part is reaching the customer, marketing, running and growing your business," Child says. "The biggest challenge is getting the business and hanging onto it and with our system contractors can focus on what they want to do – line painting – and letting us handle the business part of it."
 Nikki Rudolph, vice president and co-owner with Molly Birk, president, of Yellow Dawg Striping's Cincinnati franchise, says the two women acquired the franchise because their husbands' Black Dawg Sealcoat franchise was giving away too much business in 2010.
 "Our husbands purchased Black Dawg in 2010 and we worked side by side with them all year doing the scheduling and doing the books, and we had quite a good time doing it," Rudolph says.
But as the year went on the two women noticed that Black Dawg was subbing out all its pavement marking work – a fair amount of business for the first-year sealcoating operation.
"So buying Yellow Dawg just seemed like the right thing to do," Rudolph says. "We subbed out so much line striping last year that it seemed to make sense to do it ourselves. It's an extension of the sealcoating business."
Rudolph and Birk will handle the sales and office work and they've hired an experienced striper and will train one of the sealcoating crews to work with him. They anticipate sales from the husbands' Black Dawg business will provide a foundation,  but they will pursue work on their own from property managers as well as other contractors.
Rudolph says the cost of the franchise and the royalty payment was a concern at first.
"We thought 'why not go it alone?' But we looked into it and decided the fee and royalty were really reasonable for all the help you get and for getting started from scratch," she says. "It takes a lot of the stress out of starting up a business so it's been the right move for us for sure."
 "You Couldn't Do That on Your Own"
One of the advantages of a franchise is you can extend your business into a much larger area, making regional and even national advertising worthwhile. And national advertising can have an impact on your particular market as franchise members can provide leads to one another in different regions.
"There's no way you could open up a striping business in 10 states at the same time," Couri says. "It would be too complex and cost too much money. But you can do that in a franchise situation."
Bob Russo had been involved in the construction equipment business for 20 years as minority owner in an equipment rental house. After 20 years he got out to sell commercial real estate, but in 2009 he decided he wanted something different. In April 2010 he bought into two We Do Lines franchise territories in the Orlando, FL, area.
"We spent a few months investigating the franchise and decided it was a great opportunity," Russo says. "I like the sales aspect, I like being outdoors, and we were talking with people who understood the equipment. "
He says We Do Lines' internet focus and its aggressive approach to marketing and sales were key factors in the decision to acquire the franchises.
"Through We Do Lines we got more than 100 jobs in 2010 ranging from work for national franchises like Dunkin' Donuts to small retail outlets and apartment complexes, Russo says. "Through them we cover the gamut of what the market is."
Russo says that with its franchise approach We Do Lines is trying to upgrade the pavement marking industry and take it to a different level.
"With We Do Lines franchises throughout the country (the company can sell franchises in 40 states) there are opportunities to network. We can refer property managers and developers to each other and other franchises can refer them to us," Russo says. "Once we get the whole network built up that's the game plan: to be able to refer across the country, and you couldn't do that on your own as a small business."
 "We Can Get a Guy Noticed"
Both Child and Couri say the franchise model interests some people because not everyone wants to start a new business on their own - or maybe they want to, but are worried about all the different aspects of starting a business. Others don't want to spend one to two years getting their business going – something franchises can shortcut.
"In very short order we can get a guy noticed on the internet and in a new location," Child says.
That's what happened with Bob Burris, who purchased his Yellow Dawg franchise in December and started operating in January. By end of February he'd already completed work for Disney World.
A military veteran with four years' experience in law enforcement, Bob Burris was looking to make a career change. He hired an entrepreneurial coach to help him out and after working through the process she narrowed the options for him and he opted for Yellow Dawg partly because of the branding and the business coaching.
" Yellow Dawg blew all the other things I was looking at out of the water, no question," Burris says. "You get the brand, the logo, the training – all things I couldn't possibly create on my own. It's great to be a part of a national brand and I think that really helps."
Burris acquired the franchise last December and opened for business as Yellow Dawg Striping of North Florida in January 2011 in Orange Park, just south of Jacksonville.
"This franchise group allows me not to be one dimensional. There's an array of other businesses related to Yellow Dawg that I can pursue if I think the market justifies it and I'm already thinking of adding the Blue DAWG franchise.  I plan to co-market multiple services to new and existing customers" Burris says.
Burris says that buying a franchise took some of the concern out of being a start up business.
"I can tell the customer 'It's a franchise' and you can almost see their relief because they recognize it's already  a proven business. They know it's  a system in place that works – otherwise they wouldn't be selling franchises," Burris says.
He says buying a franchise has also "tremendously shortened the learning curve. You can't put a price tag on all the experience taught firsthand," he says. "All the mistakes people made in the past, I would have been making those same mistakes on my own. I am much more efficient because of the training and support."
In addition to working as a subcontractor for one of his area's largest paving and sealcoating companies, Burris has already felt the impact of Yellow Dawg's nationwide internet marketing effort.
 "I received at least 15 leads directly through the website  in just my first few weeks and I expect it will only increase since we're just now getting started.  One lead was for 75 large malls around the country which will benefit other Yellow Dawgs, too."
The highest-profile job he's done came through Yellow Dawg, and that was work at Orlando's Disney World resort. "They wanted a loading zone marked out for disabled people and their equipment at every bus stop at about half their resorts, so that was a nice size job," Burris says. "And that lead came through the internet on the Yellow Dawg website."
"It's not 6% Off Your Number"
Couri says the franchise concept can intimidate some people, but he says because the striping market is ripe for this type of business model he expects franchises to grow quickly.
"We've looked at our model from very different systems and backgrounds and we've designed a lot of value into the system because we're business owners too and we know what business owners need," Couri says. "We pride ourselves on being a professional and service-oriented company that can raise the bar of service of what customers can expect. A customer can call in and get the same service whether you're in Miami or Maine."
Child also expects franchises to grow, partly because the industry has changed.
"If a guy buys a used striping machine for $2000 and throws it in the back of his truck, does that mean he's in the striping business? In this day and age you need to be a true professional, you need to have a  dynamic website that helps you sell, the site needs to be updated, and you have to be able to optimize the site for search engines. You also have to develop a brand, a logo and prepare other materials," Child says. "In exchange for just 6% royalties our franchise owners  don't have to worry about any of that.
"We believe we can help that guy grow in exchange for that 6%. And you can't look at it as if it's simply taking 6% off your sales number because  with Yellow Dawg we expect your number will grow and be higher than without us working on your behalf," Child says.
"Striping is a neat little business. It's perfect for a new guy who wants to get it to a certain level in a short amount of time and  the franchise is perfect for an existing striper, too,  who's dropped off in sales a little and is struggling to get noticed in the marketplace.  We are actively recruiting existing contractors in all four of our brands and we offer special conversion pricing to join us.  We've had great success converting competitors on the Black Dawg side and see the same opportunities with Yellow Dawg.  For a very small  investment we can convert that person and turn  his or her business around. We are certain of that," Child says. "We can take so many things off the plate for the owner and let him focus on what he wants to focus on."