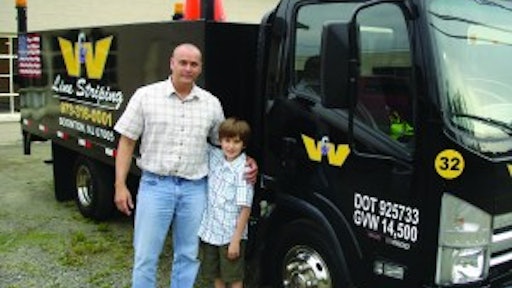 When Pavement Maintenance & Reconstruction last encountered Vinny Toth and V & V Line Striping, the Boonton, NJ, contractor had just completed layout and striping of a 2.2 million-sq.-ft. Six Flags Great Adventure in nearby Jackson that was so complex they brought in a surveyor to do the layout using a global positioning system.
That was in 2006, and since then the contractor has seen significant sales growth, pushing gross revenues near $2 million in 2009 and profits up more than 15% each year - without any change in company size, number of employees, or its focus on pavement marking. The company today employs 12 people, with three three-person crews in the field
"We just keep refining what we do, and as we refine it our gross continue to go up," says Toth, owner V & V. "What we've done has had a tremendous impact on profitability."
Refining the niche
So what does refining mean? First, Toth says, it means refining the niche the company will pursue.
"We're trying to find that niche where the little, little guy can't get in and the big guy isn't interested," he says. "We're the only striping contractor in North Jersey that has that niche and we're competitive with both."
One example is marking pavement at the gates at the Jet Blue terminal at the local airport. "We can do the gates at the airport more efficiently than the big guys because the big guys don't have specialty crews to run out to a small job like that; they only have big road crews," he says.
Another example is small thermoplastic jobs. "The big guys don't want the small thermoplastic jobs and the small guys don't have the equipment to do them, so we're bombarded with them. We can send three guys out with our thermoplastic truck and they can't send out three or four people with their big road trucks to do a $1,200 job. We can knock those all day long."
Toth says that in addition to defining its own niche V & V Line Striping works to stay in touch with the market and its customers, which has helped fuel the company's steady growth.
"When we feel a slowdown coming I sit down and analyze what we're doing and where the customers are going, and where we're getting our work from. That usually tells me what we need to target and we shift some of our focus," he says. "If I look at everything and I see we haven't been getting very many school systems or universities, for example, we target them and start calling on them, and pretty soon that part of the business starts growing again.
"It's always a weeding process as far as customers are concerned, and one of the reasons we've done so well is our clientele keeps getting better," he says. "Last year out of almost $2 million in sales we had only $5,000 in money we couldn't collect."
No $8-per-hour laborers
A second area of refinement V & V has pursued is how it views and handles its employees. Initially, V & V relied on a few higher-paid employees and a group of low-cost laborers to get the jobs done. But Toth says that over the years, and he admits it took a while, he realized that approach wasn't going to work for the long haul. So shortly after the 2006 article appeared in Pavement V & V Line Striping made significant changes based largely on input from its workers.
"They're in their 30s and 40s and they have families and they want to make a living at this, so when we realized we wanted those types of people working in our company we had to make some changes," Toth says.
To begin with V & V Line Striping decided to offer a good retirement plan, contribute to employee's health insurance, and offer achievable bonuses. In addition the contractor no longer has the $8 an hour laborer.
"The minimum we pay now is $18 an hour, but we've found that it's better to pay the guys a little more and put a little more demand on them," he says. Toth says his two lead foremen have been with the company for 20 years, and "we've found that retaining good employees improves just about every aspect of the business."
Those greater expectations include greater professionalism, ranging from appropriate language and dress and interaction with customers, to reducing "go-backs" on jobs, which he says has saved the company thousands of dollars each month.
"We made our crews accountable for each job and by doing that we cut go-backs down so dramatically it was unbelievable," Toth says. "Before crews would forget to install an arrow or forget to have the manager sign off on a work order and we were losing so much money just going back to places we should already have been done with. Now it's a big deal if we go back once a week for a job. Now if we go back it's usually to charge the customer because it's something they want done, not something we forgot."
He says a lot of the additional responsibility went to the foremen, and eventually Toth had to pull one foreman off, make him a laborer, and put a different foreman in charge of the crew.
"It was a six-month process and it wasn't an easy adjustment to make," he says. "We sat down with everyone and explained why we were changing and what we expected and what the impact was going to be on each person. We told them that the incentive was a bonus they receive at Christmas, but we also made it clear to them why we have the expectations that we have.
"We give them a good environment in which to work," Toth says. "We give them the best trucks, the best shop, the best tools and equipment, everything is meticulously maintained, we have someone scheduling for them - so there should be no glitches on these jobs.
"We pay them more money and we expect more out of them - and they appreciate the structure because it pays off for them. It also gives them a good feeling and puts a little pride in their step," Toth says.
Toth says some employees didn't like the changes, "but we just explained to them that 'you might not like the system but it's what you're going to do.'" Plus, he says, putting this system in place was essential for the next step V & V Line Striping plans on taking.
"We are going to get larger at some point, but it's so important to put this in place so when the new guys come in to the company they understand that this is how it has to be. But you have to have the system established for a long time for it to be successful, and that's where we are now," he says.
He says that next year V & V is considering adding another thermoplastic crew - in fact the debt-free company already has set aside the money to buy the new equipment.
"But we do things very methodically, nice and slow and easy, so we'll make that decision when we're ready to make it," Toth says. "It's all part of the refining process, and that's given us solid, steady growth."