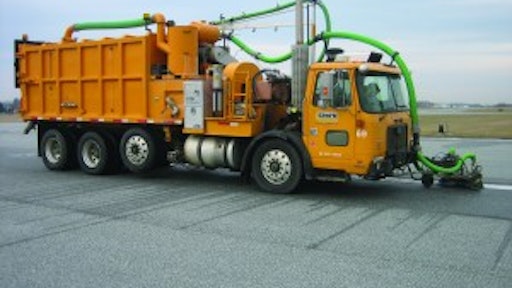 Clark Pavement Marking cares about its employees. In 2006, Pavement Maintenance & Reconstruction wrote about the company's focus on safety. In 2010, Clark Pavement Marking still focuses on employee safety, but it's not the only aspect the company has worked to improve.
"We're concerned with our people at Clark. With their utility bills and the amount of food they can put on the table. We have to constantly keep that in mind. And we let our people know that we're in support of their success," says Andy Clark, president of Clark Pavement Marking.
"We have made sure that all our employees remained employed during the tough economic times," adds Chris Fresa, vice president.
Fresa says the company's employment numbers have gone up and down, but overall Clark Pavement Marking has been able to mostly maintain where it was five years ago. But the economy has forced the company to put even more focus on employee management. "We have to provide better communication and stronger support to our field employees," Clark says. "Productivity and understanding company expectations are keys to our success."
To help keep those employees working, Clark Pavement Marking decided to keep more of its work in-house by adding new services to its roadway and runway pavement marking business.
In the summer of 2006, the company purchased a Waterblasting Technologies hydro blasting striping removal unit. Clark Pavement Marking had always offered marking removal, but the new unit allows them to incorporate high-pressure water blasting removal into what they already do without adding any additional support equipment, Fresa says.
In early 2010, the company started offering sweeping services. "Sweeping added a new facet to our existing services," Fresa says. The company purchased a Tymco 500x regenerative air sweeper which is used in tandem with the marking removal service as well as on its own for highway, municipal, and airport sweeping.
Clark took advantage of in-house training programs from both Waterblasting Technologies and Tymco to train the existing employees in these new service offerings. The manufacturers also sent people to work with Clark Pavement Marking employees on the job, Fresa adds.
Finally, three years ago the company opened up its own fleet repair facility on site so it no longer needs to sub out the mechanical repair work. "We planned that for about two-and-a-half years before we started doing it," Clark says. "Having a handle on our own equipment with the same people all the time tends to give us longer life out of all our equipment."
No matter the state of the economy, Clark Pavement Marking still places a strong emphasis on safety. "Safety is job one. We are constantly working on improving our safety programs," Clark says. About two years ago, Clark hired a consulting company that offers audits as part of its services. They send former OSHA inspectors out to jobsites to conduct mock OSHA audits. The employees never know when they will show up on the jobsite. They then review any issues or violations with all employees so corrective action may be taken. It's an extra effort to provide a safe work environment that the company still continues today.
It's this combination of safety first and an effort to keep employees working that Clark believes has helped the company keep a low turnover rate.
And it's not just the employees that recognize all the effort Clark Pavement Marking puts into its company and the pavement marking industry. In 2008, the company was awarded the Carolinas AGC Pinnacle Award for Best Subcontractor. The prestigious award recognizes both companies and projects in the construction industry.
"It's the first time that a specialty company in the pavement marking industry was presented this award. It was a giant milestone for us. Plus it got our industry national recognition," Clark says.
Clark Pavement Marking has been very satisfied with the company's work and achievements, but it isn't stopping there. Fresa says regardless of the state of the economy the company continues to evaluate where it is and where it wants to go. But one thing is for sure, the goal is to still be standing and recognized as a quality contractor in the pavement marking industry who gets its people home safely.