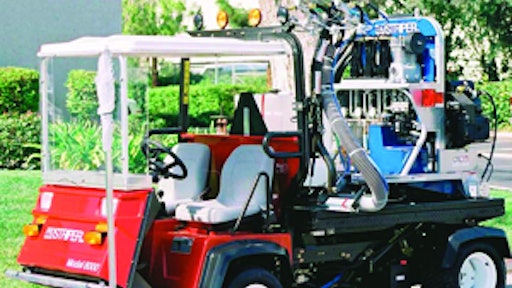 ProStriper 8000
Sprays lines from 2-in. to 12-in. wide per gun at 2.5 gpm at speeds up to 10 mph
Two guns/two pumps model or the three guns/three pumps configuration
350-lb., pressurized glass bead dispenser system and a skip timer are standard
Stainless steel pumping system, 60-gal. paint capacity, 70-degree turning angle
Dispensing Technology Corp.
EZ-Liner Ride-On Striper
Capacities from 20 to 75 gal. and more
Various chassis available including Toro Workman or Kooiker Raptor chassis
Same paint and bead guns as long-line striper units
EZ-Liner
Setfast Low-VOC Alkyd
TM5608 - white; TM5609 - yellow; TM5611 - lead-free yellow
Compatible with solvent-based systems
Designed for parking lots
Available in highway striping version
Sherwin-Williams
Airless PowrLiner 8900
Speeflo slow stroking pump
EZ-Line chassis improves balance and reduces operator fatigue
SureTrak front caster system with extra wide tire
Stripe 14 mil lines to 8 mph
Standard 12-gal. paint tank
Titan Tool Inc.
Contractor 120
Truck mounted on 14,500 or 17,500 GVWR chassis
120-gal. minimum paint capacity
Cab-over design
Airless or air spray available
One- or two-man operation
Kelly-Creswell Co.
Stripe Hog Paint Removal
Smart Vac vacuum recovery system
Apply new markings in under 5 minutes
Utilizes 40,000-psi pump at 6 to 12 gpm
Tow behind vehicle or skid mounted
Apollo Thermo Handliner
One-person transport
Thermost controlled burners
Automatic re-ignition of radiant die burner in windy work zones
Accurate, high-efficiency melting
M-B Companies Inc.
RoadLazer
Hydraulic truck-mounted airless striping system
One-man loading, operation
Stripe up to two lines in one or two colors with glass beading
Production speeds to 10 mph
Video Guidance System and Road Striping Controller available
Line widths to 36 in.
Graco Inc.
DecoMark
Decorative, multicolor, interconnected preformed thermoplastic
For crosswalks, logos, horizontal signage, driveways, parks, sidewalks, and more
High-skid resistance and retroreflectivity
Apply with propane heat torch
Flint Trading, Inc.
Model 250 Thermo Applicator
Lightweight aluminum construction
250-lb. capacity holding tank
Interchangeable quick-change die system; requires no tools
Optional mini-melter attachment for small projects
MRL Equipment Co.
Lunay Liner Model HRL-1
Heavy duty frame
Airspray system
Stainless steel available for latex paints
Non-bleeder GTB gun with flushable tip
JCL Equipment Co. Inc.
STARJET
Optional vacuum recovery system
Up to 40,000 psi
Remove highway stripes, coatings, membranes, and epoxies at rates up to 7,000 ft. per hour
Self-contained system allows water to be filtered and reused
NLB Corp.
Traffic Paint
Fast Dry Waterborne 1952D
Regular Dry Waterborne 1952B
Standard Alkyd, Low VOC
Thermoplastic & Preformed
Glass Beads
Franklin Paint Co.
Lazy Liner 2
Converts existing walk-behind stripers to ride on self-propelled
Increase production
Electric start, 1- or 2-foot operation
Fine Line Industries
11-0765 Distance Measuring Wheel
3 ft. up to 9,999 ft., 11 in.
Curved handle, optional stand
Push-button reset, 1.9 lbs.
Redington Counters Inc.
TMT-1004TS
Truck-mounted unit sprays thermoplastic material for stencil marking
1,000-lb. capacity melting/holding kettle
14-ft. hydraulic extension spray arm
Great for turn arrows, railroad crossings, stop bars, other road legend markings
TMT-Pathway
Desco Descobrader and FX1000
For striping or line removal
Dust-free capabilities, one-person use
High-production, variety of abrasive heads
Desco Mfg. Co. Inc.
LineLazer IV 3900
Delivers up to 1.25 gpm
One- or two-gun configuration
300-ft. max hose length
212 lbs., 3300 psi max working pressure
Graco Inc.
Wayfinders
3-ft. + strips of tactile cue materials
Install along both sides of crosswalk to guide visually impaired
Stair treads, safety cues for fire exits, etc.
White or yellow
Vanguard ADA Systems of America Inc.
Traffic Paint
All federal and state specs available
Tough and durable, bright colors
Waterborne, waterbased, and all zone marking available
Allstates Coatings Co.
FASS-STRIPE PLUS
Acrylic traffic marking paint
Durability rivals hot-melt thermo
Dries in under 6 min.
Maintenance, Inc.
Colourtex
Hot-applied surfacing product available in a wide range of colors
Durable and hard wearing surface
Use to delineate sections in parking lots, roadways, and parks
Chameleon Ways
T-2000 Airless Striper
Adjustable speed from 100-400 fpm
5-gal. or 10-gal., enclosed spray box
Pressure-feed air spray gun, 12-ft. hose
Trusco Mfg. Co.
Speeflo PowrLiner 9900
Up to 2.35 gpm, hydraulic pump drive
Double gun for lines up to 24 in. wide
300-ft. max hose length
Titan Tool Inc.
Rhomar's Stripe-Off
Eliminates paint overspray and buildup on striping equipment
Safe on metal, glass, plastic, and concrete
Clings to vertical and oblong surfaces
Rhomar
TKO 2513 Scarifier
Hydraulic cutter wheel and track drive
Dual rotation grinding up/down cut
Floating cutter box on spring suspension for constant surface contact
Outline Products
588 Air Spray Walk-Behind Striper
Single- or dual-gun configurations with hand spray capability
8.8-gal. paint tank fits most 5-gal. pails
Available with self-propelled option
EZ-Liner Industries
LNX8 Power Eraser
Tri-cut rotary eradicator
Rolling removal bevel-edge action
Erase traffic lines, thermoplastics, oil, grease, high spots on concrete and asphalt
Push or pull the unit, or attach to a hydraulic rider or skid-steer
Smith Mfg.
PowerPro Airless Striper
Stable, straight tracking
Hydraulically driven paint pump
No pulsation, slow stroking
Kelly Creswell Company
SkidGuard
Slide-protecting top coat provides skid resistance
Apply by spray, roll, squeegee
5 standard plus custom colors
Carbonyte Systems Inc.
Pavement Marking Materials
Traffic paints
Thermoplastics & FlameTape
Facilities in VA, GA, FL, MO, TX, CA
Ennis Paint
TMS-5 Self-propelled Striper
Programmable skip mechanism
10-gal. paint tank, pressure up to 120 psi
Single line from 2-in. to 12-in. wide or two 6-in. parallel lines simultaneously
Newstripe
Dickson Turbo Blast
High production, airless abrasive blast cleaning equipment for surface preparation
Produces dust free work environment
Fully automated abrasive recovery
Models from 80- to 250-hp
Dickson Industries Inc.
Roadabrator 30
50-hp, hydraulic-driven blast wheel with 30-in. blast head
Remove concrete to a depth of 1/4 in. at a rate of over 13,000 sq. ft. per hour
DISA Goff
Backseat Driver
Carrier for Linedrivers/Lazyliners
Removable trays carry equipment, cones, stencils, warning lights, and sunshades
Aluminum frame attaches to pusher
Ware-Ever Pavement Maintenance Co.
1500D Thermo Applicator
Midsize, ride-on thermoplastic applicator
Kettle holds 100 gal., easy speed control
Single/double line application using screed extrude, ribbon extrude, or profile extrude dies
Advanced Striping Equipment Inc.
Little Hug Airless Striper
Hydraulic operated paint pump
Adjustable handles for height
Lockable swivel front caster
The Hug Manufacturing Corp.
TLR-7 Traffic Line Remover
7-in. grinding width, 24-in. working width when unit moved from side to side
Feathered-edge pattern weathers quickly and blends with the undisturbed surface
Forward or reverse operation
Equipment Development Co. Inc. (EDCO)
SASE VonArx VA-25S
Adjustable working width up to 10 in.
Infinitely adjustable depth control
Vacuum port for optional dust control
Gas, electric or propane power
SASE Co. Inc.
Quik-Mark Inverted Marking Paints
Spray-Thru cap, non-clogging spray tip
High-solids formulations
Bright, highly-visible markings
Krylon Industrial
ADA Detectable Warnings
Federal ADAAG and Title 24 compliant
Cast-in-place or surface applied versions
Standard and geometric shapes
More than 5,000 color choices
Naviplate Inc.
7000 "Pervo+"
Waterborne, VOC compliant for highway, curb, and parking lots
Color fast, two-year no fade formulation
Pervo Paint Co.
PaintTrans Pavement Graphics
Reproduce any graphic or picture and apply on asphalt or concrete
Created with paint, not vinyl, for endurance in heavy weather/traffic
Great for ad space at grocery stores, shopping malls, and sports venues
Magic Colors
Pro200 Measuring Wheel
12.5 diameter
Handle-mounted mechanical counter with "hold" button
Distance displays in hand-grip - an industry 1st
Meter-Man Inc.
Amguard Traffic Paints
For asphalt and concrete
Water-based can be reduced with water to desired viscosity
White, yellow and blue
Bonsal American
Stock and Custom Stencils
Meets D.O.T. specs nationwide
100% virgin polymers with thicknesses of 1/8-in. and 1/16-in. thicknesses
Paint easily peels from polymer when dry
American Sten-cyl
Hydraulic Skid Mounted Striper
Fits standard full size pickup truck
Alkyd or waterborne compatible
Striping speeds from 5 to 12 mph in two gun operation
Uses 55-gal. drums not tanks
Marathon Equipment, Inc.
DuraTherm
Crosswalks, bus and priority transit ways, bikeway delineation
Pre-cut thermoplastic grid, heat-set into StreetPrint imprinted asphalt
End result flush with asphalt
Snowplow-proof
ADA compliant
Skid resistant, night-reflective
Integrated Paving Concepts Inc.
Shot Blaster
Ride-on unit for line stripe removal
16-in. blast cleaning path, travel speed to 200 ft./min.
USF Surface Preparation, Blastrac
Pre-marked Layout Tape
300-ft. fiberglass tape
Locate both snapping point for the chalk line and the trigger point to start or stop your line in one step
Five pre-marked layouts include 8-ft. 6-in., 9-ft., 10-ft. straight in parking and 60° parking of 9-ft. and 10-ft.
Pavement Tool Mfrs. Inc.
Roadway Supply Traffic Paint
Full range of colors
All paints meet federal specs
Free delivery nationwide
Roadway Supply Inc.
Chain Gang
For radius parking
One-person operation
Works best with two Big Foot
Big Foot Layout Tools
Dura-Stripe Highway Marking
Methyl Methacrylate-based markings applied by hand or machine
Nearly 100% solids; complies with federal VOC regulations
Lasts up to 10 years
Dura-Stripe