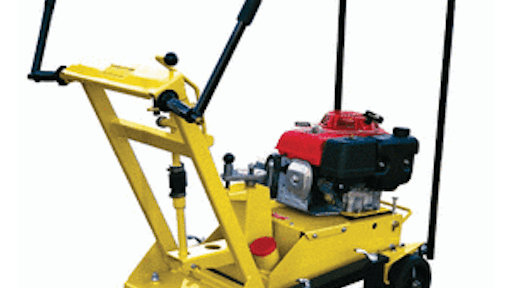 LNX8 Power Eraser
Smith LNX8 Power Eraser
For heavy-duty ease of erasing performance without grooves,
the Smith LNX8 tri-cut rotary eradicator offers a rolling removal bevel-edge action, which assures no sharp-edge grooving when erasing traffic lines, thermoplastics, oil, grease, & high spots on concrete and asphalt surfaces. Now you can push or pull the unit or attach to a hydraulic rider or even a skid-steer loader.
Smith Manufacturing Company
Remove-It drum
Remove-It Drum
Pavement marking removal
Pavement milling and rehab
Concrete milling and rehab
Scarifier
Can be made for any kind of skid steer cold planer
Ranjo's Inc.
Ranjo's Inc.
Stripe Hog
Stripe Hog System from Waterblasting.com
Designed to remove all types of highway markings, as well as runway rubber
Comes standard with Smart Vac vacuum recovery system
New markings can be applied in under five minutes
Utilizes 40,000-psi pump at 6 to 12 gpm
Tows behind vehicle or is skid mounted on truck
Waterblasting Technologies Inc.
StripeJet
NLB StripeJet
NLB Corp.'s StripeJet removes pavement markings without damage to asphalt or concrete.
Rotating water jets mounted to compact vehicle with tight turning radius
Vacuum recovery retains water and debris
Five cleaning head options
Hydraulic nozzle rotation and positioning
40,000 psi pump
NLB Corp.
NLB Corporation
TKO-2513 Scarifier/Planer Attachment
Used in combination with a skid steer
Heavy-duty bi-directional hydraulic motor for up cut or down cut
For fast surface preparation, heavy removal of asphalt, thermoplastic lines, paints, coatings, concrete, and more
Quad-spring suspension for constant ground contact
Precision depth control
Kut-Rite Manufacturing
TLR-7 Traffic Line Remover
TLR-7 Traffic Line Remover
Removes paints, thermoplstic, and epoxy
7-in. grinding width and 24-in. working width when unit is moved from side to side
Feathered-edge pattern that weathers quickly and blends with the undisturbed road surface
Forward or reverse operation
Equipment Development Co. Inc. (EDCO)
EDCO Equipment Development Co.