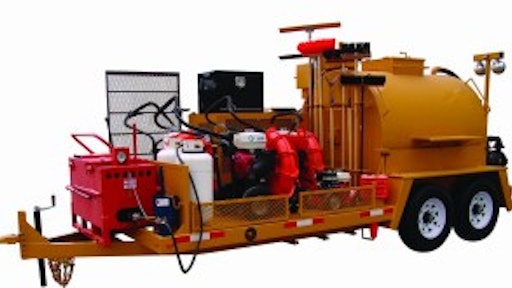 Over the last 25 years contractors and manufacturers in the pavement maintenance industry have seen a need and have responded by bringing something new to help improve their businesses. These six examples have moved the industry forward in either productivity, profitability, ease of the workday - or a combination of all three. This group is not exhaustive by any means, so feel free to visit www.pavementonline.com to let us know what innovations you've seen in the industry and how those innovations have affected your business.
Options, Tank Sizes Enhance Sealcoating Systems

For years most of the sealcoating equipment available to contractors were very basic no-frills, keep-the-cost-down, perfectly acceptable models. But gradually sealcoating equipment manufacturers, driven by needs and demands of contractors, have increasingly offered larger equipment, with more options, at various price points, to suit any contractor.
"This didn't just happen in one day, the industry just kept evolving," says Brent Loutzenhiser, Seal-Rite.
Loutzenhiser was a sealcoating contractor himself, and though he originally looked to the market for equipment he needed, he couldn't find what he wanted. "We thought what we wanted was really basic: a front deck and hose reels, but that wasn't available."
So he built his own, and that spawned Seal-Rite, an equipment manufacturer that today, with the variety of bells and whistle options it offers, can produce more than 60 different sealcoating units from the 200-gal. application units to a 10,000-gal. bulk tank.
Loutzenhiser says that for years manufacturers produced a basic sealcoating unit and because they were selling a lot of what they made, and because there were only a few competitors, contractors bought what was readily available.
"We brought to the market what we thought, as a contractor, the market was missing," he says. "Until our machine was available none of the sealcoating units available could carry a blower, and that was our big claim to fame, just that our units could hold two blowers." He says Seal-Rite also added rubber blades inside the tank to keep the tank clean.
"We still have older contractors who want just the basic unit but we also have contractors who want the 'Cadillac' unit," Loutzenhiser says.
"As contractors have become more focused on professionalism and productivity they want more features. A lot of what we offer is just what we wanted but couldn't find when we were buying equipment. Or it's something other sealcoaters have told us they didn't like or something they wanted," he says.
Among the features Seal-Rite offers are a ramp for loading and unloading equipment, a 5-gal. water jug, three hoses (air, water, material) and a hose reel for each one, and a 5-gal. gravity fed gas tank for compressors and air blowers. One unit, the SR-850 Extreme trailer-mounted system, can carry 10 tools, three blowers, and a Billy Goat Grazor.
And many other equipment manufacturers also offer a top-of-the-line unit with a variety of options for comfort and ease of use.
But Loutzenhiser points out that more equipment options are not the only change contractors have seen in the industry. Bigger tanks, he says, have been a key to contractors' growth, productivity, and profitability. He says that before Seal-Rite introduced its 700-gal. machine in 1997 the sealcoating machine of choice in the industry was a 550-gal. unit.
"The price difference between the 550 and 700 was really negligible so today almost everyone buys the 700," he says - which he says is indicative of what's happened in the market in a relatively brief time.
"There is recognition that bigger tanks mean greater production and greater profitability," he says. "Years ago contractors couldn't finish many jobs with just one load of sealer but now, because of bigger tanks, they can. Bigger tanks have real value."
Auto-Layout System Saves Stripers Time

Graco's Auto-Layout System was designed to make parking lot layout easier for pavement marking contractors, says Tim Wehner of Graco Inc. After five years of development, the Auto-Layout System was introduced to the market in 2007. It was the interest of customers that led to the Auto-Layout's development.
"Parking lot striping contractors were asking us for a better solution to save time," Wehner says. And Graco believed an automated system was the solution.
The Auto-Layout System attaches to Graco's LineLazer - which is celebrating its 20th anniversary this year - and features an onboard calculation system that shows the area the contractor wants to stripe. Contractors enter information based off the jobsite's blueprints. The Auto-Layout then calculates measurements for the area, dividing the distances to reach the number of stalls needed. The system then instructs the striper to shoot dots onto the parking lot to create the layout.
The contractor then basically goes back through with the striper to connect the dots and create the markings. The Auto-Layout can be set to different modes depending on what type of job the contractor is striping - road, parking lot, etc. Wehner says it has a ¼-in. accuracy at 100 feet.
The Auto-Layout's technology is similar to that of the skip timer with a few exceptions. The Auto-Layout features a dual sensor system on the LineLazer wheel to ensure accuracy when traveling both forward and backward. Currently the system does not have an auto-gun feature like a skip timer does, but Graco is always looking for ways to improve its equipment.
Wehner says he believes the introduction of the Auto-Layout has helped change the way contractors view the more hassle involved jobs. It allows them to do less hand work in the difficult layouts or the simple ones.
"It just makes layout jobs simple and takes the guess work, pain, and hassle out of layout," Wehner adds. "It's going to be new for guys for years."
Infrared Equipment Joins Contractors' Fleets
Perhaps the piece of equipment that has had the biggest impact is the infrared pavement heater, available today from six manufacturers. Available in a variety of truck- or trailer-mounted configurations and sizes, it heats existing asphalt pavement to a depth of 1 to 2 in. to the point where the asphalt can be raked, smoothed, added to with other mix and/or a pavement rejuvenator, and compacted for a seamless patch.
The equipment was introduced to the pavement maintenance market by Tony Heller, owner of Poweray Infrared Corp. in the mid 1970s. In the early 1980s Wes Van Velsor, who says he was the only infrared contractor in northern New England, became part owner of Poweray Infrared Corp. He started Ray-Tech Infrared Corp. in 1989 with the intention of filling the needs of the contractor with a wide variety of infrared pavement heaters and reclaimers. At about this time Keizer-Morris (now KM International) also began selling infrared equipment.
"In the early days of infrared you had to work hard at making a sale," Van Velsor says. "Not only did you have to explain your equipment, you had to explain the concept of infrared in detail and provide demos to prove that it worked. Then the customer would want to watch the worked area for a year to see if it would hold up. There were not many quick sales. We were building an industry.
"I think infrared repair has had a tremendous impact on the pavement maintenance industry, and you can tell it's arrived by the number of companies producing the units, the variety of units available, and the number of contractors getting into it," Van Velsor says. "Around the Denver area for example if you don't have an infrared unit they don't consider you in the pavement maintenance business. I get people calling me and telling me they didn't plan to buy an infrared unit but because customers expect them to have one they feel they have to buy one. They're never sorry once they do."
But he says it took a while for infrared repair to take hold, and it wasn't until the late 1990s that contractors realized they could make a lot more money doing infrared repairs instead of cut and patch. There is still a need for cut and patch, such as an area with poor base, but most patches do not fall into that category.
"A two-man crew can do more work in a day with infrared than a four-man cut-and-patch crew can do in a day, and that's money in the contractor's pocket," Van Velsor says. "It has become an important piece in the contractor equipment fleet."
He says that although the infrared process is the best way to repair potholes it is not the one thing to focus on to sell infrared. "You can do so many things with infrared that you can't do as well any other way: repair bird baths, utility cuts, manhole repairs, trip hazards where asphalt meets concrete. You can't do these types of repairs as quickly, as cheaply, or as effectively without infrared.
"But you can't fix alligatored areas permanently with infrared because the problem is the base or aging thin asphalt. Let the customer know it is not a permanent patch in this case so they won't be disappointed when it fails again."
Van Velsor says he expects the demand for infrared equipment and infrared repair should continue to grow for years to come.
"There are still so many places where people haven't used it or don't have it in their market. It's far from saturated out there," he says. "We're finding that when a contractor buys one and starts putting it to work he doesn't want other contractors to know what he's got because it really opens some doors and adds a lot of revenue for him. And if he does it right and does a beautiful job without overselling the process he can develop a reputation that reaches far beyond where he works."
Converting Walk-behind Stripers to Ride-on Units

Like many good ideas Fine Line Industries' development of its LazyLiner innovation was the result of a contractor solving his own problem. And, like many breakthrough innovations, its introduction to the market was met with skepticism and more than a few laughs, according to Bill Neuling, president of Fine Line Industries.
But no more. The LazyLiner (and the LineDriver which Graco Inc. brought to the market several years later) is a motorized attachment that converts any walk-behind striper to a ride-on striper, enabling the operator to sit and drive the striper in forward and reverse at up to 12 mph. Neuling says it fills a niche between the walk-behind unit and a skid-mounted unit, enabling a contractor to add intersection work and long-line striping without buying a more-expensive and dedicated striper. He says most contractors who have added the LazyLiner to their striping operation wouldn't consider giving it up.
"But when we first introduced it at the American Traffic Safety Services Association show and National Pavement Expo in 1996 everyone laughed and said it was crazy, that there's no way it would work," Neuling says.
But after years of trial and error and field testing to improve productivity on their own Atlantic Copnstruction Co. striping crews, he knew it would.
"I had collected 42 cards at the shows from people who at least expressed some interest, and I sent them each a LazyLiner. The deal was they had to use it for two weeks, then they could buy it, send it back, or just cheat me out of it," Neuling says.
He received 40 checks.
Neuling says the idea for the LazyLiner was borne out of Atlantic Construction's airport striping operation. Years ago to paint a 24-in.-wide stripe required four 6-in. passes. The time that took, combined with the distance walking, and time restrictions when working on airports had Neuling always working to automate the striper. Early efforts run by an 11-hp belt clutch drive pusher proved the concept worked, but belt drives could only travel in one direction so any time a striper had to go back required a large loop.
"So we knew we needed hydraulics and we knew we needed variable speed and more control," Neuling says. He tested a version with two 60-lb. hydraulic motors but the unit had to be built so wide to carry the motors that the tires would track over applied paint. So they built a narrower chain-driven unit with a rear-mounted transaxle transmission, and that's the unit introduced to the market in 1996.
"It has really made an impact in this industry because it turns a five-day job into a three-day job," he says. "Not only does it allow painting faster but it reduces the time spent doing all the useless things you do on a parking lot from driving to fill up with paint to picking up a chalk line."
Neuling says that even more important is the LazyLiner has enabled contractors to move their break-even point to much earlier in the season, meaning they work more days for pure profit.
"I'm not even sure how many contractors realize that," he says. "We would get to our break-even point very near the end of the season and we always wanted to get there earlier because then you can keep all the profit that you make. Using the LazyLiner took us to our break-even point two and a half months quicker and that increased our profit tremendously."
Franchise Approach Leads to Improvements for Contractors

For most of the industry's history most locations that sold sealer sold only sealer. Some stocked sand and additives, but few stocked traffic paint, crack filler, repair parts, safety tape, cones, hand tools, and other essential components of a sealcoating operation. Fewer still were there for the contractor whenever the contractor needed material or to help improve his profitability.
But today, partly because of SealMaster's efforts at franchising, sealcoating contractors can, in many cases, buy from a very different type of local supplier. According to Tim Stephens, manager of Infrasys, the corporation that runs SealMaster's franchise operation, the basis of the franchise operation has its roots way back with Dave Wikel and Wikel Manufacturing, the company that eventually became SealMaster. Wikel began manufacturing sealcoating equipment in 1969, adding sealer in 1972, and by 1990 SealMaster had 11 corporate locations and four licensed operations.
"Licensees had the right to the formula and the brand names but SealMaster had limited input over those locations," Stephens says.
In 1990, the company transitioned from Wikel's control to its current ownership. By 1993, franchising began and the modern SealMaster was born with its trademark grey building, black-and-white checkerboard floors, full line inventory and contractor-friendly hours of operation. The SealMaster system currently includes more than 60 franchised locations and three company-owned facilities in the United States (including Alaska and Hawaii) and international plants in Australia, China, and Mexico.
While it's easy now to understand the advantages of the SealMaster system, such wasn't an easy sell in 1993.
"SealMaster franchise owners enjoy the advantages of a neat, clean, fully-stocked facility," Stephens says. "While they may have, at one time, questioned why they should do these things, people no longer ask 'why do I need to dress up my facility?' Now 15 to 20 years down the road you see a more professional industry as a whole. Contractors are calling on national accounts, they're dealing with property managers, and that requires a more professional approach.
"Now, I'm not going to say SealMaster is responsible for all of that but certainly SealMaster has been part of the process that has enabled that to happen."
Stephens says SealMaster has seen many other local suppliers begin to carry a broader inventory, become more customer-oriented, and have made themselves available for the contractor when he needs the material. "They say imitation is the sincerest form of flattery and that's how we view it," he says.
"What made it work? I think not only was the idea right for the industry but the timing was right," Stephens says. "All of us regardless of what we do in life would rather be around people who treat us well and with respect and we'd rather go to places that are aesthetically pleasing. This idea recognizes that."
Stephens notes that the franchise approach also has helped boost SealMaster sales, with franchisees out there knocking on doors, bringing in new customers, and selling more sealer, equipment, and tools.
"If our franchisees are out there doing the job every day the way they're supposed to do it, the franchises will grow, and the more they grow the more all of the suppliers will grow. So it's much easier for me to sell franchises today than it was when we first started. But none of this happens without the daily dedication of the on-site owner/operators of SealMaster franchises nationwide who have made the system what it is today."
Polypropylene Tanks Result in "Customizable" Units

Up until 1998 the typical sealcoating unit was a steel tank available in a limited number of sizes and with few options. Craig Erickson, now vice president of Equipt at Cimline and a sealcoating contractor in his own right leading up to 1998, suspected things could be different.
"I had built a sealcoating machine for myself, not really knowing what a commercial sealcoating machine was supposed to be," he says. That homegrown machine used an agricultural tank with a paddle he fabricated to provide agitation. It all worked but it got him thinking. "I had some friends in the plastics industry and I posed a question to them: Could a tank be molded around a paddle?"
The answer was yes, leading to the first Equipt Manufacturing sealcoating unit, a 350-gal. polypropylene tank that was viewed with skepticism when first introduced at National Pavement Expo. Today Equipt patented tanks as a brand of the Cimline Pavement Maintenance Group (which acquired the company from Erickson in 2006) are available in a variety of sizes including 225, 350, 550, 825, and 1,100 with 550 being most popular.
He says that unlike steel tanks, the units are molded as one piece, and because there are no welded seams it doesn't leak. They are made of polypropylene so they won't rust and sealer doesn't stick to the tank wall, so there are no clog issues caused by dried sealer blocking the pumping system, and the tank is easier to clean at the end of the year. Erickson says that for the rigors of sealcoating, the tanks were much heavier duty than a standard agricultural tank yet still lighter weight than steel tanks.
"Equipt is probably recognized for not building the same old sealcoating machine but creating one with a lot of user friendly features that translated into efficiency, cost savings, and safety on the market," Erickson says.
He says that initially the most significant impact the innovative tank had on the industry is on the manufacturing side, and that eventually spilled over to the contractor side.
"We created a manufacturing process in which a paddle is inserted into the mold, and the tank is molded around the paddle, like a ship molded around a bottle. It's really a fundamentally different manufacturing process than is used on steel tanks, and it allowed a higher level of customization to meet the demands of the customer. Before we were in the market everybody had basically the same machine, and we came with options."
And the process was quicker so machines could be built when ordered. "Instead of building up an inventory of finished products and then selling that inventory we can build the custom configured product the contractor wants," he says. "We created an a la carte system where a contractor could order a specific machine and we would build it quickly and efficiently."
He says that prior to Equipt's tanks most sealcoating units were built and stored in inventory. This made customization difficult so contractors were faced with limited options and manufacturers worked to sell what they had already built.
"This is fundamentally a different manufacturing process that has provided contractors with more choices," Erickson says. "Look throughout the industry today and you will see a lot of customizable machines at an appealing price, and that's probably the biggest impact Equipt has had on the market for contractors."