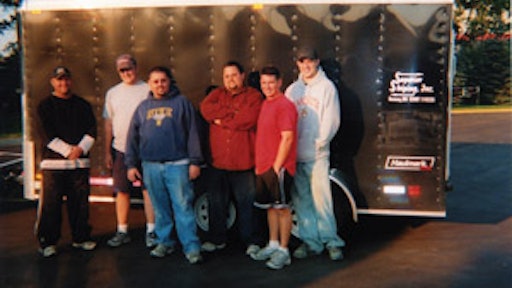 Every job you do is important," says Tom Frederickson, president of Superior Striping. "You might be striping only a 10-stall convenient store, but first of all that's the job you're doing and it's the job you're getting paid for, so that makes it important.
"But it's also important because the owner or manager of that convenient store might own other properties that need striping, or he might know someone who owns a larger property. When you look at it that way each job becomes very important to us."
That's a pretty good philosophy, though not an uncommon one. What is uncommon is how Superior Striping weaves that approach through its organizational structure, planning, bidding, marketing, and, most impressively, in its day-to-day operation of its "crews" out on the job. The results are, well, superior.
"I tell our guys that every year we have to go out and prove ourselves," he says. "We're only one job away from getting a bad reputation."
Started in 1991 by Frederickson and Jeff Gustafson, vice president, the Ramsey, MN, pavement marking specialist has focused its efforts on becoming an innovative and successful striping contractor, so they have structured their company and approach parts of the business at least a little differently than most stripers. In its first year Gustafson and Frederickson, both of whom had previous striping experience, striped 610 parking lots using two pickup trucks, two trailers, and four Kelly Creswell stripers. They got some unexpected help because the Americans with Disabilities Act (ADA) took effect that year, and Superior Striping positioned itself as the ADA expert.
"That helped us get a lot of business right away," Frederickson says.
While that might have given the fledgling company a nudge, it's not what enabled it to grow into the contracting company it is today. Last year Superior Striping completed more than 2,500 parking lots using 11 pickup trucks, 11 trailers, 24 JCL Lunay Liners, six Kelly Creswell stripers, three Graco LineLazers, 11 LineDrivers - and only nine employees.
Frederickson and Gustafson believe in their employees, they believe in equipment, and they believe that by providing employees with the right mix of equipment they can generate a great deal of work.
"We go pretty hard, but I treat my guys the way I want to be treated. They are definitely the reason for the success of our company-they do a great job for us," Frederickson says. "I try to make it like it's their own business: Here are your jobs for the night, go out and do 'em, and let me know in the morning how they went."
Sometimes, in fact, he won't see an employee for two weeks.
"I'll usually call up my guys in the afternoon and let them know the jobs for that night," he says. "They call me the next morning and let me know how they did. I know that's unusual in this business, but I want them to feel like it's their own company. When they're out there we want them to make a decision, and 95% to 98% of the time they're going to be right. So I try to show them that respect.
"They don't make many mistakes out there, but if they make one it's not a big deal. We all make mistakes. And once they make one and learn what it was, that's something they learned, and I know they won't make it again. So it's an opportunity for our business to improve."
Night work dominates
Operating in the northwest area of Minneapolis, Superior Striping's season starts in early April and runs into late November. Gustafson stripes all the time; Frederickson's wife, Joan, handles the computer and billing, and Frederickson works in the office and stripes when he can or when it gets extremely busy, especially in April and May.
"In Minnesota we get a lot of salt and sand on parking lots and the owners want them restriped as soon as they get swept," he says.
So the company gets a jump start by striping roughly 850 parking lots in the first two months of the season. Most work (70%) is done at night, which increases production because his men don't have to fight traffic or move cars.
"A lot of people say we're like ghosts because they never see us. They leave work and come back the next morning and it's all striped."
Frederickson says that because he expects his crews to work at night, he is out on the job at night, too.
"I don't expect them to do anything I won't do," he says. "It helps earn their respect."
He says that because the company does so much night work he takes extra safety precautions, including adding extra lights and reflective tape to trucks and equipment.
"I don't worry about getting the job done; I worry about getting the crews there and back safely," he says.
One crew works only during the day (the amount of daytime jobs increases significantly after Labor Day), but the focus early in the season is on restriping night work. They try to save ramps and parking garages for rainy nights so they can keep working even when the weather is bad.
"We don't want to be striping those things on nice nights if we can help it," he says.
One-person crews
While many striping contractors put at least several people on each crew to get each job done quickly, Frederickson says Superior Striping's efficiency stems from its decision to rely on one-person "crews," each crew outfitted with all the tools and equipment he needs.
"It's surprising how much work one guy can do," Frederickson says. "One guy can do so much work in one night it's incredible. One night we had one guy stripe 1,100 parking stalls by himself."
Plus, by having more trucks on the road Superior Striping carries less paint (less than 1,000 lbs.) in each vehicle so the company doesn't have to plaquard the trucks.
To make the one-person-crew approach work, Superior Striping invests heavily in equipment, providing each person with a truck, trailer, and just about anything a striper could conceivably need on a job, including three striping machines (for white, yellow and an extra color), a LineDriver, basic stencils, paint, and a backpack blower. Miscellaneous items on each trailer include spray paint, chalk and lumber crayons, spill kit, fire extinguisher, safety equipment (including hearing protection, safety vests and respirators), hard hats, boots, pants (for new construction jobs), brooms, squeegees, ice scraper (to scrape curbs), strainer, striper spare parts, measuring wheels, caution tape, cones, string line (mounted on a brake drum), and basic tools.
While the trailers carry standard stencils, other less-common stencils (drive thru, visitor, reserved, no parking) are stored in the shop for people to use as needed. Sometimes trucks carry a fourth machine if a job requires an additional color or latex paint, and Superior Striping has a number of extra stripers, trucks, and even trailers in case of a breakdown.
"We try to customize the trailers so they work real efficiently for us," Frederickson says. "There's not too many times where a guy calls in and asks us to bring something to him on a job."
Superior Striping also has added additional lighting above the trailer tool boxes so workers can find what they need at night, and trailers feature large side doors, which make it easier to fill machines with paint. A firm believer in reinvesting in the company, Frederickson also buys new equipment every year. "We try to buy something new for each person so each truck and trailer has something new," he says.
But there is one downside to having each person be assigned his own truck and trailer.
"Every time I buy something for one guy's trailer I have to buy eight of them because everyone wants one," Frederickson says. "A guy will see it and say 'Can you get me one of those?' and I do because you wouldn't want it any other way. You want them to want the best tools and equipment so they can do - and want to do - the best job."
The company's purchase of its first Graco LineDriver is a perfect example.
"The first time I brought home a LineDriver the guys looked at it and said 'What the heck' and it sat there for the last two months of the season. The next year, once they got the hang of it, they were fighting over it, and I had to buy one for every truck. I don't think my guys would ever push a striping machine again."
Since then they have customized the LineDrivers to enable them to carry cones, string line, buckets, and stencils. They've added tail lights, wider turf tires for additional stability, an umbrella, and Jim Lunay, Lunay Liners, designed hitches to connect LineDrivers to his Lunay Liners.
As part of the company's approach to wanting the employees to feel like it's their own company, Superior Striping makes a special effort, including with salary. Frederickson says Superior Striping pays its employees well because they not only work long hours and weekends but they work tough hours, at night.
"If they want a day off, no problem" Frederickson says. "If something comes up in their life, we'll work it out. I want them to think of it as their own business, and if it's your own business and you need the time, you need the time. That's just how it is."
Superior Striping also provides life insurance, contributes to employees' health insurance during the season, and has a retirement program.
"We contribute 10% of their gross pay into it each year. They can put in as much as they want," he says. "That's one of the best things we did."
Frederickson says the company doesn't lose many people. In fact, most employees have been with Superior Striping for about 10 years so the company has more than 100 years of combined experience.
"All that experience makes us very efficient," he says.
Marketing & bidding
Superior Striping does quite a bit of advertising, primarily to property owners and managers. Frederickson says the only Yellow Pages ad they use is the free ad; instead they target their marketing dollars more directly by regularly advertising with the Institute of Real Estate Management, the Minnesota Shopping Center Association, and the National Association of Office & Industrial Properties.
"Just about every property manager belongs to at least one of those so by advertising there we are able to reach the person we most want to reach," Frederickson says.
Superior Striping also donates promotional items to various dinners and golf outings, which Frederickson says is the best advertising money Superior Striping spends.
"I have no problem donating $500 worth of promotional items to an outing to support an organization and to make an impact with our presence," he says. "But it's not just support for them. If we spend $500 we don't expect to get $500 back, we expect to eventually get $10,000 back."
Superior Striping also donates work to local organizations such as Caring & Sharing Hands and Boys & Girls Clubs of America.
"We believe in being part of the community; we don't just want to be located here," he says.
Superior Striping starts its marketing in the winter, developing bids and getting brochures ready, then sends them out before spring.
"I start bidding Jan. 1 to get ready for April. I send out a lot of bids even if they don't ask me for them. That way they've got the bid in hand, and they can call and award it to us if they want to. It also gets them thinking."
In most instances Superior Striping is not bidding against anyone for a job, and on 80% of last year's jobs he never saw a customer.
"I just talk with them over the phone and send them a bid," he says "If they accept it, we get the job done for them."
He's able to do that because the company has records of every job it's ever bid. "Whenever we go out to do a job or bid a new job I try to separate different areas of the parking lot on a diagram, dividing it up into sections," he says. "If I have a good idea what's out there on the lot it saves me time on that same job later."
He says bigger shopping centers are always changing something on their property.
"If I have it divided up into separate areas I can go to the areas where they made a change and only measure the section changed. I don't have to measure the sections that weren't changed because I already have that information. It has saved me a lot of time and trips over the years ,and it enables me to turn a bid around real quick when we get a call," Frederickson says.
He says Superior Striping has a minimum bid for every job and will make bid adjustments for job characteristics such as striping uphill and high-traffic areas. Jobs near residential areas and jobs on properties open 24 hours a day also affect the bid.
The company relies on different bid sheets for different types of jobs, including separate bid sheets for property managers with multiple properties, for fast-food restaurant types of jobs, and for other jobs that have similar characteristics.
"I won't put down X feet, Y number of stop bars and then just the total price because if we bid the job that way it's easier for them to take that price and shop it to other contractors to get the lowest bid."
If a prospective customer seems tentative, Frederickson offers a menu proposal with options (turn arrows, road striping). He says the most-common options he offers are tied to heavy-traffic or low-traffic areas of the parking lot or outer areas of the lot that probably aren't used as much.
"That's another reason I count up different sections of each parking lot," he says. "I keep track in the northeast or southwest section, for example, of the stall lines and road lines, and crosswalks in each segment because a lot of properties might only need work done on the heavily-trafficked areas. That way they can select what they want done for the money they have to spend or if they just want to give us a try."
Frederickson estimates that 70% of Superior Striping's work is from repeat customers, and that's just what Superior Striping wants.
"We tell our customers that we want to stripe their parking lot for life, not just one time for the lowest bid," he says. "It's not a one-time job for us; we want to do it every time you need it striped."
"As our customers grow it helps us grow, and that applies to pavers and sealcoaters, not just to property managers," he says. "Even though it's a self-selling business we want to keep our name out there so people can't forget about us. We want people to think of us as their only striping contractor."