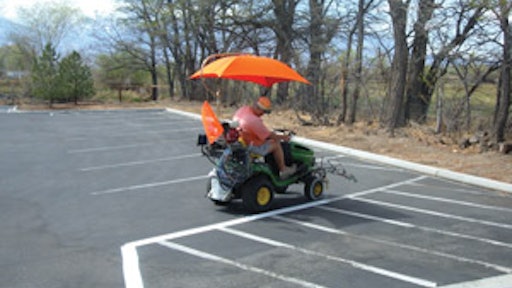 If you could double the productivity of your striping crew, cut your labor costs, and increase job profits, would you do it?
Well, what are you waiting for?
Manufacturers say if you equip your walk-behind striper with a tractor that enables you to drive around the parking lot doing everything from layout to striping you will see productivity gains you have only dreamed about.
Possibly the biggest innovation in the striping industry since the airless machine, these "driver" add-ons (and a new self-contained machine) might take a little getting used to, but manufacturers say once you and your crew use them, you'll wonder how you survived so long without them. So whichever approach you select, select one of them because contractors and manufacturers alike say motorizing your walk-behind striping machine is the single biggest impact you can make on your striping productivity.
"They simply allow you to go a lot faster on the job," says Mark Malloy of Airlessco, which markets the Ride & Stripe option for its walk-behind line. "Contractors tell us they experience somewhere between 33% and 40% more productivity when using the Ride & Stripe, especially late in the day when workers are tired."
And that improvement estimate is on the low end of the spectrum.
Analyzing the job
Introduced to a skeptical industry by Fine Line Industries in 1996, the LazyLiner was the first driver introduced to propel a walk-behind striper. It was followed soon after by Graco's LineDriver. Fine Line Industries' Bill Neuling says they proved the need for a propelled striper to themselves when they analyzed videotapes of their crew at work on several large parking lot striping jobs.
"It became very clear very quickly that the crew is only putting down paint 20% of the time," Neuling says. The rest of the time they're going to get paint and supplies. There was a lot of walking, and not walking to put paint down, but you're only getting paid when paint hits the ground."
Steve Richey, who owns Accurate Striping, developed his Accurate Striper integrated ride-on machine after one day where he striped 17 miles of pavement pushing his striper in 100°F heat.
"That makes for one long day and we just figured there has to be a better way," Richey says.
So his company introduced the Accurate Striper to the market at the 2006 National Pavement Expo West show last November.
"This machine gets the operator off the hot asphalt, which is baking under the sun all day and will fatigue anybody, especially by two in the afternoon when they've been working all day. They're bound to slow down, so this machine helps them be more productive over all but also helps them be more productive at the end of the day because they're less tired."
Fred Hannah, owner/president of ZMI, manufacturer of Utility Driver, who also runs Hannah Asphalt Services, a Greensboro, NC, full-service pavement maintenance firm, developed the Utility Driver because he got tired of pushing a blower around parking lots before sealcoating.
"I needed something to help push, so this was initially built for blowers," he says. "But any striping machine that can be used with any other ride-on machine can be used with the Utility Driver."
Differences and similarities
There are two different approaches to this type of equipment. One approach, which includes the Ride & Stripe, the LineDriver, the LazyLiner2, and the Utility Driver, relies on equipment that is basically "drivers" or "tractors." These tractors, attached to stripers by a basic trailer hitch, convert walk-behind equipment to propelled units a contractor can ride on.
The LazyLiner2, for example, is an upgrade over the original machine and features electric start, a Honda 5 ½-hp engine, a 5-qt. hydraulic system, and an impact protection bar that protects the valve cover, muffler, carburetor, and other engine components. The LazyLiner2 features one or two-foot operation with fully adjustable pedals, and storage is available beneath the seat for smaller items such as chalk, tape, and extra spray tips.
ZMI's Utility Driver, introduced to the market three years ago, is larger than other drivers on the market because it was designed first to push blowers.
"I needed a larger, stronger piece of equipment to push blowers and the Utility Driver enables you to push a blower at a faster rate," says Hannah.
He says the unit features an 11-hp Honda gas engine, operates at up to 15 mph, and features an hydraulic system with an 8 ½-qt. reservoir, an adjustable seat, and a fold-down dual light bar system that provides light above the operator's head, not over the gun. An attachable rear cargo tray stores can store an extra 5-gal. bucket of paint or a stack of traffic cones.
A different approach is taken by the Accurate Striper, which is a compact self-contained unit that combines a Graco 3900 striper with a John Deere riding lawn mower. Richey says the one-piece machine turns quicker, has a variable foot operated speed due to the hydrostatic drive, the gun arm hinges up for easy loading and unloading, and takes up less space in a transport vehicle.
"We chose the JD mower because we wanted long-term use-ability and because if it did break down contractors could easily get parts throughout the U.S.," Richey says. "We wanted a more compact, one-unit machine because a smaller machine is easier to use, plus there's more room on the truck to put the supplies you need, more space to take paint, for example."
The Accurate Striper features hydrostatic drive and operator controls for the sprayer mounted near the steering wheel. A hose reel on the side offers easy access for spraying stencils, and two spray guns are parallel with the front axle so any bump or deviation in the pavement keeps the guns the same distance off the asphalt and keeps the lines consistent. The gas motor and pump platform are positioned behind the operator, and the paint bucket sits beneath the machine and the pump platform.
"Normally when pouring paint into the bucket on a machine the paint spills on the motor and the pump," Richey says. "We avoid that on this machine by separating where they are placed."
How much improvement?
The manufacturers say productivity improvement comes in two areas: time saved on the job and reduced operator fatigue. But the biggest impact these types of equipment can make is in how fast a contractor can complete a job - and get on to the next job.
"What was happening to us is we'd get to where it was almost break even point on a job and then the weather would hit and delay the job, and all of a sudden we're behind again and still trying to reach break even," Neuling says. "This machine turns a 5-day job into a 3-day job, and doing that allowed us to hit our break-even point 45 days earlier the first year and 83 days earlier the second year. And as every contractor knows, once you hit that break-even point you start making money."
He adds that because the company could complete its striping jobs more quickly it was able to bid more competitively.
"I would no longer go out on a job without one," Hannah says of his Utility Driver. "It reduces the wear and tear on workers, especially in the heat. When using this machine they are still fresh after clearing off a parking lot and they can do a better job more quickly."
While estimates of the amount of time saved vary, Richey says the concept enabled his company to double its production.
"There's no question it saves 50% of the time you spend striping," he says.
Neuling says it can actually save more time than that. Once example he cites is workers holding the string line, for example, who have to pull the line tight, holding it taught while another worker pushes a striping machine along the string line.
"By the time whoever is marking gets to the end of the line, pushing the machine, he really needs a minute to take a breather. And the person holding the line needs a few minutes because his hand is hurting," Neuling says. "By adding these tractors to your stripers you only need a one-minute breather instead of 6 to 10 minutes, so you save that much time just during layout with a string line. You increase your speed seven times in that part of the job."
But when all aspects of the job are considered Neuling says using any of these types of equipment transforms the crew from a crew walking at 1 mph to a crew working at 10 mph.
"That's a tenfold increase in your productivity," he says.
Speeding other work
Like some of the other equipment, the LazyLiner2 can be used with other pieces of equipment, including a grinder, blower, and even a preformed thermoplastic tape machine.
"Everyone knows how difficult it is pulling tape off a roll, and with this machine you can unroll the tape at 10 mph, and a special roller presses the tape down so it doesn't move," Neuling says. "In fact we've found that the faster you run the straighter the tape is, so you can turn a 10-hour job into a one-hour job."
But manufacturers cautions that these types of devices likely won't help contractors save time working on small fast-food or convenience-store-type parking lots.
"There's not much time wasted walking back and forth because the truck is so close to the striper. Everything is right there and that will be a couple-of-hour job whether you push it or drive it," Neuling says. "But once you learn to use it you'll even use it on small lots."
And that, say all the manufacturers, is a key to getting the most out of these driver options. Malloy says to assure productivity improvements keep the tractor hooked up to the striping machine at all times.
"You want to drive it on and drive it off your trailer and use it on all your striping jobs once you've got it hooked up," Malloy says. "You don't want to be hooking and unhooking it all the time."
And never get off the machine during the job. Never. Learn to do as much of the job as possible from the now-self-propelled striping machine and you can reap the full benefit.
"When it comes to striping it's much easier work," Richey says. "And you can do a much better job because the operator isn't walking."