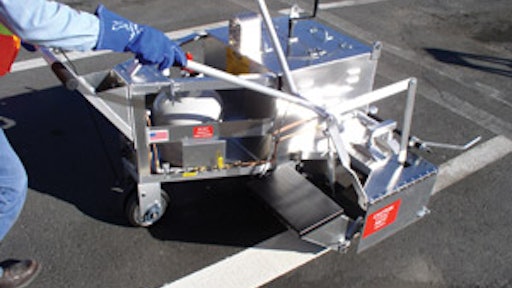 Contractors who employ thermoplastic and paint striping equipment are well aware of the main difference between the two operations - heat. Since thermoplastic is applied at temperatures in the area of 400°F, maintaining the parts that supply and monitor the heat take top priority.
Yet, as Steve Shinners, vice president of sales for MRL Equipment Co., points out, "Thermoplastic handliner maintenance is often overlooked because the unit has no engine, no hydraulics, no pressure tanks, and no high-pressure pumps like most paint striping equipment. These units can cost over $10,000 with a full set of dies so it is important they receive regular attention."
There are a number of key systems that should be checked prior to spring startup (and on a regular basis once the striping seasons gets underway). For spring startup:
On LP gas system check for LP gas leaks at all LP connections and fittings. Spreading soapy water on suspect areas will help detect leaks.
Check the LP main ring burner to see if any of the LP jets show blockage or are not burning. An even flame from all jets is what you should be looking for. Repair as needed. If unit has an automatic temperature control system, check to see that the safety pilot light is working properly.
Clean all thermoplastic dies by soaking them in an approved solution, such as an orange citrus solution. Replace die springs as needed.
Check carbide die runners for wear, replace as needed. Worn runners can affect line thickness, quality.
Wheel bearings and wheels: Grease all wheel bearings. String a straight line and push the handliner to ensure that it tracks straight. Adjust wheel mounts as needed to get the unit to track straight. Check wheels for wear; replace as needed.
The steel plate located under the handliner protects the thermoplastic holding tank from the direct flame of the burner system. If the plate is warped, replace it.
Empty last year's beads if they are still in the bead box. Examine the bead dispenser roller and "wiper" for wear. Lightly oil moving parts. Blow clean with compressed air.
Check ceramic heating elements that heat the die and material discharge port for cracks or damage. Replace as needed.
Check control handles to make sure they are straight and free from binding. Adjust linkage as needed.
Make sure the unit has its thermoplastic filter strainer, which catches debris from the pre-melter before it can get caught in the application die. Replace if needed.
Daily regimen, too
After you've prepared your handliner for spring, don't put your tools away, says Shinners. It still needs to be checked on a regular basis. Marvin Mayle, equipment specialist for M-B Companies agrees. "Operators should give their handliner a good 'going over' everyday," says Mayle. "They should check burners to ensure jets are not plugged and tighten any loose hardware and fittings. I also advise them to check the LP gas fittings for leaks at least once a week if not more often."
Like Shinners, he suggests making the check by simply spraying a window cleaner or soapy water solution on the connections and watching for air bubbles, similar to checking for air leaks in a tire. If there's a leak, the connection needs to be fixed before the unit is fired up.
"If the machine has been maintained properly, the thermoplastic will be drained from the previous day's use, and excess material removed from the die and runner," Mayle says. "It's a good idea to clean the handliner's die and runner a couple of times a day. A simple putty knife does the trick. Some operators give their dies a more complete cleaning once a week by soaking them overnight in a solvent."
Extrusion dies are available in several different widths and thicknesses, although those with widths of 4, 6, 8, and 12 inches and .90 to .125 mils thick are among the most common. Dies are made from aluminum or high-temperature resistant steel. "Be aware that aluminum can warp at excessive temperature," Mayle says. "I've seen operators ruin their aluminum dies and runners by attempting to clean them with a propane torch."
When talking about daily maintenance issues, though, all thermoplastic equipment manufacturers emphasize the main concern is safety.
"When operating a thermoplastic handliner or any piece of equipment, safety should be foremost on any operator's mind," says Tom Waxler, president of Advance Striping Equipment. "The plastic has to be maintained within safe temperatures, between 400°F and 440°F for application. Thermostats have to be routinely checked on the kettle and the hand applicator to ensure they're working. All of our kettles have an additional safety features called a Hi Temp Limit Switch that shuts off the main gas line to the burner if the thermostat fails. If a thermostat goes bad, your kettle won't know that is should shut down.
"There are not many moving parts on a handliner, but there are a few bearings and they should be lubricated. Also, it may sound simplistic, but make sure the handliner has a full tank of LP gas before you start out in the morning. Then, always drain the handliner at the end of the day. If you don't, the plastic will freeze up like ice cream overnight and make startup difficult the next morning."
Adds Mayle, "Make sure you close the main material valve after draining the container. Operators have been known to load their handliner from a kettle melter and then helplessly watch the thermoplastic run right on the ground."
Kettle thoughts
Mayle notes that thermoplastic has been used in this country since the late 1950s with continuing good results. That material contains binder, pigments, fillers, and glass beads which turn to liquid when heated. There are two types of thermoplastic: hydrocarbon and alkyd. Hydrocarbon is made from petroleum-derived resins and alkyd is made from wood-derived resins.
He offers this advice when heating the material in a melter. Calibrate the kettle's material temperature gauges periodically (weekly is suggested) by using a reference thermometer. Fill the melter to 30% capacity. After the thermoplastic becomes liquid, gradually add the remaining material to fill the melter to capacity.
Mayle advises transferring thermoplastic from the melter to the handliner 30 minutes after its temperature reaches operating range (400°F to 430°F). During transfer, thermoplastic should pass through a 1/4-inch mesh screen. Add more thermoplastic when two-thirds of the liquefied material has been used. The new material will be ready for transfer 30 minutes after reaching operating temperature range. Cease agitation during cool-down after the thermoplastics' temperature cools to 275°F.
"Do not hold thermoplastic above 400°F for more than six hours, and it should never exceed 450°F," Mayle says. "Granular thermoplastic can be reheated a maximum of three times and block material only twice. A color change in the thermoplastic indicates the material is overheated and beginning to scorch. Schedule the melter for cleaning if charred or burned particles remain on the screen after transfer and completely flush the system when changing from alkyd to hydrocarbon or vice versa.
"Avoid completely draining the kettle during overnight shutdown unless material must be replaced. Keep the kettle closed to protect against moisture and other contaminants."
Advanced Striping Equipment's Waxler has one final note for anyone operating a kettle and handliner. "Operators need to understand the operation of their equipment before they attempt to do any striping or maintenance. They should read the operator's manual in its entirety and familiarize themselves with the thermoplastic striping process."
Safety First with Thermoplastics
Wear proper clothing such as long-sleeve shirts and long pants, hard-soled shoes, hat, face safety shield, heat-resistant gloves, protective apron.
Avoid inhaling smoke from hot thermoplastic.
Keep a fire extinguisher readily available and train all employees in its proper use. Keep unit clean and free of oil and spilled thermoplastic.
Know first aid and how to treat burns. Keep a cooler of ice water on site in case of mild burns. Apply ice water to cool affected skin areas immediately. For severe burns go immediately to a hospital emergency room.
Slow agitation before opening melter lid, open lid slowly from the side.
Add in small amounts of thermoplastic material at regular intervals. Don't drop an entire bag or block of material into hot material already in the kettle. Doing so will cause hot material to splash upward.
Do not leave kettle or applicator unattended when lit.
Do not leave burners on when the kettle is empty.
Keep hands clear of moving parts and the open kettle door.
Depressurize and vent all pressure tanks before opening.
Don't overheat material; overheating can cause fumes to ignite.
From M-B Companies
Based in Neenah, WI, Rod Dickens is a freelance writer specializing in the construction industry.
Companies in this article