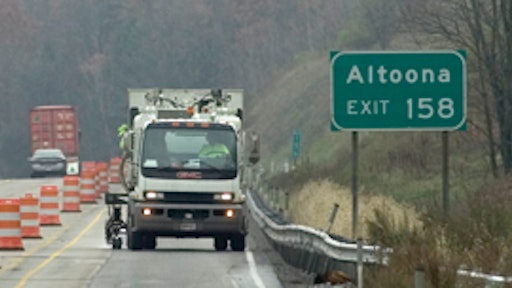 Even in markets dominated by low-bid work, it's not always the low-bid contract that gets the job. That's one of the most important things Williams & Willman learned as they have grown their on-road pavement marking business from a fledgling barely-able-to-make-it start-up in 1995 to a leading pavement marking contractor in the western and central Pennsylvania market.
"The only year we had a loss was a year weather was bad and we ended up fighting our competition for jobs and we lowered our price, figuring that we'd make up for it with our volume," says Cliff Williams, vice president/treasurer. "But it didn't work that way. We ran our butts off and our profit was zero. We decided not to work that way again."
Instead, Williams & Willman, Kittanning, PA, decided to take a different approach.
"We decided to do a great job, be reliable, and charge a little more for that," Williams says. "We figured the prime contractors would eventually come to us after they experienced poor reliability and poor quality of low-bid striping and that's what happened."
And in 2005 Williams & Willman experienced their best year, striping 13.2 million lineal feet of Pennsylvania roads. Williams attributes their success to several factors, including employees and a recognition within the market itself.
"Our employees are quality people and we think they have been doing a better job in the field in terms of production," he says. "We have more experienced guys because our retention is better, and we're starting to see the benefits of that."
Mark Willman, president, says that after 10 years the market itself is realizing that the lowest price is not always the best way to make a decision to hire someone for a job. "Reliability and quality workmanship are also important and those things cost money," he says. "The business today exceeds what I thought we'd be 10 years ago."
Focusing on road striping
Mark Willman had been in the pavement marking business since 1978 when he striped 2,500 Xs and Rs at railroad crossings in North Carolina. Williams & Willman got its start when the contractor Mark was working for decided to get out of the line striping business.
"I knew there was going to be a void and figured if there ever was a good time to get into the business it was going to be then," Willman says. "I didn't want to do parking lots because I felt there is more money to be made striping roads. I like the challenge of dealing with the complexities – the scheduling, the driving public, the state, private contractors, and the deadlines – of road striping."
Today Williams & Willman generates all its sales from marking removal and pavement marking on roadway construction and repair. They subcontract from over 30 prime contractors every year and work for dozens of public agencies and other contractors as jobs come up. Almost all (98%) of their work is for Pennsylvania DOT.
Most jobs require waterborne paint, but the company also installs thermoplastic, epoxy, and tape. Less than 5% of their work involves restriping; more than 50% of their work involves temporary markings.
"Sometimes the job calls for striping when they relocate road construction, but more often we stripe different layers of the same section of asphalt. They'll mill the surface, we'll stripe; they'll install a course of hot mix asphalt, we'll stripe; they'll install another wearing course, and we'll stripe," Willman says.
Keeping the fleet updated
"We're always looking for new equipment or new products or to try something new that would help our business and help set us apart from the competition," Willman says. "We want to be the first one to come out and lead the pack."
He says they buy new trucks because "when your trucks are sitting off to the side of the road you're not making any money.
You just can't afford downtime, and the way to avoid downtime is to buy new equipment."
In addition to keeping a relatively new fleet, Williams & Willman tries to stay on the forefront of the technology. Willman says they were the first in the state to use water blasting for marking removal, for example.
"We used a shot blaster and hand grinders before, but since we got a water blaster the state has fallen in love with it because it doesn't tear up the road," Willman says. Pennsylvania now specifies water-blasting for most jobs needing eradication.
Use of in-cab monitoring systems is another good example. Willman says they are the only line striper in the state that has a bead-and-paint monitoring system on its trucks. The system measures bead flow and paint flow in real time while striping.
"Paint volume is more important on road striping as compared to parking lot striping, and with the monitoring system we can track our material costs much better," Williams says. "After using the monitoring system we realized that in the past we had been putting down too much paint and too many beads."
Monitoring also helps Williams & Willman meet its job specifications.
"If we put down too much paint or too many beads then we don't reach the retroreflectometer numbers required by the state. But with the monitoring system we get a report every 500 feet so we can adjust it if we need to as we go," Williams says. "The on-board computers help the company be right-on with our material costs, which helps us in the bid."
Williams & Willman will add truck-mounted monitoring to two more of its trucks this year.
Williams says they are also the first striper in the state to use a laser pointer instead of a wheel in front of the truck to align stripes.
"MB asked us to try the laser pointer, we did, and we liked it better than using a wheel out in front," Williams says. "The problem with a wheel in front is that if you come up to an intersection red light and you stop, that wheel is out in front of the truck and it extends into the intersection and it can get hit. The laser pointer is just a beam, so if traffic goes through it nothing happens. It cannot cause an accident."
Scheduling can be tough
Having dependable, cutting edge service is only part of being reliable. The other part is job scheduling, which can be a nightmare. Sue Willman, office manager responsible for job scheduling, says that in a perfect world the first general contractor (GC) that calls is the first one on the list, and the schedule is completed as GC's call. But Williams & Willman doesn't work in a perfect world.
"Our scheduling can change on an hourly basis," she says. "We really don't know what we're doing one day to the next." She says so many factors – paver breakdowns, plant breakdowns, job delays, and weather – are beyond her control.
"We have certain crews that specialize in certain types of work, and when that type of work gets added or delayed, everything has to get rescheduled."
She says as calls come in she pours them into a schedule, factors in when they expect the work to be done. She plans the schedule on the computer in a basic Excel spreadsheet because it's an easy way to see it all together and it's easy to "cut and paste" the jobs to move them around. She says on the very rare best days she can schedule the work in 30 minutes; many days she works half the day to prepare the next day's schedule.
"By the end of the day we usually have figured out how we're going to do it all. Sometimes we have to prioritize and the jobs with the highest Average Daily Traffic volume get done first," she says. "We then have to call a GC and let him know his job will be delayed."
"It's not something we do often but it does happen," Mark Willman says, adding that communication with the GCs is very important.
"If a customer calls and wants us there at 3:30 in the afternoon, and if we're not there when he wants us, we're holding him up and costing him money," he says. "So when we communicate with the GCs we try to be very open and up front with them and tell them if we have a problem with the schedule. That allows them time to put up signs or make arrangements for traffic control so that the traveling public is not put at risk of an accident. We'd rather have them upset at us for telling them the truth than mad for lying to them."
Retaining experience
In addition to adding to scheduling difficulties, their mission of dependability also has a big impact on the crews.
"When we hire guys we tell them you're like a doctor on call – you just don't get paid as much. You just never know when you'll be working," Sue Willman says.
Williams says that in its early years employees left the company because the schedule was so difficult to adjust to. "When the contractor calls you and schedules you, you have to be ready to go," he says. "It's really rough to be able to plan anything because you don't know where you're working or when. The guys have no idea what their schedule is going to be each week. That's the toughest part of the job, which is one reason we need to offer quality benefits to keep our guys here."
Among the benefits are:
Company pays 100% of health insurance for employees and families
Dental insurance available; employee pays 100%
Retirement plan matches dollar for dollar up to 3% of salary; employee is 100% vested at the end of each month
Since introducing these benefits turnover has declined substantially.
"Our guys are experienced. They know how to do the job quicker while still maintaining job quality. They take pride in the work they do. They come into work and they want to do a good job because everyone driving by it is going to see it," Williams says. "That's very valuable to our contractor customers and the way we approach business. Now with our benefit plan it's harder for them to leave."