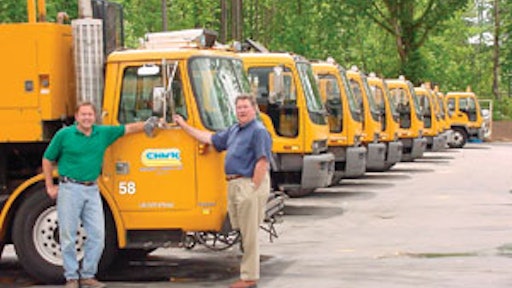 Clark Pavement Marking Inc. doesn't stripe parking lots anymore. But like many road and highway striping contractors, that's how Andy Clark, president of the North Carolina striping company, got his start in 1979.
"I enjoyed painting parking lots but I wanted to do more and wanted to do something different and I wanted to learn more and more," he says. So in 1982 he bought his first long-line striping machine from a municipality, and then learned road striping mainly through trial and error.
"I hired some people who had striped roads and I learned as I went," Clark says. "I asked a lot of questions, made a lot of mistakes, so we've earned where we are today. I'm extremely proud of what we've got here. This is my life."
Considered by many one of the most progressive and leading road marking contractors in the area, Clark is a leading contractor serving general contractors throughout North Carolina. But where the company is today is not exactly what Andy Clark envisioned when he took to the roads in 1982.
That's because in 1984, while Clark was striping in a lane closure, a tractor trailer truck burst through the traffic control and pinned him against a piece of equipment. He lost his right leg, uses crutches to get around outside the office, and uses a wheelchair to move around in the company's Apex, NC, headquarters. Clark tries to spend at least two days a week in the field, and he says he "gets about real well."
Not surprisingly, safety maintains a high profile at Clark Pavement Marking. In fact Andy Clark says safety is "number one in importance." And if actions speak louder than words, he's right.
"I was safety conscious before the accident. I've always been safety conscious," Clark says. "But I did not have the knowledge level then that I have now. I just want all our people to go home every day."
Meeting the market's needs
Clark says the company employs an average of 50 people at a time throughout the year, enabling the contractor to run more than 10 crews ranging in size from three to seven people. The actual size of the crew is determined by the size and requirements of the project.
"In our market we've got various needs and we've determined that the best way to meet those needs is to have crews of various sizes we can send out as needed," Clark says.
He says that oftentimes a paving contractor or the state highway department will require a certain amount of manpower on a job, so that will influence crew size as well. There are also various traffic control requirements that might require change in crew size.
"We'll send what's needed to take care of the job," says Chris Fresa, vice president, who handles scheduling, most estimating, and customer service. "If it's going to take five guys we're not going to send two. We're also not going to send eight but we'll send what we need to manage and get the job done in the time frame given."
Clark Pavement Marking owns numerous pieces of equipment that provide the company the flexibility to adjust to a huge variety and size of pavement marking-related work. Fresa says Clark installs paint, thermoplastic, preformed tape, and markers. Almost 100% of Clark Pavement Marking's work is state and municipal work for DOTs through general contractors and paving contractors throughout North Carolina.
"We'll handle striping for road additions, expansions, widening, that sort of work, but if parking is involved we subcontract that out to a local parking lot striping contractor," Fresa says.
Fresa says general contractors always are looking for the low bidder.
"It's dog-eat-dog out there. That's just how it is. The one who's the cheapest is going to get the work," Fresa says. "So if we're bidding a job, we're bidding to get it. We're quoting it to be the lowest we can be and still be both competitive and profitable."
But that doesn't mean Clark's bids are always the lowest—or that it always loses work to lower-priced contractors.
"To set ourselves apart we try to provide more of a service than contractor XYZ might provide," Fresa says. "We provide a product the contractors need, and that product is quality striping and traffic control in a timely manner. Whatever they need, whenever they need it, we try to provide that to the best of our ability through our trained people on our crew, and we hope that has an impact on the general contractor when he's selecting his subcontractor.
"We know it's a help to our customers to get the work done, whether it's a short project or a long-term project and that's some of the service we offer," Fresa says. "So we'll take that work and that problem off their hands."
Fresa started in the business by working in the field, but today most all of his time is spent in the office.
"I make it a part of my job and a part of the service we provide our customers to go out in the field and visit the manager or field supervisor, ask them if everything's going okay, if everything is on schedule, are our crews performing well, can we do anything else to help him out," Fresa says. "I make frequent visits to the projects so the customers realize it's not just a marking crew out there painting lines. It's us, and we're all a part of this project."
So Clark has built its business on service, job quality, price, and the hope that if a bidding decision comes down to a reasonable price difference, that its job quality and customer service will give Clark the edge.
"On a job if someone else is bidding 20% lower, that's hard to overcome regardless of our service and quality," Fresa says. "To have a general contractor say 'we like working with you so we're going to give you the contract even though you're 20% higher,' that's unlikely. Now if we're 2% or 3% higher, we're hoping our quality and service will do it. When we leave a job we make sure it's done properly and that the finished project is a good representation of us," Fresa says.
The focus on safety
Clark Pavement Marking is a member of the American Traffic Safety Services Association and Carolina's branch of the Associated General Contractors but does most of its employee certification through North Carolina Department of Transportation, which has its own certification courses. Clark says 60% of his employees are certified through NCDOT.
"North Carolina DOT really raises the bar in promoting safety and traffic control requirements and enforcing them pretty well," Clark says. "I don't know of any changes they've made that aren't valuable. They're demanding and hard to satisfy but that's all right with me because it results in a safer working environment.
"I'm real proud of what we've got going on," Clark says. "We could have someone hurt out there tomorrow but we work hard so that doesn't happen."
To encourage his workers to be safe Clark Pavement Marking holds mandatory Monday morning meetings that start at 6:00 and last usually less than an hour.
"We cover anything that needs to be covered from the week before or the week ahead. The biggest thing about the meetings is safety," Clark says. "We encourage them to please consider safety at home, to and from work, and at work. It's not just 'please don't wreck trucks,' or 'please don't hurt our employees.' We want them to be safe on their own time as well."
He says that there are some employees who don't want to follow safety procedures or wear appropriate protection, but most employees comply with no argument.
"Some of these guys see me rolling around here in the shop in a wheelchair and I think that reminds them that I got hurt and they need to pay attention to their own safety," Clark says. "But we make great efforts to get guys to understand the need for safety, we really work hard to educate them and in most cases the education works fine."
To make it easier for workers to follow safety guidelines, Clark provides personal protective equipment that is comfortable and still does the job.
"We realize they're trying to do a job, so we don't want to load them up with gear they don't need. But we make sure they have what they do need to work safe in the work zone," he says.
Depending on the work people are doing, Clark requires specific protective gear. Among the requirements are seatbelts, gloves, eye and hearing protection, leather-topped shoes, long pants, shirts with sleeves, safety vests, and hard hats.
"Not all workers have to wear all safety gear on all jobs. That doesn't make sense," he says. "But there are skills where you have to wear certain gear to protect yourself and in those circumstances we're going to insist that you wear it."
Clark attributes some of the company's success — from a safety, job-quality, and production standpoint — to his employees, which he hires and manages in a way not common to pavement marking contractors. "We're extremely fortunate to have as good a group of people as we have."
And he credits the decision a couple of years ago to hire a human resources specialist with organizing employee management and with bringing in high-quality employees. "We now have standardized hiring criteria, and we are better at monitoring the progress of our employees. There is now a more centralized information-keeping system, which helps keep the whole employee management part of the company in much better shape."
Safety and the bottom line
Clark says the market demands the contractor operate as efficiently as possible. Not only are material, fuel, equipment costs, and insurance increasing, but the work is often bid as much as two years in advance of when the job will kick off. So Clark needs to bid low enough to be one of the lowest bidders but high enough to cover projected cost increases. He estimates that costs of work the company is doing now are up 30% to 35% over what they were when they bid the work.
But even with all the competition, Clark keeps safety in the forefront. "Our efforts at safety have gone on so long it is not the expense to us that it is to other contractors," he says. This despite the fact that cost is not much of an object to Clark when it comes to safety.
"We take a look at just about everything that's on the market and we look at what does the best job, what provides the most safety and protection, and that's what we buy for our crew," Clark says. "It might be, and often is, a little more expensive than some of the other similar safety options, but we don't look at safety as an area where we want to save a few dollars. We want to protect our employees, not save a few dollars."
He cites crash attenuators as one example of a safety device Clark doesn't buy based on price. "Attenuators are not something you buy all the time or even every year. You usually buy new ones when old ones get hit," he says. "So even if we pay a little more for the ones we buy because we think they do a better job, we only have to pay more when we buy replacements."
He says Clark is constantly on the lookout for new equipment that comes on the market that will enable the contractor to improve the safety — and productivity — of its crews.
"If new equipment comes on the market and we can upgrade our safety efforts, we do it," Clark says. "If a striping equipment manufacturer develops a piece of equipment that offers higher productivity we've got to consider that equipment to remain competitive in our market. Speed is important so we try to buy new equipment and try to get things with the latest technology to give us that edge."
Clark recognizes that keeping his crews safe costs his company money.
"Impact attenuators can be incidental to a particular job or to job pricing but we do use them anyway because we feel they protect our guys better. So insisting on safety does cut into our ability to make money, but it does not affect our ability to compete. We compete just fine. We might not make as much money as another contractor out there but we do fine. We make it work.
"Maybe I'm not expecting the return other contractors are, but I've always figured that if you're in the road painting business for the money then you're in the wrong business," Clark says. "Don't get me wrong, we make a good living at this. But we enjoy the business, too, and the combination is what makes it worthwhile."