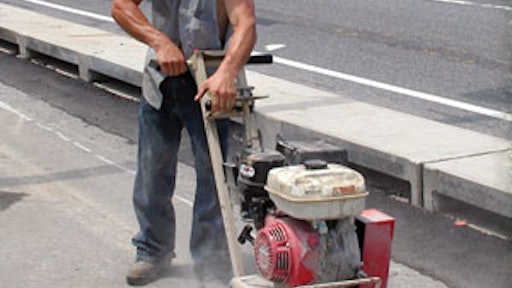 Knowing how to remove stripes from an asphalt surface is just as important as knowing how to lay them down. Effective removal is necessary for aesthetics and safety — drivers need to know which lines they're following, whether in a parking lot or on a road. There are several different systems available for stripe removal that you can choose from.
Grinding
There are two types of grinding machines — rotary and drum. Grinders range in size from small walk-behind versions to large truck-mounted systems. Grinding machines are efficient at removing any type of line, but because they need to remove the asphalt down to the lowest level the paint had penetrated, they can leave a bit of an indentation on the surface. The different heads and drums available for both rotary- and drum-type grinders can be matched to the type of line you need to remove, and the type of finish you want left on the pavement.
EDCO Inc.'s TRL-7 traffic line remover is a rotary-type grinder designed specifically for removing traffic lines from asphalt with minimal damage to the surface. It has a 7-inch working width if you were to push it straight ahead, but a 24-inch working width when feathered back and forth.
"That machine has three cutting wheels underneath it that spin and have carbide tips on the ends of them that remove the lines from the surface," says EDCO's Chuck Hommey. "The other nice thing about the TRL-7 is that the back wheels are caster wheels, which allow you to feather the surface out so you don't have a hard line or a hard edge looking appearance on the roadway."
Hommey says a drum-type machine offers a higher level of production in some instances.
"It's a little more aggressive in its removal," he says. "If you have to go down the roadway and remove a lot of line, we'd probably recommend a drum-type machine because it's going to go straight ahead and remove a line quickly."
A walk-behind, drum-type grinder could be expected to remove about 1,000 lineal feet of traffic markings an hour. The rotary machines, however, are catching up to that level of production.
"In the past, rotary machines were known to leave a better profile, while drum machines were very popular because of the production they gave you," says Greg Ferchaud, national sales manager at SASE Co. Inc. "Over the years, the drum machines have gotten better at leaving a better profile and the rotary machines have gotten better as far as increased production."
For large quantity, long-line removal jobs, several companies offer specialized trucks equipped with multiple heads for removing stripes up to roughly 25,000 lineal feet per hour. These trucks also offer electronic timing for skip line removal, concrete saw cutting and pavement grooving attachments, dust containment, and 100% dust and debris pickup.
Water blasting
Water blasting is a technique that uses high-pressure water, typically between 34,000 and 40,000 psi, to clean a surface, remove old coatings, prep a surface for a new application, and remove rubber for airport runways. It can be used to remove any type of line markings, including thermoplastics and tape. Sizes vary from walk-behind to truck-mounted units. Vacuum recovery systems suck up left-over water, paint, and debris.
"Water blasting is the best way to remove markings without removing the surface of the pavement," says Dave Friday, marketing director at Waterblasting.com. "It's also a good choice where environmental issues are present and owners don't want debris left on the road."
Troy Aldea with NLB Corp. says another benefit of water blasting is that after marking removal, the surface is left clean and dry and ready for a restripe.
"When you're water blasting, there's a cleaning effect that's happening," he says. "You're actually getting the dirt out of the pores of the surface so the paint can go down there and adhere better."
Aldea says removal rates depend greatly on the type of marking, how thick it is, and whether it was applied correctly.
"I've been out on projects that we've taken markings up at 175 feet/minute, and I've been on projects where we've been down around 15 feet/minute," he says. "Thermoplastics, epoxies, and water bourn markings all have a different rate."
Friday says when removing paint off a roadway in a long-line application, contractors could expect to bring up 7,500 lineal feet an hour.
Shot blasting
Shot blasting is a process in which small, metal beads are propelled at high speed toward a surface to remove paint. The process leaves a nice profile on the pavement surface, is a non-aggressive way to remove a line, and is self-contained, which means you're blasting a surface and picking up the paint and beads left over at the same time.
Shot blasting machines are available in a variety of sizes, from walk-behind to large ride-on versions. Production rates differ depending on the thickness of the paint, but DISA Goff, Inc.'s 26D13 tractor unit can remove up to 1,400 lineal feet of paint stripe an hour.
There are situations where shot blasting should not be used, however. The process should not be performed on a wet surface and is not effective in removing tapes or thermoplastics. You should also avoid shot blasting on new asphalt because its high oil content and the heat created by the shot blasting process do not mix well.
"The kinetic energy causes heat, which causes tar, which gets into the blastwheel and gums up the pieces and does not flow shot very well for very long," explains Belinda Adams, sales and marketing coordinator at DISA Goff. "Old or 'gray' asphalt has less oil and does okay to remove paint stripes because it does not gum up the works."