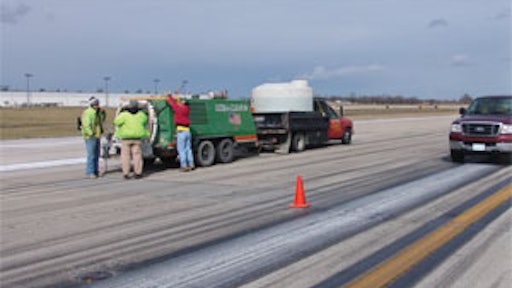 Removing markings and restriping a runway isn't an unusual job for Atlantic Construction Co. In fact, the March job at the Louisville International Regional Airport in Kentucky fell well within the contractor's job parameters.
"The job was to shorten concrete runway R-17 through marking removal and restriping," says Todd Hatfield, Atlantic Construction's operations manager. "After we did that the prime contractor would construct a 500-foot extension to accommodate a new United Parcel Service Airbus that needs more distance to land and take off."
But the airport needed to keep the runway open during construction, so the solution was to shorten the runway by 1,300 feet by removing existing markings and restriping part of the runway so the usable part would be shorter.
Atlantic Construction Co., Louisville, was awarded the subcontract to remove 37,585 square feet of existing runway markings, then restripe 32,817 square feet of markings with temporary paint. Once the new construction is completed this summer, Atlantic will return, remove the temporary markings, and restripe the entire runway.
But just because the work itself is typical for Atlantic Construction doesn't mean the job was without its challenges: Do the work in 48 hours. In late winter. And on a weekend.
"We've done work of this type before. In fact we do it often," says Hatfield. "But each of those things brought challenges to us."
Challenges which the 50-year-old striping operation met by thinking the job through well in advance, planning for virtually every possible problem, and getting its crew on board for the hectic weekend work. The result was completion of the job in 29 hours instead of the allotted 48 hours, which even enabled Hatfield to go home early on Sunday.
Atlantic Construction, which works in a 100-mile radius of Louisville, generates 75% of its revenue from striping, 15% from marking removal, and 10% from sealcoating. The contractor employs 15 people during peak season and has been doing airport work for 15 years. Roughly 25% of its sales are related to runway work, with the remaining 75% being parking lot and roadway jobs. Generally Atlantic's crews work up until Christmas and then shut down until March. This airport job, bid in fall 2004, was going to kick-off the 2005 season. Prime contractor Gohmann Asphalt asked how fast Atlantic could remove markings and how many square feet of markings they could remove in one day.
Hatfield said they could reasonably remove 10,000 square feet to 12,000 square feet in a 10-hour day depending on several factors including paint thickness. (Markings on the Louisville airport runway were thick, having been painted and repainted seven times over the last 14 years.) Plus, the contract called for 100% removal as opposed to only 85% removal, which some contracts accept.
"Then they asked us how much paint we can put down how fast," Hatfield says. "Well, that wasn't really a concern to us because we've painted as much as 150,000 square feet in an 8-hour day. So we weren't worried about that at all.
"We told them we would do it in five 10-hour days and that the job would be no problem. That's how we bid it and we had no concerns about it. That's when we learned we not only had a 48-hour window once we started the work but there was a $500-per-hour fine if the work wasn't completed by the deadline."
Logistics: Plan for breakdowns, weather
So the first step, even before deciding how to approach the job, was to consider the "X factors" that could result in delay.
"We knew we could do the work if the weather cooperated and if we had no breakdowns, so we put together a plan to make sure we could get it all done even if we ran into those types of problems," Hatfield says. "We had to because a $500-per-hour fine would kill us if we woke up Monday morning and we weren't finished."
To try to avoid weather problems Hatfield simply watched the forecasts. "The real pressure was the time of year," Hatfield says.
To be ready to go on Saturday morning Atlantic had to call the job on Wednesday so UPS and the airport had enough time to prepare for the shutdown and so the contractor had enough time to organize the work, alert the crew, and make sure the equipment was available and ready to go.
Atlantic had bid the job using both waterblasting and shot (bead) blasting to remove the markings. Hatfield says that depending on the surface and paint thickness, crews using shot blasters can remove 7,000 square feet to 12,000 square feet of markings in 14-hour day.
"Bead blasters have a dry vacuum system and you can't use them at all if there's any moisture. It gums up the works," he says. "If it rained we wouldn't be able to use the bead blasters at all."
So as a hedge against wet weather the contractor rented an additional piece of water blasting equipment, a 40,000-psi JetStream Ultra-High pressure washer, so regardless of the weather it would have at least two pieces of marking removal equipment on the job.
Next Atlantic considered jobsite logistics. Work on airports is understandably restrictive, so Atlantic had to almost choreograph how to get the work done most efficiently and within the narrow time frame and restricted space they had to work in.
The approach they decided on was to break the job down into three different jobs, each with its own crew, and each operating independently and simultaneously. Two of the "jobs" were marking removal "because it was the largest part of the work" and the third "job" was painting.
"All three jobs were being done at the same time, but because of the way we organized it no one was in anyone else's way," Hatfield says. "The bead blasting wasn't near the waterblasting crew and the waterblasting crew was never around where the painting was being done. Everyone worked in a different area of the runway and it worked great."
Hatfield says once the plan was in shape they visited the runway site with the two foremen who would be running the job.
"We showed them what's expected at what time, the order things were going to have to happen in, and areas where they couldn't overlap with other crews," Hatfield says. "So no one had to run around and say 'What do I do next?' We made it clear to them that everything had to fit together as we'd planned it for the work to be finished on time. Everyone knew their own job and they knew how their job fit in with the whole project."
Next to consider was every contractor's nemesis: equipment failure. Hatfield says that once the job was planned and scheduled they knew they could get the markings removed in time to paint, and painted in time to meet the deadline — provided the equipment didn't break down.
"We couldn't do much about the rain, but we could protect ourselves from breakdowns," he says.
So Hatfield researched the equipment the company would be using, particularly the NLB Ultra 36 Ultraclean water blaster since it would be called on to do the lion's share of removal, especially if it rained.
"I went back through everything that ever broke down on us and identified all of the parts we might need," he says.
If there is a breakdown on a normal job Atlantic would simply call NLB, who would send the parts to the contractor via overnight delivery.
"But that option was not available to us on the weekend, so our only real concern was how do we handle it if we break down on Saturday and Sunday?"
Hatfield called NLB, explained the problem, and eventually ordered $5,000 worth of all the parts they might need just to have them on hand. NLB agreed to accept returns on any unused parts but Atlantic would have to pay a restocking fee.
Getting the job done
The job was initially targeted for the first Saturday in March, but the forecast called for rain on Saturday and a chance of rain on Sunday.
"So I called it off," Hatfield says. "Of course, the weather was beautiful both days and the temperature reached 68 degrees."
The second weekend the forecast was for snow on Friday.
"The airport still wanted us to call the job because of the good weather the week before," he says. "We weren't worried about the weather affecting the removal but we were worried about the painting. The temperature has to be 40° F and higher to apply the paint and we obviously can't paint if it's wet out."
So on Wednesday Hatfield called the job for the upcoming weekend, and Atlantic crossed its fingers. Of course it snowed that Saturday morning just before the crew took to the runway at 10:00.
"There was a half-inch of snow on the runway," he says. "It melted before we got too far along and the temperature did hit 43° F during the day, but on Saturday night it got down to 29° F."
Hatfield says Atlantic's crews ran in 12-hour shifts from 10 on Saturday morning until 3 Sunday afternoon, finishing hours ahead of schedule. The first shift had 10 people and the second shift had only five people (because they couldn't paint at night).
Atlantic had three people running three Goff 13 HD bead blasters and four people running two pieces of waterblasting equipment: NLB's Ultra 36 Ultraclean and the rented Jet Stream, both equipped with a Starjet spin cart that performs the removal in a 7-inch to 10-inch diameter circle. Two people operate each lawn mower-like cart, one to handle the hose and one to move the cart back and forth. The cart's 15 rotating heads spin at 3,600 rpm to remove the paint.
Hatfield says pressure at the rotating heads was 37,000 psi.
"When using water to remove stripes you have to have pressures of at least 35,000 psi," he says. "Below 35,000 it won't remove them."
He says the advantage of removing paint with a water blaster is that the water works in a confined area, much the same as when saw cutting a joint in concrete pavement.
"It comes out almost like a slurry, the paint particles are like a grit or sand," he says. "The water runs off but the removed paint remains in the area, so we had our water trucks wash it off before we painted."
And even though the snow began melting, Atlantic experienced its first casualty just after noon: One of the water blasting carts broke down.
"There are four sets of bearings in the spin cart and the upper set, two bearings, went out," Hatfield says. "It would spin with no pressure on it but as soon as it hit 36,000 psi it wouldn't spin and that makes it worthless."
But Atlantic had the replacement parts on hand. Atlantic took the cart and the parts to Fine Line, who had agreed to provide repair backup during the two-day job, while work continued at the site.
"It was a big worry off me," Hatfield says. "I just had to drop the cart off and Fine Line rebuilt it while we continued on the job. They had it back on the job for us in two hours."
And that one instance made all the parts ordering worthwhile.
"Overall we ordered almost $5,000 worth of spare parts and we ended up buying about $2,200 worth and sending the rest back," Hatfield says. "Even with the restocking fee it was a worthwhile expense to make sure we could do the job by deadline."
Painting on the move
Restriping was done following a specific plan that isolated the painting from the marking removal, and it was done using Lazy Liners, which Hatfield says speeded up the process. The crews used Sherwin-Williams 1952-D federal spec white, yellow, and black paint, with striping machines dedicated to each color to reduce cleaning time. Both yellow and white markings were painted with black borders. Markings that were removed, laid out in a different area, and then painted included:
Centerlines, which are 4 feet wide and 121 feet long. Centerlines were striped 3 feet x 120 feet in white surrounded by a 6-inch black border.
Aiming points, which are 3 feet wide and 150 feet long with a 6-inch black border.
Threshold markings, 12 of them, 6.75 in. x 15 ft. long.
Large Xs to indicate that portions of the runway aren't to be used.
The plan had been for the aiming bars to be painted by Atlantic's striping truck, which can easily paint 3-foot-wide lines. But because of the half-inch of snow at the start of the job Saturday they decided they wouldn't be painting until Sunday and didn't want the truck sitting out all day in the cold, so it was back at the shop.
"But by 11 a.m. the runway was totally dry from the sun and wind and we got started with the Lazy Liners," Hatfield says.
On Sunday, with all the removal done and three people on the paint crew, Atlantic laid out and painted 22,000 square feet of markings in less than six hours.
"I was amazed at how smoothly everything went," Hatfield says. "We planned it out, organized the work, gave each crew its work orders, and everything went off just as we'd planned it…even faster."
Preparing for airport work
"Our crew did a great job," says Todd Hatfield, operations manager for Atlantic Construction. "Working on an airport is difficult because there are so many restrictions and regulations to follow and crews aren't used to most of them. Our crew did a great job throughout the project."
Among the regulations specific to this airport job were:
Badges. Special badges are required to gain access to the jobsite. Badges cost $115 each and contractors are fined for lost badges. Special driver badges with a photo ID require a background check, which can take as long as a month. To avoid that Hatfield himself served as the driver, transporting people to and from the site.
Boundaries. Each airport jobsite has specific boundaries the crew must stay within. Crew members who step outside of the boundaries can be fined $10,000 per occurrence, "and we couldn't have that," Hatfield says.
Airport security. Hatfield says if airport security (or anyone) comes near the jobsite and a crew member makes eye contact with them and doesn't see a badge, the contractor is required to notify security. Failure to notify security is another fineable violation. "So we told people just to not make eye contact with anyone other than our crew."
Required class. Attendance is required at a 2½-hour class that covers safety, what happens on the site, what individuals are responsible for on the site, plus a test they must pass to receive a contractor badge.
"We sent each person a letter and told them they were responsible for the badge, that they would have to pay for lost badges themselves, and they have to turn badges in at the end of the day. We made sure they knew what they could and couldn't do on the site," Hatfield says. "Then we had them sign it. We couldn't afford any fines or we wouldn't make any money on the job."