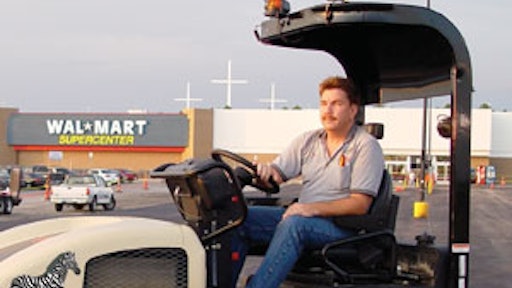 Ten years ago, Tim Cushenberry was driving down the streets of his hometown of Hammond, LA, wondering what career path to take in life.
Then Cushenberry began noticing that a lot of parking lots were in bad shape in the area. He thought that either there weren't enough people in the parking lot maintenance business, or the people in the business weren't doing a good job. Either way, there was obviously room in the market for one more. Cushenberry had found the lifelong, profitable business he was looking for.
Cushenberry started out with a small striping machine, one helper, and training from some friends who happened to be experts in the business. They taught him parking lot maintenance techniques and how to bid jobs competitively.
"I was small at first, every time taking small steps," Cushenberry says.
Today, Cushenberry's Zebra Parking Lot Maintenance Co., Inc., has more than 30 employees, is licensed in two states, and does parking lot construction, repair, and maintenance. The business focuses mostly on commercial clients, but doesn't turn away requests for small residential jobs.
"We've always tried to maintain the ability to go back and do work for some of the customers that helped us in the beginning, who got us going way back," Cushenberry says. He notes that sometimes this is a challenge, however, because it's hard for a large-scale parking lot maintenance business to compete with smaller companies that have less overhead.
"You have to get big enough and gear yourself to do commercial work so you can handle the jobs as they come along and do a good job for the commercial customer. When you get to that point, then you've got so many things in place, like high enough insurance to maintain a state license, that these mom and pop paving, patching, and sealing operations where they've got just a couple guys and he pays his guys cash, you can't compete with that because their overhead is a fraction of what yours is."
Cushenberry sees a lot of potential in the parking lot maintenance market, but believes that people in the business need to make an effort to pursue that work. He explains that his area has seen a lot of new construction by large retailers in the last seven to 10 years, chain stores like Wal-Mart, Home Depot, and Lowe's. Cushenberry says that the challenge for people in the parking lot maintenance business is to educate themselves and then educate these large retailers about the importance of parking lot preventative maintenance, helping them to save money in the long run.
"I believe they are under the impression that they can spend all that money on building a new facility and they're not going to have to spend any more money on it for a long time," he says.
"We as an industry need to educate our customers and educate new customers, especially these larger retailers. All these new facilities have to have preventative maintenance, and they're going to need repair maintenance done. If we as an industry don't understand the problem and what needs to be done, we can't educate those prospective customers on what needs to be done."
When Cushenberry approaches a business like this, he evaluates the condition of the pavement, breaks down what type of maintenance and reconstruction that needs to be done, and gives the customer a time frame for that work. He lets the customer know what it's going to cost right now, what it's going to cost over the long term, and shows the customer how the blending of repair and prevention will save him money over the life of his pavement.
"You want the customers to trust you and know that you have their best interests at heart," Cushenberry says. "You want them to know that whatever you do to their parking lot will cost them the least in the long term."