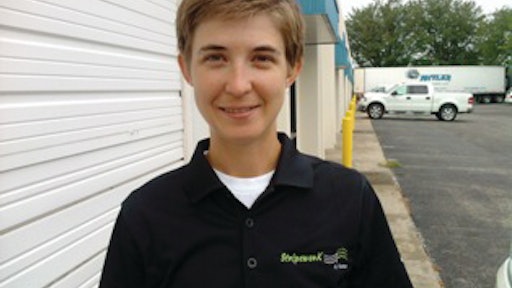 Name: Tina Williams 
Company: StripeworX     
Position: Division Manager
Located: North Kansas City, MO
StripeworX Facebook page
What services do you offer?
StripeworX offers parking lot striping and layout, parking lot signage and wheel stops and installation
How many employees do you have?
We get by with two employees at the moment, with occasional support from a temp service. We set our minds to getting  done and working hard,  which allows us to be very efficient, saving our customers a lot of money.
What type of customers do you serve?
Currently, we tend to work directly with the parking lot owners and managers, from warehouses, to casinos, to fast food restaurants, but we're always interested in new relationships.
What is your company's service area?
We primarily service the Kansas City and surrounding area. We look forward to branching out in all directions soon.
What manufacturer's equipment do you use?
We use a Graco 3900 with Auto Layout and we love it. We get our paint from a local manufacturer, Davis Paint Company, and they have been amazing to work with; it helps that they are less than two blocks from our shop.
Can you tell me about a recent job? (Who was it for? How big was it? How long did it take? Did you have to do anything different to complete it?)
We recently re-striped a distribution center for Hallmark Cards. It took us 2 weekends, working on a short schedule due to the heat, to finish six parking lots and over 120 RESERVED stencils. The extreme heat off the asphalt caused our stencils to warp, forcing us to find a way to keep them flush with the pavement. We ended up using 2X4's, one along the top, and one along the bottom to hold them down. We've been wrapping up by noon due to temperatures over 100°.
How did you begin working in this industry? How did you come up with the company name?
Our parent company deals with parking access and revenue control systems and noticed a lack of professional and reasonably priced parking lot stripers in the area. They decided we could offer customers a better experience with customer service, price and quality than others.
To work out a name, three of us sat down for a couple of hours and just threw names back and forth. After a few disagreements, we finally settled upon StripeworX.
How long have you had a Facebook page? What motivated you to create one?
We got our Facebook page up and running within the last couple of months. It is a great tool to get our name out there, and it being free is an exciting bonus.
What do you love most about your job?
Getting out there and meeting all sorts of  people and seeing all different types of businesses has been very exciting. It's also a nice combination of sitting at a desk making calls and estimates and getting outside and working hard.