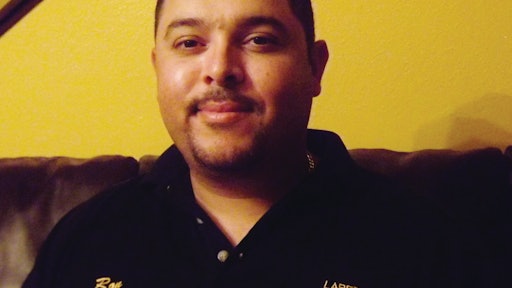 After listening to his customers groan over the inefficient crews completing their striping work and the lack of striping contractors in the area, Naeem Patel and son Ronald Lemos made a career change. Patel, owner of Laredo Striping located in Laredo, TX, originally owned a small, local video store where he first learned about the striping industry through conversations with his customers. Since opening the company in 1997, the father and son duo have experienced continued success with their company.
"We started this company out of necessity," Lemos says. "There weren't many pavement marking companies in Laredo, and everyone was doing their work with rollers. We bought an Airlessco and a Graco double gun setup and were able to tackle the big jobs."
Most of those big jobs consisted of warehouses. "Laredo is the largest inland port in the United States so there are a lot of warehouses," Lemos says. "That is what set us off because the abundance of parking area in the warehouses needed to have their lots striped for the trucks."
Laredo Striping's pavement marking clientele consists of 65% general contractors and 35% property managers. Currently, revenue from the striping division comes from 65% striping and 35% sealcoating while revenue from the guardrail division comes from 90% metal beam guardrails and 10% traffic signs.
A learning curve often exists when contractors add services they have never completed. "I credit my father for motivating us to be strong willed and not shy away from new things," Lemos says. By having a diverse set of services, Lemos says it has guaranteed the company work and helped keep Laredo Striping financially stable.
Changing careers is never an easy process. "When we first bought our striping machine we went out to a deserted slab to practice," Patel says. While learning this new industry, Lemos found help through Robert Liles website, Parking Lot Planet. "We learned a lot from the Parking Lot Planet's forum and from other experienced stripers from around the nation," Lemos says. "It has been one of our main influences in parking lot striping."
Over the years, Laredo Striping has seen continued growth and expansion. In 2000, Laredo Striping became incorporated. In the following years, Lemos began working with local paving companies."Our city didn't have a dedicated striping crew," Lemos says. "The paving company asked if we had the machines for parking lots and if we were able to lay down the lines for the streets." Lemos agreed to complete the work, even though he had never completed street striping before. As a result, sales were boosted from $60,000 a year to $165,000 a year simply by adding this service.
A few years after completing highway striping, Laredo Striping again expanded in 2002 to include the highway division that installed guardrails and traffic signs.
While striping has always been the main source of revenue, in 2007 Laredo Striping added sealcoating to its list of services. After receiving several inquiries from clients about how to protect their pavement and what type of maintenance programs were available Lemos began doing some research. The Parking Lot Store, a pavement maintenance supply company, pointed Lemos in the direction of sealcoating. Soon after, Lemos began working with SealMaster. "Having the proper knowledge of products and good rapport with material manufacturers has been what sets us apart from other companies," Lemos says. "The knowledge base that we have access to enabled us to be confident when we approach our customers. It feels good when we know the ins and outs of our industry materials and are able to give professional advice that saves our client money and headaches."
While not all of his competitors own their equipment, Lemos believes that by owning the proper equipment and knowing how it operates gives his company another competitive advantage. "We have a Graco LineLazer that also has a ride-on attachment, and this piece of equipment allows us to put down a consistent film thickness of paint," Lemos says. "Updated equipment also keeps us ahead of the game, and our crews know how to properly operate the equipment."
The updated equipment has also allowed Lemos to keep costs down at Laredo Striping. "The bottom line is pricing, and we try to minimize our pricing," he says. "We are able to do so by reducing labor hours because we have better equipment that doesn't give us down time."
Even though he has been in the striping for 15 years, Lemos still feels like he just joined the pavement maintenance industry. "It's always wonderful when you can come to work and like what you do because it doesn't become work," he says. "That's why we've been doing it for so long — it feels like we just started yesterday."