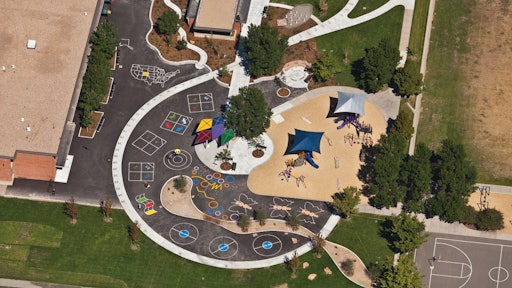 From bears and buffalos to butterflies and dragonflies, Rocky Mountain Parking Lot Services creatively brought to life two playgrounds for students. Using around 23 specially-designed stencils and several other standard stencils, Rocky Mountain successfully completed pavement marking for Asbury and Cory Elementary Schools of Denver Public Schools.
Located in Denver, CO, Rich Taylor and his partner originally opened Rocky Mountain Maintenance in 1984. A few years later they went their separate ways and Rich opened Rocky Mountain Parking Lot Maintenance. It is currently operated by his son, Pat Taylor, and his wife Leigh Taylor.
Offering several different services, revenue is broken down into 50% snow plowing, 30% striping and 20% sweeping. Additional services offered by Rocky Mountain are signage and parking blocks.
The two elementary school pavement marking projects were completed in August 2011. "They were putting new asphalt down in their playground areas," says Trevor Ranck, estimator. "We were contacted to take a look at their plans and see what we could do for the striping aspect."
One challenge for Rocky Mountain was completing the project on time. "Everything was pushed to the end," says Pat Taylor. "We only had one week to finish both schools before the school opened. It put a little extra pressure on us, but luckily we had good weather that week."
Key equipment for this project included several Graco LineLazers and specially-designed stencils from Outline Industries. In order to work with the different colors, Taylor had to adjust his crews and equipment. "We typically run three to four striping crews throughout the summer," Taylor says. "We took two to three of our crews' equipment each day, and we had six striping machines on site so we wouldn't have to change colors each time."
Prepping for the project was the most beneficial steps Rocky Mountain took to achieve success. "You have to have all of the stencils made by a professional stencil maker so they didn't come out odd looking," Taylor says. 
Another important part of the prep work was completing the layout prior to stepping onsite because it was a more challenging design. "Both playgrounds have big, long curves making it more difficult to get the right position," Taylor says. "With the blueprints, you need to take a couple of hours and take a scale ruler to measure everything out. I scaled everything out at the office a few days beforehand, and we knew which measurements were coming from what points before we arrived. When we arrived at the site everyone had something to do and everyone was moving in the right direction to get the job done."
Taylor also points out that, like most construction projects, there will be a slight difference on the pavement compared to on paper. "It's one of those things where you measure off where you can and try to get it there, but you always have to tweak it, twist it a little more to make the layout fit the blueprint a little better," Taylor says.
Rocky Mountain crews took several steps to make sure the layout was as accurate as possible. "There were certain moments when we would climb the playground to get a higher view and see how it looked," Taylor says. "We knew the dimensions of the stencils. For the butterflies, we would measure the center for the tail and measure up for the center of the head and then measure the wings to make sure everything would fit in the area with the angle we were looking at."
Asbury Elementary School
Although Rocky Mountain used the same equipment to complete both schools, each school had a slightly different design. Asbury has one basketball court, two tetherball courts, three foursquare and hopscotch courts as well as a map of the United States, Canada and Mexico. While such games may be common on a playground, Rocky Mountain included several unique designs using various animal and weather elements to accent the courts.
Since the asphalt was newly paved, prep work at Asbury Elementary School was minimal. "There wasn't a whole lot of cleaning we had to do," Taylor says. "Asbury was worse because crews were doing landscaping, so we had to do some power washing."
With three days to complete the project, day one was spent with crews laying out the basketball, foursquare and tetherball courts. "We would make the start and stop points for the other areas," Taylor says. "We also had to work around the sandblasters so we weren't in the way. We had several jobs going on throughout the day, so we had crews stopping and helping with this and that. In one aspect or another, our whole company was involved with both of these schools."
After completing the layout, crews began marking. Six colors were used at Asbury including white, light blue, purple, yellow, red and orange. "We sprayed everything that was on the ground," Taylor says. "It gave us more of an even coat compared to hand rolling. We applied two coats to everything we shot."
One challenge crews faced at Asbury was matching up the new stencil maps of Mexico and Canada, made by Outline Industries, to Rocky Mountains current map of the United States. This section of the playground also required a few additional steps for applying the paint. "We laid out the stencils, took a spray can and marked where the stencils would go," Taylor says. "Then, we pulled the stencils off, painted the states and provinces, double coated that area, and put the stencil back on painting the white for the U.S. and yellow for Mexico and Canada." A black line was left showing the continental divide.
Cory Elementary School
Cory Elementary School had a map of the United States, four foursquare courts, three hopscotch courts, three tetherball courts and one unique area filled with circles and zigzag lines. Rocky Mountain used seven colors including bright red, green, white, light blue, dark blue, yellow and orange.
For the layout, crews looked for specific points. "Cory has a long sidewalk that goes around so we would measure off of certain points on there that we could designate off of the blue prints," Taylor says. "It was sort of a trial and error deal, where we would lay it out and have to change a little so it looked more like the plans. It wasn't an exact science."
The architect drew out a unique zigzag and dot pattern for the Cory playground. "It was nothing like I've ever seen on a school playground," Taylor says. "It made it difficult to layout the design as he drew it. At the time, I assumed it was for a special game, but in reality it was just a random design that didn't require all the measurements as exact to the prints as we made them."
Rocky Mountain crews took several additional steps to accurately complete the pavement marking of the pattern. "We had to pick multiple points on the plans," Taylor says. "We drew a grid out for the whole area on the pavement, and labeled each square A through G and numbered it 1 through 15. We figured it out on the blueprints and would mark it by squares." It took Rocky Mountain crews a full day to complete the zigzag and dot pattern.
Rocky Mountain has completed plenty of unique projects over the course of the company history, but this was one they won't forget. "We definitely needed all of our people, lending their insights to get this project done," Taylor says. "I don't think inexperienced stripers or stripers that are solely focused on parking lots would have been able to complete this job on time."