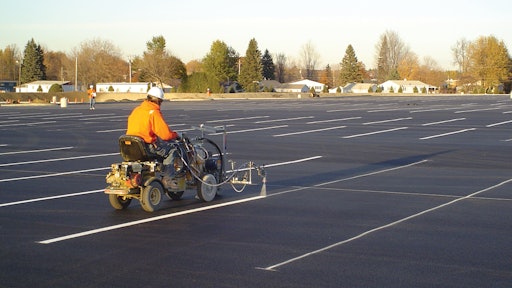 Every company has turning points, those moments – days, weeks, even a year – where the leader's corporate vision is refined, where he takes the steps he needs to transform the company, positioning it where he wants to be.
For Christian Parker, president of Parker Line Striping, that turning point was 2002, and it wasn't a transformation he'd planned. He'd been striping in and around St. Lawrence County, NY, during the summer for years, mainly to support a singing career (you can check out his music at www.christianparker.com). In 1993 he decided to focus on growing his striping company, and he wore all the hats, including doing the striping as foreman of a three-person striping crew.
"During the period when I was the main person pushing the striper my philosophy was that nobody can paint like I do. One day a very wise person in business told me 'with that attitude you will never grow, you need to let go of the handle bars.' Of course, that didn't happen for a while. I just didn't feel comfortable not being at every job and painting every line with a couple helpers."
What happened next not only caused Parker to relinquish the handlebars, it resulted in him re-evaluating his entire pavement marking operation, re-inventing his business, and taking an entirely new approach that has transformed his commercial pavement maintenance company. Today the 30-employee business has offices in New York and Florida. The company works in more than 20 eastern states, generating 65 percent of sales from pavement marking. Following a visit to National Pavement Expo in 2007 Parker decided to broaden his pavement maintenance reach and now generates 20 percent of sales from sealcoating, 10 percent from cracksealing, and 5 percent from pavement repair.
Parker attributes much of the company's success to the Parker Team, which includes the in-office staff and the field employees, including Jennifer Parker, project manager/national accounts manager) "my wife and support system," Dennis Smith, senior project manager with 25 years' experience, and Don Barton, project manager. "It's the entire team that makes this work," he says. "There's constant, open communication between office and customers and crews. I have a good structure behind me to get the job done."
But that all happened after 2002, when Parker spent the year simply trying to survive. In 2001 Parker Line Striping's biggest client went bankrupt and Parker Line Striping was left with $30,000 of bills. So Parker approached his suppliers to buy some time to work through the debt, and the suppliers agreed to accept small payments in the offseason with a balloon payment late in 2002. "We convinced them it would be better for them and better for us to be in business than to see us fail and they agreed. By being up front with them and communicating with them we were able to make it happen," Parker says.
"But 2002 was a very sobering year," he says. "We had paid off the debt but hardly had anything left at the end of the year and I was wondering whether it was time for a career change."
He waited out the winter and by spring decided to stay in business. "I recognized what a good reputation we have and I decided to see if we can make it work," he says. "There was still a lot of future here."
So Parker reached out to Walmart. From previous efforts Parker had a vendor number from them and having that vendor number gave the company a boost. Plus, the local striping contractor who had been working for Walmart resigned the job and Parker knew about it.
Soon after he was awarded the Walmart account he realized he could no longer be the guy in the field applying paint. "I had to change hats and be the guy who talks to people, makes cold calls, and does the bidding," he says. "I used to wear two hats but switched to only one and that's when the business really started to grow."
Parker says the change was difficult for him because he'd always done the striping and he considers himself "pretty much a perfectionist. I thought no one could paint as well as I could and I had trouble giving that up. I wanted every job to look right, to look perfect, and that takes a lot of trust in your crews that they can do that, but I eventually developed that trust."
Putting Crews on the Road
The next improvement Park made was to organize its jobs differently, which resulted in a complete rethinking of his approach to the striping business. "That first year we were doing jobs as they came up," he says. "We'd go to Maine for three jobs then somewhere else for a job or two and then another job would be back in Maine – but that just won't work for our business," Parker says. "So we tried to figure out what would be the most sustainable way of running the business."
Parker worked with customers to identify as far in advance as possible the jobs in each state, figuring once he had that information he the Parker Team could plan out the work and make the whole process more efficient. "We realized we could put X amount of paint in the truck and we'll schedule all the work in one area and then complete all the work in that area," he says.
It was a great idea, but to make it work Parker Line Striping had to put its crews on the road – for extended periods. Today Parker Line Striping runs eight to 10 striping crews, moving people in and out of crews depending on the number and size of jobs on the schedule.
"We try to get our crews out there as long as they can; crews often go out for two to three weeks at a time," he says. "It's traveling work: Pack a bag and you'll be on the road. We do have some local crews that work within New York State and maybe up to three hours away so they will be out on the road for maybe three nights. But our travel crews focus on retail chains and anything outside of New York."
Workers on the road receive a per diem, are provided with hotel, and receive two types of pay because they are paid the entire time they're on the road. Parker says workers receive an hourly rate on the jobsite and mileage rate when riding in the truck (CDL drivers receive a higher wage). "We pay our people well and it pays for itself setting it up the way we do. We have to do volume to make it work because we could never make it doing three or four stores."
Outfitting Trucks for High-production
But to keep the crews out on the road for extended periods Parker had to rethink his approach to the trucks they'd be driving. Many contractors use pickup trucks and trailers to haul 5-gallon buckets of paint and striping equipment, tools and stencils. But Parker decided he wanted his crews to be able to carry everything they might need for any job they might encounter for as long as they were on the road. So he opted for 33,000-pound GVW, 24-foot box trucks with lift gates.
To make the large trucks and on-the-road system work each truck is set up with everything a crew needs to do all types of striping work the company does. And all trucks are outfitted identically. "If one guy jumped on another truck it would be exactly the same as every other truck we run with everything in the same place," Parker says.
Today Parker Line Striping operates eight trucks, and each truck is outfitted with 5 Graco 5900 LineLazers, 3 LineDrivers, tools, stencils, and about 900 gallons of Sherwin-Williams or Franklin paint: seven 55-gallon drums of yellow, five drums of white, 150 gallons of black in 5-gallon pails, 40 gallons of red in 5-gallon pails, and 70 gallons of blue in 5-gallon pails. (Before the trucks go out on the road they will spin the paint on drum tumblers and as long as it is used within three weeks it will not settle in the bottom of drum.) Stencils are stored on the side, under the carriage, and in an overhead rack on a pulley.
Because the company works in more than 20 states and crosses state lines the vehicles are treated like a large trucker and have to comply with all DOT regulations, permits and taxes. The trucks do require a Commercial Driver's License (CDL), which Parker says is the most challenging issue for his company. "We hire two types of employees: laborers and drivers. Drivers must have a Class B with air brakes and HazMat or Class A CDL, which means they can drive just about anything.
"Usually guys don't have a HazMat endorsement unless they've driven a fuel truck before or something like that," he says. "When we find those guys we want to keep them and they are paid at a different level because when we're on the road we're treated like truckers. We have to be plaquered and we have to go into all the weigh stations.
"Trucks and trailers operate under that radar but big trucks over 26,000 pounds that carry 18,000 pounds of paint are in a different class," he says. "The payoff is having the ability to carry enough material to keep you out there for weeks at a time. As soon as you carry 12-15 5-gal. pails you are probably out of class anyway so most contractors who operate using trucks and trailers don't carry much paint. They have to find the local distributor and go pick it up almost for every job."
"Cookie Cutter Striping"
The success of Parker Line Striping's revitalized operation comes from Parker's willingness to re-think his approach to the business, his efforts to figure out and make the changes needed for this new approach to succeed, and his understanding of the pavement marking work he does for his customers. He terms the work he typically does for big box retailers "cookie cutter striping" and he says the system for striping one big box store can be applied to all other chains. In fact Parker referenced its Wal-Mart work when seeking similar work for other types of customers.
"After you get work with one type of company you can work your way into other companies like it so we approached Lowes, Home Depot and basically all the chain stores and have done work for them," he says. "We work for every type of client there is but it's all the same type of work."
And recognizing the "cookie cutter" nature of the work opened the door to putting his crews on the road and outfitting each truck for high-productivity, high-efficiency striping. With crews on the road continually up and down the East Coast schedulers in the office can figure out the best ways to utilize each crew and can be very responsive to customers.
"If we have one crew doing Walmarts and there's two Best Buys nearby let's have that one crew pick up those Best Buys, too," Parker says. "We try to do it efficiently like that. We have a master calendar and master schedule in the office and that shows where all the crews will be all summer every day. It changes, of course, based on weather but that enables us to add jobs and add them quickly if we have a crew going into an area where we get a new contract. If a customer wants us to work in Virginia I can look at the schedule and tell the customer 'We have two crews in Virginia right now and we can do that for you.'
"It pays for itself setting it up the way we do. We just can't afford to drive 700 miles to do one or two jobs. It's just worked because it enables us to be out there and be flexible. This system enables us to efficiently take on multi-state projects and as many as we want."