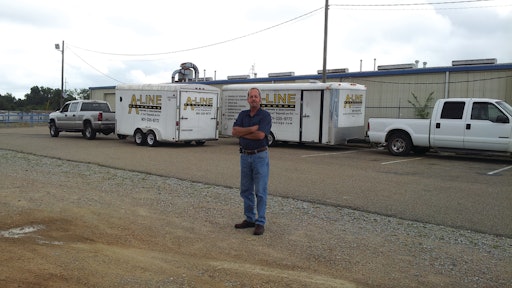 After striping everything from airport roads and parking lots to runways and taxiways, Tom Rockholt decided to put his years of striping knowledge into his own striping company — A-Line Striping & Sealcoating.  Located in Olive Branch, MS, Rockholt has built a company that offers quality work since 2003.
Rockholt was first introduced to the striping industry while completing a painting apprenticeship. On some occasions, he would stripe different properties for the painting contractors.
Then in 1985 he took a position at Memphis International Airport. "That's where I learned how to stripe," he says. "We striped the roads as well as the parking lots of the airport—all of the striping that needed to be done at the airport."
With years of experience Rockholt made the move to open his own business. Currently, A-Line Striping completes 80% parking lot striping, 10% warehouse striping and 10% sealcoating.  The majority of Rockholt's clients are commercial while he does complete some government work for Olive Branch.
Since A-Line Striping is located in Northern Mississippi, it has a service area of Tennessee, Arkansas and Mississippi. Rockholt varies between employing 3 to 6 workers consistently operating with one crew. "We used to have two crews out completing work," Rockholt says. "I now feel that it is easier for everyone to jump on a particular job, focus on a specific area, get it knocked out and move to the next one."
Since the dip in the economy, Rockholt has started working every job from start to finish maintaining efficiency and quality work. "It has been beneficial financially because it is easier to control costs when I'm on every job," he says. "A lot of times I'm able to make repairs on site when another employee might not have the experience to complete the same repair. Until I am able to find someone who can take my place and completes my job the way I expect it to be done, I'll continue to work every project."
Rockholt strives to establish long-term relationships with his customers by maintaining a detail-oriented focus on quality. "We stripe and make every job as perfect as we can," Rockholt says. "We strive to establish a long-term relationship with our customers. I keep in contact with my customers often becoming friends with them."
Through creating and maintaining strong relationships with his customers, Rockholt is able to form maintenance programs with them. Another important relationship to Rockholt is with painting contractors. "I have several painting contractors that will call me exclusively if they have work they need completed," he says.
Benefits of industry classes
Since starting his business, Rockholt has attended seminars at National Pavement Expo. Despite knowing some of the information in the classes, it still offered several benefits to Rockholt. "I knew a lot of what they were talking about," Rockholt says. "It was still helpful because anytime you can learn something different from the way you do it you can always capitalize on it. This can help make your technique stronger, or you might use their technique and realize it works better."
In one session, Rockholt learned how to successfully layout and stripe a concave and convex parking lot. Networking with other contractors in the industry has also been beneficial to Rockholt. "I always have a lot of people that call me wanting to know how I would do something," Rockholt says. "I'm always trying to help someone get started."