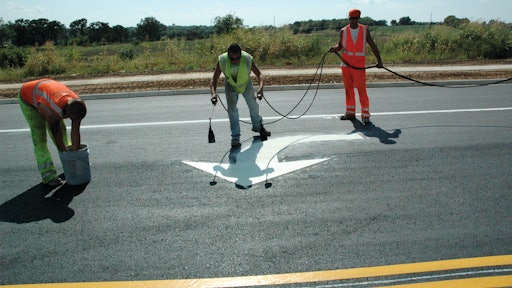 The seasons are shifting, fall is in the air, and as the temperature drops and moisture says on the pavement longer your work in the field can get delayed. Your clients still want their pavement maintained, but once you've got the sealer cured how do you get the markings down, with paint needing to be applied at 50 F and rising?
In some areas that's not too difficult but the farther north you are located the shorter the season – and the more difficult is to keep that work going into November and beyond.
One type of product that can help is preformed thermoplastic, which provides the benefits of molten thermoplastic without the need for melter and special applicators. Available in standard pavement marking colors (white, yellow, blue, red, black and green) and in virtually any shape or configuration including turn arrows, letters, stop bars, legends, handicapped symbols, performed thermoplastic can not only provide property owners and managers with long-lasting, durable markings, they offer contractors an opportunity to extend their season.
"You don't need special equipment to put it down vs. regular thermoplastic where you need a melter and applicator to apply. Preformed thermoplastic really helps the smaller companies that want to offer durability and reflectivity in their markings and who want to be able to extend their season but can't afford to buy the extra equipment that regular thermoplastic material requires," says Pamela Mencer, marketing manager/customer service preformed thermoplastics, for Swarco America, which has been making preformed thermoplastic markings for two years. The company recently added black and green to its four standard pavement marking colors.
Two Types of Preformed Thermoplastic
"Contractors can extend the season with preformed thermoplastic becauseminimum application temperatures are significantly lower than with other products," says Ennis-Flint's Zina Brooks, marketing director . But she cautions that there are two distinct types of preformed thermoplastic, each with its set of application requirements.. She says the Institute of Transportation Engineers' Traffic Control Devices Handbook recognizes these two types of preformed thermoplastic pavement marking materials:
* Material where no preheating of the pavement surface to a given temperature is required
* Material that requires preheating of the pavement surface to a certain temperature
Brooks says contractors assume all preformed thermoplastic is the same because it looks the same but it's not, so it's important to follow the manufacturer's application instructions. She says preformed thermoplastic that requires preheating of pavement is best for regions where pavement temperature can be raised to about 300 F (Mencer says 275 F works for Swarco's product) and maintained at that temperature for proper timing and placement of the material. . "Working in sections no larger than 2 ft. x 4 ft at any one time, once the temperature of the pavement reaches 300F you must immediately place the material onto the pavement and start heating i " Brooks says. "This type of preformed thermoplastic heats both from the bottom up and from the top down so you need to make sure you are following proper application procedures for the type of material you are using."
Brooks says Ennis-Flint is the only company that makes a preformed thermoplastic that does not require preheating of pavement, and she says this product is especially effective in extending the pavement marking season for contractors in colder climates. This product does not have any pavement or ambient temperature requirements for application.
Mencer stresses that preformed thermoplastic is a product entirely different from both temporary and permanent tape. "Permanent tape is made of rubber and is applied to the pavement by adhesive on the back side to get it to stick. You can add adhesive to make it stick better but it's still not as effective a bond as preformed thermoplastic," Mencer says. "Preformed offers better quality than tape and takes a beating better than tape. Preformed withstands traffic skids, wheel turns etc where tape could more easily get pulled off."
Moisture and Installation
In the fall as temperatures drop there's a good chance the pavement will retain some moisture and it's essential to remove the moisture before installing any type of preformed thermoplastic. Brooks says that when using non-preheat-type material you can remove the moisture from the entire application area (regardless of ambient temperature) because elevated pavement temperature does not need to be maintained. With material that requires preheated pavement, however, you have to work in segments so the pavement doesn't cool too much prior to installation.
Mencer says one way to test the moisture in the surface is to place a piece of cardboard on the pavement. The cardboard will pull some water into itself from the surface if the surface is still damp. "This happens more when you get into cooler weather with a lot of moisture on the pavement in the fall," Mencer says. "It's a situation where preformed thermoplastic offers a real advantage."
"The colder it gets the more difficult it is to use material that requires pavement preheating," Brooks says. "It's not just about achieving the bond. Preformed thermoplastic contains anti-skid elements and glass beads for reflectivity and while you can heat it to the point where you force it to bond, in the process you might overheat it to the point where the beads and anti-skid elements sink into the material resulting in poor performance. "
Makers of preformed thermoplastic recommend using a propane torch to heat the pavement and melt the material, though infrared repair equipment can also be used to heat the surface and to melt the preformed thermoplastic.
When using a torch make sure to move the torch back and forth over the area to heat it equally and so you don't burn the asphalt. Mencer says an infrared temperature gun can tell you when you've heated the pavement to the desired temperature (generally 275 F-300 F). She says thermoplastic that requires preheated pavement can be installed when the ambient temperature is as low as 32 F (vs. most paint which requires temps of 50 F and rising).
"There are areas of the country where you don't have to preheat the pavement but if it's cold or wet we recommend preheating because it improves the bond and the durability of the performed marking," Mencer says.
Once the pavement is heated, position the preformed marking on the area then heat the material itself with the torch. "You can actually see when the heat hits that it's melting," Mencer says. "Of course you can heat it too long so you have to be a little careful."
How to Fight the Cost Fight
Though preformed thermoplastic can offer contractors a new service niche and extend their season, they – and their customers – often balk at the higher cost, a significant difference from a one-time application of paint.
"But you can't just look at the sticker price of preformed thermoplastic because there are many other factors to consider," Brooks says. "With paint you have to repaint more often, which means mobilizing your crew, closing intersections or parking lots, disrupting traffic or potential customers on a property. Contractors often say price is a roadblock but they can also add value to their service by educating their clients about these other factors and the advantages of installing a long-lasting product."
She says that preformed thermoplastic will last six to 10 times longer than paint. She adds that in addition to extending the season, use of preformed thermoplastic can give contractors a reason to interact with current customers and might serve as an introduction to new customers at a time of the year when they might otherwise have little customer contact. She adds that contractors can help property managers bring their markings in compliance with the recent MUTCD and FHWA standards, can offer maintenance solutions for damaged or faded markings, and can install markings on pavement that has recently been repaired.
Brooks says. "These 'introducotry' smaller projects can turn into bigger projects because you can educate your customers and can position yourself as a knowledgeable source or as someone who doeswork that your competition doesn't offer: 'I can take care of immediate marking needs for a customer with preformed thermoplastic even in the colder seasonwhile keeping future striping opportunities open for discussion. .' Who's to say it's not a lead-in for a client they hadn't had before?
"Parking lot stripers can be hesitant about offering preformed thermoplastics because they're afraid it will eat into their core repeat business, but they need to realize they can use it for other opportunities, including applying preformed thermoplastic in times that would otherwise be slow for them," Brooks says. "Preformed thermoplastic isnot meant to be a replacement for all parking lot striping; it is intended for very specific purposes – legends, arrows, handicap symbols -- and has very specific advantages. So if they can offer their clients a durable solution that saves their customers money over time -- without fear of cutting into their own profits -- It benefits both parties."
[SIDEBAR 1]
Preformed Thermo Melter Alternative: Infrared Units
In most cases suppliers of both preheat or no-preheat preformed thermoplastic suggest using some type of propane to heat or dry the pavement and melt the material. But contractors who own infrared pavement repair equipment might already have all they need to effectively install preformed thermoplastic. In fact KM International, which manufacturers a unit designed specifically to install large preformed thermoplastic markings on airport runways, has routinely placed preformed markings in cold and damp situations, according to Kurt Schwartz, KM International sales. And late last winter KM Intl. installed markings in Michigan with ambient temperature at -20 F. "And they're still strong and in place today," Schwartz says. Colin Keinath, KM operations manager, says using an infrared heater rather than a torch provides "a true, more even heat to ensure the preformed marking is going to be heated up throughout the product." Producers of preformed thermoplastic say the best infrared units to use are those where an operator can see the material beneath the box to monitor melting, adding that infrared units should be used to dry damp pavement prior to application and for no-preheat material that melts from the top down. KM adds that as important as being able to watch the material melt is testing in advance to make sure you know how long to heat the material. "Preformed thermoplastic varies and the time it takes to properly heat it is affected by the thickness, the reflectivity, even the color plays an important role," Keinath says. "Knowing the product is key so the best approach is to test it out on your own work area before you install it on a customer's property."