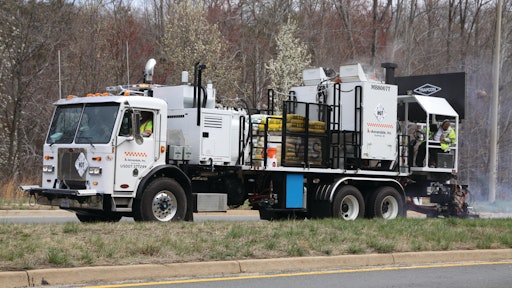 No matter how well your pavement marking season is starting out there's a good chance A Annandale Inc., Fredericksburg, VA, has you beat.
In what's shaping up to be the highest-volume year of the contractor's more than 30 years in business, A Annandale has 80 million linear feet of highway restriping – what the contractor terms maintenance work --on the books as of April 1. And that doesn't include any legend, crosswalk, arrow or thermoplastic work involved in the projects. It also doesn't include replacing 40,000 pavement marker lenses; the first time in the history of the company they've had that type of volume for that kind of job.
And that's only three jobs scattered throughout Virginia.
"I told my people I want these jobs and we got all three of them," says Sonny Younce, president and CEO. "They all run at the same time and we need to be finished by September 27."
And in all likelihood that's what's going to happen because long line striping, whether for restriping or new construction, is where A Annandale's expertise lies. Last year 70% of A Annandale's work was construction or maintenance striping in Virginia, Maryland, and Washington, D.C. Another 15% was on parking lots and another 15% was on airports. And maintenance striping isn't even the company's specialty.
"What sets us apart is we specialize in construction striping – traffic switching where we eradicate existing lines and switch traffic into other lanes or off onto shoulders while new paving is taking place," Younce says.
He says that because of the large restriping contracts 2013 is shaping up to be a little different than a normal year. He says new construction striping typically accounts for 60% of road work sales while maintenance accounts for 40%. With so much maintenance work already on the 2013 books those numbers likely will be flipped this year, much like the paint and thermoplastic markings can change from year to year. Where in 2012 thermoplastic represented 70% of sales dollars and paint 30%, the 2013 figures will more likely be 80% paint, 20% thermoplastic.
"That varies year to year depending on the state budgets and a lot of factors," Younce says. "It's a little like a school of fish; it just depends on which way they want to go."
Winning Low-Bid Contracts
Younce says all the company's road striping is low-bid work so the A Annandale team spends a lot of time analyzing and preparing their bid. "I have a good group of people working for me and we strategize how we're going to do a job and how we're going to make money at the job at the same time. The goal is to come up with a rock bottom number we have to have and it takes weeks to put together."
And getting to that number is aided by years of experience. Younce credits the company's workers, many of whom have been in the long-line striping business for more than 20 years, with the company's ability to be as productive and produce as high-quality work as they do.
He says a typical field worker puts in 70 hours a week from April through November, so the company pays out a lot of overtime. "But this work is really not possible without OT. Even when we're just figuring it out at the bid stage and try to add it in it's going to go over what we thought because of things we just can't foresee."
But that doesn't mean there aren't a lot of variables that go into determining the final bid. Younce says volume of traffic is important, as is the speed at which the paint trucks are going to run and the time it takes the paint to dry so there aren't a lot of tracking complaints.
"Sometimes we'll switch a job to night work because that can give our crews a couple more hours out there and that can make a big difference (daytime work runs from 9:00 a.m. to 3:00 p.m. while night work can run from 9:00 p.m. to 5:00 a.m.)."
The distance of the job from the yard and from inexpensive hotels is another significant factor. Younce says the company will analyze travel distances and times and compare them to hotel rates. If the rate is good enough then the crew might stay there and drive the extra distance; if the rate isn't good enough they'll find a hotel closer to the next day's start of the job. "All those things impact the bottom line and when you're weighing $100 a night hotel rooms compared to a little longer travel time it can make a big difference in the bid and the profitability.
"We blend that all together and look at the proposal and see where we are. Then sometimes we put in work they might need and that will help us or take out items that we think are impossible," he says. "Most bids are perfect case scenarios and we try to meet those expectations but sometimes it just can't be done so we can make some changes and come as close as we can to the job they want.
"It's hard to make money in this job with low bid and with inspections required but with all the years of experience we have on our crews we've gained little tricks. We know what the inspectors want and we know how to make sure they get what they need."
He says the company tests for millage, moisture, reflectivity three times each day "to make sure the state gets what it's supposed to get and nobody gets shorted." Each A Annandale crew has at least two certified pavement marking technicians on it at all times and the technicians are trained to conduct the tests and record the results in the daily paperwork.
Maintenance Striping a Moving Operation
Younce says restriping crews generally include seven or eight people and the job involves a moving operation throughout the project. In a maintenance operation the paint truck leads the train, followed by a shadow vehicle, a material truck carrying paint and beads, and a truck-mounted attenuator (TMA). In some instances two TMAs are used or a pilot truck can lead the operation.
"A pilot truck can be added, especially on two lanes roads, to lead the paint truck and help make oncoming traffic aware of the moving striping operation," he says. Pilot trucks will be used on each of the three large maintenance jobs this summer, and one of the jobs requires it be coned from beginning to end.
"From start to finish cones have to be placed a couple of hundred feet apart throughout the whole job in a moving train," Younce says. "So we'll have an additional vehicle placing cones ahead of the paint truck and an additional vehicle following behind the TMA picking up the cones. They'll be leap-frogging each other and it's very time intensive and the timing has to be good.
"The idea is first to run a safe operation while hopefully keeping traffic moving as much as possible," he says. "Then the goal is for the paint to be dry after the TMA so you apply it and regulate the pace of the train and spread the train out to make sure that happens. But you have to factor in humidity, ambient temperature, and surface temperature and then you hope all the elements are working in your favor."
Younce says the paint truck rarely slows down because the pace has been calibrated so material is applied to meet the specs the inspector is looking for. If the train does slow down the pressure has to be changed and that impacts the testing. "Plus the bid we were awarded was based on paint being applied at a certain level of productivity and if we have to slow that down we not only can affect the job but the profit on the job," Younce says.
But sometimes you don't have a choice to slow it down – or even stop.
"To some extent we are limited by what the equipment can do and what the specs are," he says. "A paint truck can only run so many thousands of feet and then we have to stop to reload with paint and with beads and sometimes that can be a 90-minute stop.
"We try to factor all that in when putting the bids together -- How many feet of lines can the truck repaint before we're going to have to stop and reload? How many times are we going to have to stop and reload? -- because that impacts production and that can mean the difference between a profitable job and not.
"Nothing is for certain," Younce says. "If you go out there expecting the same thing every day you're really dreaming because there are a lot of variables that can throw you a curve."
Construction Striping
Where maintenance work is restriping existing but faded markings, construction work involves layout and switching lanes from one place to another around a construction work zone. A construction striping job can be redirecting traffic onto a newly paved shoulder or wedge to enable a paving contractor to repair or repave a lane or it can involve redirecting traffic from one lane of a bridge or one side of a road.
"Basically we stripe to shift traffic from old asphalt to new asphalt just after the paver is done," Younce says. "We have done so much of the construction-type work that when we pull up on a job it's like a picture appears without ever seeing the plans," Younce says. "We're able to shave some time off and that's really what it's all about because the prime contractor can't go to his next phase until a lane switch is done. So time is essential and we're able to work quickly because of our experience and because of our equipment. If the equipment breaks down we often have a backup right on the site. Not many pavement marking contractors have that much equipment where they can afford to put two pieces out there just in case."
Construction striping involves eradicating old lines and creating a new layout for the proposed switch. A surveyor comes in ahead of A Annandale and plots GPS points where a wall or lane line is going to be and A Annandale designs the layout based on those points.
Younce says sometimes crews do have to go back and tweak the layout. "Sometimes you don't see things until you're actually out there and have traffic going through it," Younce says. "The state gives us the set of plans with lanes widths and points of turniture and we lay it out based on that. If doesn't work it's not our responsibility because we put it in according to plans."
He says maintenance projects have time restrictions because the temperature must be 45 F and rising before paint can be applied. "But on a construction contract they need us in there regardless of the temperature and they sign a waiver to get us in there and get it done. They need us to get that road marked because they can't move on to the next phase until we finish our work."
Younce says most highway work they do amidst live traffic "but for the most part we're working behind the prime contractor because he's already got the work zone blocked off. The prime contractor has a lane closure set up and we get in that buffer zone and stripe within that zone," Younce says. "The only time we work outside of that zone is at each end. If we have to stop traffic it's only at the entry and exit of that work zone."
He says some construction striping jobs can last as long as two days and oftentimes A Annandale brings in two crews to handle the work – but often one crew will complete the entire project.
"Sometimes the GC doesn't want the crew to leave the site because the first crew knows what's going on and they have already been fitted into the construction process and the GC doesn't want to change them. They don't want to have to teach a new crew what's going on and they figure they have the same guys paving the whole job so let's have the same guys striping it."
Reinvesting in Equipment
Having worked in the pavement marking industry for 38 years, Younce learned from the ground up, eventually rising to general superintendent in 1994. He started working as a consultant, "showing contractors why they weren't making money or how to make more money," when the opportunity to buy A Annandale came along in 2007.
"In 2007 the company was smaller and did a lot of parking lot work and some lane switches but not any long-line work," Younce says. "They'd tried it but lost their shirt on it." When the original owner died and the company was looking for some guidance, Younce bought it, very soon started bidding long-line maintenance jobs of hundreds of miles, and a shift in focus had begun.
Today, after moving into a new facility on 5 ½ acres with 34,000 square feet under roof, A Annandale Inc. employs 70 people – 20 fewer that Younce thinks he'll need to pull off the jobs this summer so he's hiring. The company operates 42 vehicles including six M-B Companies long-line paint trucks, two M-B long-line thermoplastic trucks, two Arrow Striping & Manufacturing marking eradication trucks, eight TMAs, four walk-behind thermoplastic handliners, three M-B Companies thermoplastic melter trucks, and assorted support vehicles and equipment. Younce says 80% of the fleet is two or three years old and he says he's bought a new piece of equipment every year since 2008.
"I believe in putting back in to what it takes to keep the core going, so we're continuously buying," Younce says. "I end up buying two or three new trucks every year because if you're going to operate efficiently and profitably you have to have good new equipment."
He says the crews take pride in putting new equipment and new trucks out into the field and to work. "New trucks help motivate the crew in the field and help get the production done," he says. "New equipment improves productivity, there's no
[sidebar]
A Focus on Safety
While restriping and laying out and striping lane switches are the company's specialty, President Sonny Younce says safety is the contractor's focus. A Annandale employs two full-time safety officers who do nothing but safety and training. Every Friday in the winter the crew comes in for two hours and gets safety training and every day each crew receives a safety toolbox talk right at the jobsite.
"The main thing is safety," Younce says. "We conduct toolbox talks every morning at each jobsite because it's easier to see scenarios they might not have thought about in the yard. When you get to a jobsite a lot of things become clearer or more evident."