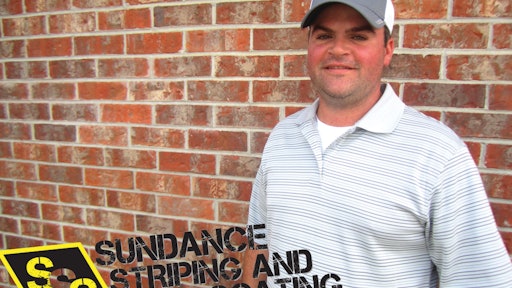 One thing we're glad to hear from Josh Bullion, president of Sundance Striping and Seal Coating LLC in Memphis, TN, is that business is good. In an ever competitive market, many contractors are still struggling to obtain new business, but Sundance is starting to thrive. In fact, an increase in demand has led the company to form a second crew this season, bringing the company up to eight employees from the three they initially employed when Bullion took over the company in 2011.
How is this possible? One thing Bullion says has helped open many doors for Sundance is a change to working at night. "Customers appreciate that the company is able to directly follow paving contractors, complete work in a timely manner and not disrupt business operations or traffic flow," he adds.
The company and the crews benefit from night work as well. Bullion mentions increased efficiency as parking lots are already cleared, increased productivity due to cooler temperatures at night during the company's busiest time of the year, and decreased traffic-related hazards. Sundance can also work a day and night crew to simultaneously meet the demands of multiple customers or more quickly complete large jobs during its busy times.
Sundance also trains its crews to read engineering plans and use proper layout techniques. "Painting symmetrical, straight lines and centered stencils ensures an overall professional grade of striping," says Chris Grisham, project manager at Sundance Striping.
Each crew also has a specialized painter and machines. "A lot of contractors will use equipment that is not designed for the job, and the results are not professional," Grisham adds.
Bullion says that because Sundance primarily works in commercial and industrial areas serving property managers, general contractors and individual business owners, maintaining the lots at night was a natural fit. Malls, apartment managers and medical facilities have also called upon the contractor, with homeowners and municipalities comprising a small, but growing portion of the customer base.
Getting Social
Sundance's business has shifted from an equal balance of striping and sealcoating to almost 80% striping so far in 2013. In the last two years, its service area has not only expanded locally in the metro area, but also expanded from the Memphis metro area, which includes parts of northern Mississippi and eastern Arkansas, to include Jackson, MS, and Nashville, TN. One of the main reasons for this? The Internet.  
In the past year, Sundance has gone from being virtually invisible in the cyber world to having a web presence for potential customers to see. "By putting our phone number and e-mail out there we became an option for customers looking for striping work," Bullion says. "We also gained Better Business Bureau accreditation and created a profile on its website to help us increase awareness and customer confidence in the company."
And while it's hard to attribute an increase in work to social media, Bullion says the new social presence has "been huge" for its business this year. "We forward potential customers to Facebook for pictures of recent work and for more information about our services." He says the Facebook photos enable customers to see for themselves the striping work the company has done and make their choice from there.
"Sundance has also advertised in local print media and last year custom wrapped our enclosed trailer to serve as a rolling billboard of sorts," Bullion says, adding that word of mouth and referrals continue to be their most valuable sources for obtaining work.
Planning for Future Growth
Bullion says the company is not exempt from struggles, though; they still have to justify the price given for services rendered. "There are several other striping companies in the Mid-South who offer similar services for less money," he says. "But their work often does not match up to what Sundance Striping and Seal Coating, LLC leaves on the ground."
To counteract that, Sundance is preparing for future growth by diversifying its services. This year they began to distribute and install concrete wheel stops, and Bullion says he hopes to increase this area of business in 2014.
The company also sees an unfulfilled niche in its area for stripe removal and recently purchased a new machine due to demand. "Some of the other striping companies in our area have actually called upon us to do the grinding because they didn't want to make that equipment investment and we're willing to go out and do that," Bullion says, adding "We are able to be somewhat of a subcontractor to our competition, while also offering an additional service being requested by our direct customers." As Sundance continues to break into that market, they are also considering cold milling services next year.