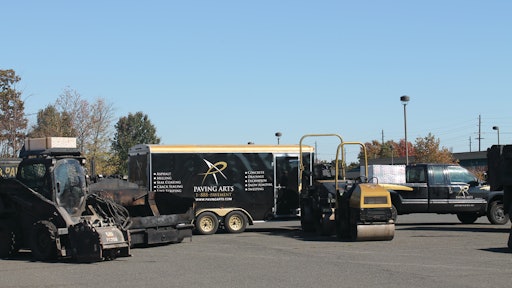 Michael Piazza grew up in construction. With family members teaching him the ropes, the industry was in his blood and has been in the paving business himself since he was 19 years old. He took the knowledge he learned and applied to his business, Paving Arts, which he started with his partner Timothy Lubinewski in 2006. They knew from day one they wanted to execute stellar, comprehensive work that went well beyond just paving.
"We knew paving would be the primary service, but we saw an opportunity to go beyond that," says Piazza. "We wanted to differentiate our business by providing a comprehensive approach to exterior maintenance, so that clients could call on us for a range of services. It was a risk, and some people might've preferred to build slowly, but our goal was to start right out of the gate with diversification.
Today, Paving Arts currently serves clients regionally in Long Island, New Jersey, Westchester, and southern Connecticut. They also have clients in different areas across the country, which is something they're working on expanding. Their services include paving, patching, striping, sealcoating, storm drain repair, sweeping, power washing and snow and graffiti removal.
"We service the same areas that we did when we started. In the beginning, we were taking anything we could get," says Piazza. "As we've grown, we've gained the luxury of being a bit more selective about the projects we take on. We've gradually shied away from smaller jobs that are significantly out of range, and therefore, not as advantageous from a business perspective. So, while we continue to expand and improve overall, the services we offer now are the same services we offered eight years ago."
EMBRACING THE NEW
Along with adding new services, Paving Arts also embraced the changes in the world. They launched their website in  and have continued to grow their digital presence. "Our website and blog have been great resources, says Piazza. "We also recently launched a monthly e-newsletter that serves as a way for us to share valuable information and updates with clients. With that said, 90 percent of our business still comes from traditional word of mouth referrals."
However, Paving Arts also uses their Facebook and YouTube pages to share videos and pictures of actual projects so clients can see first-hand what their business is all about. "In one case, it actually helped us get work on a local job approved by corporate executives halfway across the country. So whether it's engaging new relationships or improving our existing ones, we see it as a valuable tool," Piazza adds.
Piazza knows however, that since their client base is commercial, networking at trade shows is still an integral part of their business. "Trade shows, property management conventions, and the National Paving Expo are always helpful," says Piazza. "It's a great way to gain exposure, connect with other business owners, and stay on top of what's happening in our industry. Directing those connections toward our digital toolbox only adds to our credibility and enhances the exchange of information."
INVESTING IN GROWTH
As we all know, good employees are the key to any successful business, and Piazza recognized that early on. "The challenge has been building and budgeting a good team," he says. "As owner-operators, we've always been hands-on and we've always believed that our team is where the execution ultimately lies. We knew how to get the job done with just four employees. Now that we've expanded our network, there's certainly been more to manage, but the work itself hasn't changed."
With the nature of the business being seasonal, Paving Arts staffs about five employees in the off-season, and as many as 20 during the peak of spring and summer. "We're always looking to grow our winter business so that we don't have to lay off our workers. We've found that by providing solid work into the off-season, we attract employees that are more consistent, committed, and competent. There's less turnaround than there was in the beginning, and we've become more of a family."
One thing Piazza also hopes will help his employees thrive is his new education system, PASS (Paving Arts Super School). The program is an extensive in-house program to support comprehensive employee training. Through this two-week program, the company's goal is to be able to train the majority of employees on everything from office and administrative to on-site work.
"This training will make every employee more versatile," says Piazza. "It'll also provide an understanding for other aspects of the business, and how all the moving parts come together as a whole. We'll certainly have workers that are specialized, and this will allow us to see where they're strongest. Guys with minimal experience will have a chance to shadow veterans so they can learn the ropes in different capacities, and ultimately be placed where they fit best. Some employees will be able to transition between different areas, giving them more opportunities for work. Every employee will be trained from the ground up, and therefore more valuable across the board."