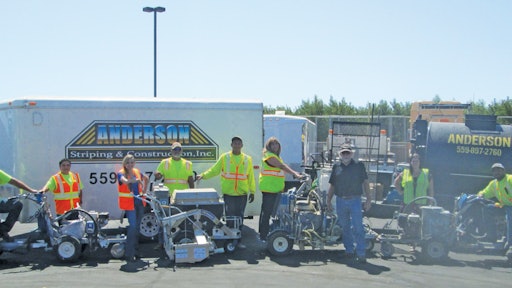 It's long been a stigma in this industry that it's a male dominated world.  Kelly Anderson has felt the impact of that mentality since she started her business, Anderson Striping, in 1988. "When we entered into the industry, women at that time were very few and far between and most not taken serious in the construction world," says Anderson.
With just a house sprayer, Anderson began work in the Fresno/Visalia area hoping hard work would change that mindset. Now, Anderson Striping serves four states (CA, OR, NV and WA) with customers ranging from commercial corporate to municipalities and even military installations. The company is constantly growing and looking for new opportunities to expand their services and customer base.
[surpassing expectations]
Although Anderson Striping is thriving today, it was a long road to get to where they're at. "We found that the biggest road block to sustainable growth was not always price or quality, but the "good old boys" attitude that women in construction where not as qualified, knowledgeable, or as hard working as their male counterparts," says Anderson.
Anderson knew that if she was going to succeed, she was going to have to work harder than everyone else and continually strive to be the best.
Knowing your customer and understanding the customers need for communication and documentation for their projects is one way Anderson stood out from her competition. "We specialize in electronic services for our private and corporate customers, with invoicing, proposals, digital pictures, plot maps, and work completion customer sign off reports. Our system empowers our customers to make a decision from their desks in corporate America."
Anderson says this is also an owner advantage to track all construction projects and warranty issues, with an electronic tracking system, which provides them with future budgeting information.
"We are always committed to excellence and doing the right thing for every customer, every time," she says. "Once our customer gets to know us they quickly realize we are their solution and being a woman owner is an extra added bonus."
However, Anderson knows that women still have miles to go in the industry to be seen as equals to men. "Even now when we show up to job walk it is basically 20 men and maybe one or two women," she adds.  Anderson has made it her goal to help change that and show that women can be as capable in business and construction as their male counterparts.
"We believe that being a woman owner is an advantage and we are proud of our growth and commitment to excellence," she says. "We are certified members of "WBENC", the Woman business enterprise national council as well as members of the "NAWIC" the National Association of Women in Construction, as well as other construction organizations and we work closely with local colleges and universities to help develop projects and future employees. We promote our women in our organization to be strong, smart construction voices and to own their voice and skills, always being prepared to learn, grow and surprise yourself and your customer."
[education is key]
Along with empowering women in the industry, Anderson works diligently to enlighten customers about getting the best job for the price they pay. "In our industry, most people don't necessarily know what they need to do to care for their parking lots," says Anderson. They tend to try and go with the lowest bidder. In our experience that normally means the customer is getting an inferior outcome. We would like them to know spending more on the initial upkeep will save down the road. A nice parking lot is a first impression of their customers experience and should be a nice welcoming mat."
Anderson also educates her customers about new codes for striping and ADA compliance. "This will always be a struggle due to people not realizing what they need till it's too late. We try to educate whenever we can," she adds.
"Our trained site inspectors take our customer from the beginning of the walk thru of their project to determine maintenance, compliance or safety concerns, to the bidding of the project, all the way through  to the Anderson Striping site inspector signing off after the execution of the site.
We will work with our customer- being the liaison between the Engineer firms and the Cities, upgrading ADA (American with Disabilities Act) or fire marshal issues in the parking lot. We offer programs that pull all permits, coordinate with owners, property managements, city municipalities, CasP specialists and construction partners to take the job from the inception to the finale."
Anderson also educates her employees, who work on over 100 pieces of equipment, to use innovative techniques and processes that she believes help to expand their level of service for every customer.
"Our pressurized "stand on" or Graco line Lazer lV 250 SPS striping machine is one of the newest and most innovative pieces of striping equipment on the market," Anderson says. "It allows us to perform large striping jobs such as airports quickly and efficiently without engaging our large road stripers. We also utilize our "ride on's" or Graco line driver striping machines for big projects, saving our teams energy and reducing the man hours needed for each project."
With the next generation of Anderson Striping also being woman-owned, the company hopes to expand their striping and sealcoating services into several more states in the west, while growing their customer base.
"Anderson is steadily growing and expanding, and we are striving to continue this amazing journey our team has been on!" she finishes.