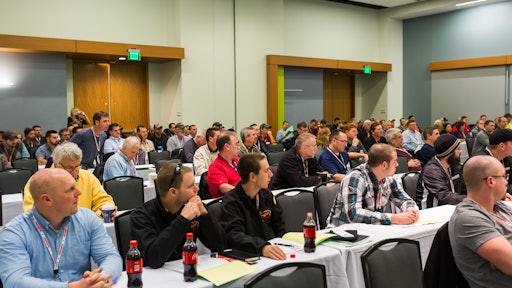 As it does every year, National Pavement Expo 2016 will offer a variety of sessions to help contractors and their crews improve their sealcoating and striping operations. Contractors attending NPE Jan. 27-30 in Charlotte, NC, can select from five sealcoating-related sessions (including one free session, see sidebar) and four striping sessions.
Sealcoating at NPE 2016
To kick of the 2016 NPE Advisory Board member Steve Young, Young Sealcoating, will host a comprehensive sealcoating three-hour workshop. "Becoming a Sealcoating Pro: Professional Sealcoating from A to Z" is new this year and will offer "put-to-work information about the sealcoating process and the sealcoating business that will set you apart from your competition. Technical topics will include:
Sealcoating materials
Understanding mix design
Sealcoating equipment (and how to use it)
Video explanation of application methods
Business topics will include sales methods and marketing tips specifically for the sealcoating business.
"Basic Sealcoating Principles," presented by Jeff Cayton and Tony Heffernan, Neyra Industries, is described as an "introductory and refresher course" that will improve sealcoating skills, provide a solid understanding of sealer and sealcoating, and help you incorporate quality into every aspect of your sealcoating business ─ including process improvements and efficiencies to boost profits.
Advisory Board member Nick Howell, T & N Asphalt Services, offers a new topic, "Succeeding in Commercial Sealcoating." Designed for contractors looking to step-up to larger projects and customers, this session "will help you tackle large commercial sealcoating jobs and will show that moving up to larger work isn't as difficult – or as expensive – as you might think. Topics covered include estimating larger jobs, negotiating with suppliers for better pricing, typical insurance requirements, essential equipment, benefits of partnering and subcontracting, scheduling and more.
"How to Execute Parking Lot Sealcoating & Paving Jobs Profitably" by Janice Potter, The Paving Lady was a highly rated and well-attended session at NPE 2015 so it's being brought back in 2016. The session will be divided in half, providing "best practice" insights into executing both types of work. You'll learn this contractor's approach to early-stage planning, how she involves the client ─ and tenants ─ in the process, and jobsite organization tips. You'll also learn an efficient, high-production approach to executing each type of work from the minute the crew assembles in your yard until they pull off the job at the end of the day.
Striping at NPE 2016
Two of NPE 2016's four striping sessions are new topics.
Dan Zurcher, American Striping Co., returns to NPE with "Striping on the Job: Tips on Paint, Beads & Spray Tips." A veteran pavement marking contractor who just released the third edition of his book, "How I Stripe a Parking Lot – 24 Years by Myself," Zurcher will discuss which marking materials are best for which applications, including advantages and disadvantages of each material. He'll also cover "bead basics" and offer insights on spray tips "that will make every striping job easier."
Last year's high-rated tag team of Chad Jung and Scott Langton, Superior Striping, return to NPE with a new topic, "Improve Striping Productivity Using Today's Technology." It's a "how-to" session that will provide up-to-date information on technology that will improve your striping efforts, from layout – including lasers -- through the finished job. "More lines faster is the goal," the description says. "You'll learn how to improve productivity using today's technology. Videos will be shown!"
In addition to the new topics, two session in demand each year also return.
"Parking Lot Layout & Striping Basics" presented by Robert Liles, Robert Liles Parking Lot Service, is the best session for new stripers, stripers in training and even veterans who want to brush up on the basics. From reading specs and blueprints to squaring a lot, establishing a baseline and laying out various types of angles are covered.
"How to Stripe the Tough Jobs" is presented by Mick Vinckier, Miktom Parking Lot Maintenance. This session moves beyond the basic layouts to more complex striping jobs, including striping inside and outside curves. You'll also learn some time-saving shortcuts using tools you can make at home that will make daily layout easier.
For complete descriptions and to register for NPE 2016 visit www.nationalpavementexpo.com.