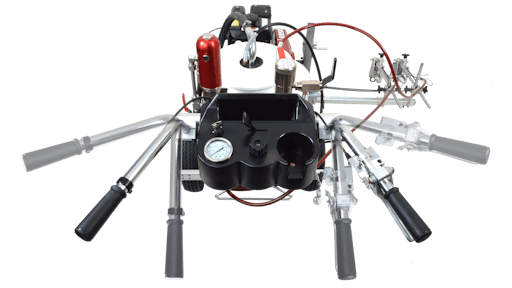 If you own or manage a line striping business, you know productivity increases when equipment is easy to use and comfortable for operators. And when productivity increases, so do profits. Line striping equipment manufacturers understand this and we've been busy upgrading equipment with technologies and accessories that make line striping easier, faster and better.
Productivity is a huge factor, but there are other important reasons to invest in updated equipment such as better ergonomics and ease of operation.
Reduce fatigue and injuries. Equipment that enables better posture, less exertion, and more leverage lessens ergonomic risk factors that can lead to on-the-job injuries.  
Improve quality/results. People do their best work when they are comfortable, resulting in better quality jobs and more satisfied customers.
Happy operators. Improved morale can help reduce absenteeism and turnover.
Comfort and Leverage
Some examples of ergonomic advancements in line stripers are deadlock handlebars that are infinitely adjustable to fit any body size and shape, and laid-back frame designs that place the handles at 65 degrees, vs. 80 degrees. These enhancements increase leverage, making the line striper a lot easier to push, lift and turn.
Ride Instead of Walk
Ride-on drivers also make line striping easier and less taxing on operators' bodies, since instead of walking behind the unit, they ride and drive the line striper. Ride-on drivers greatly reduce operator fatigue, especially for sizeable jobs like striping large parking lots, streets, and airports. Striping goes faster and jobs can be completed in a fraction of the time.
Ride-on drivers easily attach to line stripers and are available in several sizes – from compact to large. Many models feature engines with overhead cam designs for increased durability and smooth operation, as well as high capacity oil systems for better cooling and additional torque, adjustable seat controls and foot pedals, under seat storage, and tray accessories for carrying items like extra paint, cones, coolers, stencils.
While the majority of operators still walk, ride-on drivers are becoming more commonplace. Many line striping business owners invest in ride-on drivers when their business has grown to include larger jobs that demand faster turnaround times.
Connectivity and Storage
Many line stripers have new built-in conveniences, such as the PowrCenter™ on Titan's PowrLiner® Series. Positioned on the dash, it features a mobile connectivity control panel with 12-volt auxiliary ports for charging cell phones and iPods while on the job, enabling increased communication with supervisors and customers. Also standard are storage trays for holding important items like paperwork, smartphones and chargers, and cup holders for beverages and water bottles, keeping operators hydrated on the job.
Advancements for better ergonomics, comfort and convenience not only make long work days better for operators, they also help to increase job speed, production and ultimately, the bottom line.
Article contributed by Chuck Flower, Line Striping Product Manager, and Tom Heine, Line Striping Sales Manager at Titan, a leading manufacturer of line striping equipment and accessories. For nearly half a century, contractors have relied on Titan products for world-class, end-to-end solutions that are dependable and easy to use. For more information, visit www.titantool.com.