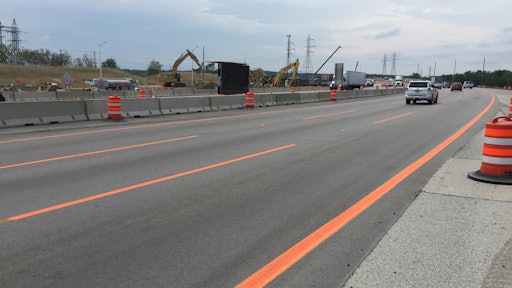 If you're a striping contractor, and particularly if you're a long-line striping contractor, it might not be too long before you'll need to add orange paint to your arsenal of marking materials.
That's because a test program outside Milwaukee, WI, has been using orange markings, both paint and epoxy, to delineate temporary lane changes within work zones on the Zoo Interchange (Zoo IC) pavement reconstruction project.
Brian DuPont, construction oversight engineer, WisDOT, says WisDOT began considering orange markings in the winter of 2014, the year the Zoo IC project began. The project involves four miles of construction in one direction and five miles in the cross direction and the interchange handles more than 350,000 vehicles a day.
"Drivers didn't seem to have much trouble in summer but in winter with snow, ice and salt on the pavement they had difficulty tracking lane shifts, following the white lines, and often struggled to stay in their lanes," DuPont says.
He says WisDOT grew concerned because there were going to be almost constant lane shifts throughout the job which lasts through 2018. So they set out to provide, via a test program approved by FHWA, orange markings in work zones.
Why Orange?
According DuPont, orange markings have been used in other countries to delineate lane shifts in work zones. In Switzerland, for example, orange markings are used to delineate work zones – and they don't even remove the white lane markings. "People just know they are supposed to follow the orange and they do," DuPont says.
He says Australia uses white all the time for regular markings, and yellow all the time for work zones. "When the markings are a different color it's clearer to drivers that this is what they're supposed to follow," he says. "Orange represents work zone conditions in the United States. It's the same color as cones and drums and signs and people have told us it makes more sense."
So WisDOT recommended to the Federal Highway Administration (FHWA) that using the orange markings might make it easier for drivers to distinguish ghost lines – the lines left behind in the pavement when original lane markings are scarified – and to avoid driver confusion.
Because orange markings are not an approved process in the Manual of Uniform Traffic Control Devices (MUTCD), WisDOT had to get permission from FHWA to use the orange markings. DuPont says that after some negotiation FHWA approved a test of the orange markings for 18 months. Seven months into the test WisDOT went back to FHWA to ask them to extend the permission through the completion of the project in 2018, which they did.
Orange markings are now used in work zones throughout the entire project – that's more than 100 lane shifts since 2014 where a typical project would include only three or four lane shifts. DuPont says the construction phase requiring lane changes and orange markings should be completed by December.
Finding a Contractor for Orange
The contractor that did the first installation of orange epoxy only had trucks for yellow and white, so any time the orange installation was required they had to clean out a truck, apply the orange markings, and then clean the truck again so it could be used for white or yellow paint. The process was time consuming but worked – until spring when the marking season picked up and the contractor no longer wanted to do the work.
So WisDOT let the bid again, and Century Fencing, Pewaukee, WI, got the job.
"The orange paint was part of the entire bid package for the for Zoo IC project so we factored in what it would take including use of an extra striping truck and put the bid together," says Tim McChesney, vice president of operations, Century Fence. "We bid on it knowing pretty much what we were getting into."
Century Fence, which is celebrating its 100th anniversary this year, employs 100 people peak season (half devoted to striping), generates half its sales from pavement marking and the other half from commercial and DOT fencing.
According to McChesney, almost all the company's pavement marking work is long-line striping and road marking, though the company does stripe parking lots when epoxy work is required. In addition to long-line striping equipment, Century Fencing has a complete fleet to handle just about any pavement marketing-related job including walk-behind units for stencils and crosswalks, grooving units to install pavement markers, and waterblasting units for marking removal. He says 90% of the contractor's work is a subcontractor.
"We have one unit that is not a full-time striping unit for us. It's a spare and we put orange paint or epoxy in that as we needed it," McChesney says. "Then when we need it on another job we clean it out -- it can take up to a day on both ends (cleaning yellow/white to orange and orange to yellow/white). But that was part of our plan and we factored that in when we put the bid together."
McChesney says that despite the additional time involved to prepare a truck for orange material, the job and all its work zone striping went smoothly.
"The GC, Walsh Construction, was very good about letting us know in advance when orange markings were going to be needed so we could prepare," McChesney says, adding that the contractor usually got a three-week notice when orange would be needed. WisDOT also held weekly meetings every Wednesday that Walsh Construction attended at the Zoo IC office and Century Fence either had a representative at those meetings when scheduling was discussed or the general contractor let Century Fence know following a meeting when orange markings would be needed.
He says Century Fence trained six workers on the project in addition to a dedicated project supervisor. "Often just a few of the team were on the job, but when it was a bigger job and removal of old markings was required before the orange lines were placed, all six people plus the supervisor were out there," he says.
"When we first started on the project Century Fence crews were out on the jobsite installing orange work zones every week for a while," McChesney says. "Now it's every couple of months. It gradually dwindled as they progressed on the project and need the orange zone less and less as we began installing permanent markings."
He says all work was done at night and the striping crew had to be off the job by 5:00 a.m. or face a penalty. "So we made sure we had enough manpower on the on each night to make sure we hit the deadlines," he says.
Finding Orange Material
DuPont says that because orange is not an MUTCD-approved marking, the color isn't readily available in the United States. So after reaching out to several markings manufacturers, WisDOT turned to Epoplex, which produces an orange epoxy for use in Canada.
"But when the contractor put it down we realized it was darker than we thought and darker than we wanted – we'd seen photos and samples but it was darker than that, so we talked with Epoplex and they agreed to create a fluorescent version of the epoxy," DuPont says. "But while the fluorescent markings worked well in the winter, the ultraviolet light from the sun caused the fluorescent characteristics to fade to yellow by summer, so we ended up with confusing yellow markings all over the road."
So WisDOT began searching again for a material, eventually working with Diamond Vogel to create a water-based latex orange paint. Unfortunately it had the opposite problem – it worked well in the summer but not in the winter because it didn't stand up to the salt and weather and plowing. So WisDOT now uses the fluorescent epoxy for the winter months and latex for the summer months.
The latex isn't as bright as the epoxy so WisDOT decided to supplement the latex markings with plastic raised pavement markers between the skip lines.  These markers worked well during the warm weather, but were plowed off in the winter
Because the orange material was not readily available, WisDOT decided they would find and supply the orange material as opposed to having the contractor locate it and supply it.
"If we left it up to the contractor to purchase we'd have to make sure it was what we wanted – and there wasn't a lot of what we wanted available to us," DuPont says. "We also supplied it ourselves because orange is not a color striping contractors use so if there is any leftover we didn't think it would be fair for the contractor to have to keep it and absorb that cost."
So WisDOT selected the material and supplier and directed Century Fencing through a change order to buy it so they could store it at the yard and load the trucks each day.
Drivers See Orange a Success
DuPont says that as of September the Zoo IC project is 80% complete and most of the main work will be done by the end of the year. "We're pretty much done putting down the orange paint, so when we move the lanes back we will remove the orange markings and install permanent white and yellow markings," he says.
He says that surveys of drivers find that 75% like the orange markings and 25% think the orange is too dark or difficult to see.
"We think drivers had trouble seeing the orange markings because when you put down temporary markings you often don't put 'high quality' beads in it because of the added expense," DuPont says. Some people commented that they could see the white/yellow lines better when they drove out of the work zone. "We think that people reacted when they went through the orange and then went to the white and yellow, which have better beads in them. We think they were reacting to the beads and not to the color, so we decided to put beads in the orange."
DuPont says he doesn't know whether the orange markings in work zones will catch on in the United States. But he says WisDOT will put together a report for FHWA about its effectiveness on the Zoo IC project.
"We didn't see a reduction in crashes but we didn't see an increase in crashes either as the work zone got more complicated," DuPont says. "It's a very difficult thing to measure because crashes can be caused by all sorts of things. But we are satisfied the switch to orange markings made a better experience for the majority of the driving public."