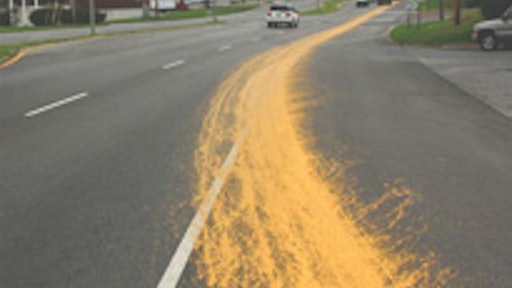 Even when paint is destined for pavement, it's not always put down where it's supposed to be or the way it's supposed to be.
That was the case last year when a Mid-South Transport truck out of Memphis, TN, was delivering Sherwin Williams paint to Interstate Road Management, Oak Harbor, OH. Interstate Road Management, a division of DBI Services Corp., is the largest pavement marking company in Pennsylvania, offering a broad variety of on- and off-road pavement marking and pavement maintenance services.
Under contract with the Tennessee Department of Transportation, Interstate Road Management had been striping roads in Maury County for more than three weeks and needed the paint delivery to keep working.
Unfortunately, one of the delivery truck's 275-gallon tanks ruptured, resulting in a nine-mile paint spill of almost 50 gallons of paint on U.S Highway 31 in Columbia, TN.
Interstate Road Management coordinated the cleanup under contract with Great Western Insurance Company, the insurance carrier for the Mid-South Trucking. Interstate hired Florida-based Waterblasting.com, which sent crews to the site to begin removing the paint within three days, according to Dave Friday, marketing director for Waterblasting.com.
For more than nine years Waterblasting.com has been providing marking removal services in more than 20 states, offering removal of paint, thermoplastic materials, and traffic membrane from highways, runways, and other pavements.
"This paint spill, in its worst spots, is very similar to runway markings because of their size," Friday says.
To remove the spill Waterblasting.com relied on its Stripe Hog, manufactured by the company's Waterblasting Technologies division.
The Stripe Hog uses 40,000 psi waterblasting to remove marking materials from pavement. The Stripe Hog also features a built-in recovery system that vacuums up both the water and the paint, leaving the pavement surface clean and almost dry.