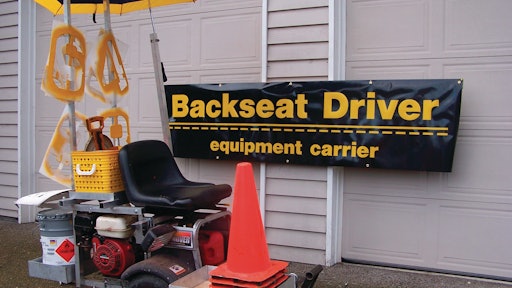 Backseat Driver
+ Equipment carrier for Linedrivers/Lazyliners
+ Provides removable trays to carry equipment and cones
+ Adaptable to carry stencils, warning lights, and sunshades
+ Aluminum frame easily attaches to pusher
Ware-Ever Pavement Maintenance Co.
PRE19062
Backseat Driver
The easy-to-mount Backseat Driver from Ware-Ever Pavement Maintenance Co. allows Linedriver/Lazyliner owners to become even more efficient that they ever thought possible. Once mounted on your pusher with four simple connectors, you have all of your equipment within easy reach. No more downtime returning to the truck for tools or paint. Two removable trays allow space saving room in a trailer. Dropping off and picking up traffic cones is a breeze. You can customize the unit to your own specifications to hang and carry stencils. Safety lights and sunshields can also be mounted on the Backseat Driver.
Request More Information
Fill out the form below to request more information about
Backseat Driver